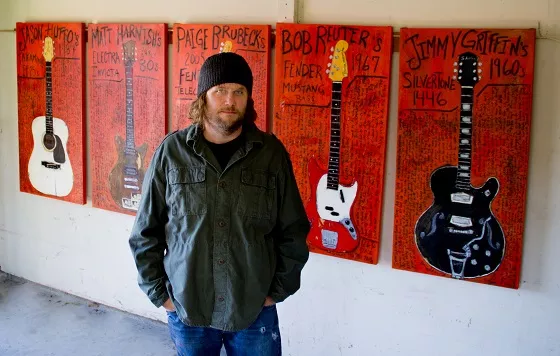 Photo courtesy of Fugitive Art.
Every guitar tells a story, even when it's not being strummed by a musician in the midst of a performance. Painter Karl Haglund is convinced of it.
"You see a guitar that's beat up, or a guitar with stickers, and you know that that musician doesn't just pick it up ten minutes before a show," Haglund says. "You know he or she is sitting at home thinking about that guitar, putting effort into it away from music, putting a sticker on it, sanding down the edges and taking care of it."
For several years now, Haglund has shared the stories behind those guitars, creating colorful paintings that represent the instruments as well as the sentiments of their owners. The Charles City, Iowa, artist has depicted fabled guitars of globally known musicians such as Jay Farrar and Billy Bragg, but his heart truly belongs to the music makers of St. Louis.
See also: Artist Karl Haglund Shares Stories Behind Paintings for Billy Bragg, Ryan Adams & STL Musicians
"I just really love the St. Louis music scene," Haglund says. "When people talk about cities and their music scenes, they always talk about Seattle, Los Angeles, Austin or Athens. But the type of music I'm into these days is just so heavily influenced by St. Louis."
No matter if he's painting for a musician, for an art collector or for himself, Haglund's process generally begins with a couple of hours of research and a few Moosehead beers. He then builds the frame and stretches a canvas before sketching out his vision and bringing it to life with vibrant paint. Finally, Haglund finishes things off by writing the guitar's unique history with willow charcoal.
None of this would have happened without some creative genes in Haglund's family. Haglund's father had played guitar for a band called the Country Drifters that performed in north-Midwestern bars, and his mother had gone to art school in Sweden.
"I had my dad playing guitar and singing, and I had my mom painting, so there was really no chance of me becoming an accountant and getting a real job," Haglund laughs.
Luckily for St. Louis, art has become Haglund's "real job," with his work under the Fugitive Art moniker finding its way to clients nationwide as well as here in Missouri. Though he calls Iowa home, Haglund feels that the ten years he spent living in St. Louis with his mother had a profound effect on his path.
"A newspaper once did a little blurb that said I grew up in St. Louis, and I remember thinking, 'I didn't grow up in St. Louis; I grew up in Iowa.' But at the same time, it made me really think about what St. Louis meant to me," Haglund says. "I did, in a way, grow up there, because I went from this person with no direction to a person that started to feel comfortable in my skin and got my life back together.
"I hold St. Louis very dear because it allowed me to figure out who I was and be OK with that," Haglund continues, adding that he was a "twenty-year-old Karl who had lost his way."
Continue to page two.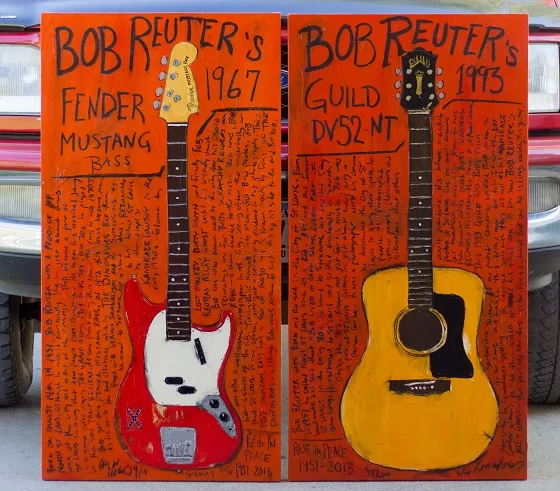 Photo courtesy of Fugitive Art.
"I grew up in small towns, so being in a city really changed how I saw myself and the world around me."
Haglund's reverence for the Gateway City and its talent will be on display this Saturday, October 11, during Fifteen Keys: The Guitars of St. Louis. Presented by KDHX 88.1 FM, this one-night-only exhibition at the Larry J. Weir Center showcases Haglund's paintings of guitars owned by local musicians Dave Anderson, Paige Brubeck, Jimmy Griffin, Bob Reuter and others. There also will be 30-minute acoustic sets by Jason Hutto and Chris Grabau, the latter having become a key connection for Haglund by suggesting additional St. Louis musicians who might want to be part of the collection.
Haglund says he and Grabau met about a year and a half ago at a show for Texas band Centro-matic, with Grabau jokingly asking if Haglund had plans to paint the Gretsch guitar that Grabau uses. Haglund met the challenge, getting notes on the six-string and delivering the painting before Grabau took the stage for Magnolia Summer's album-release show earlier this year.
"I'd already known Chris as a Gretsch player, so it was as fun to see Chris play live as it was to see the Gretsch being played live," Haglund says. "Before the show, Chris let me play the Gretsch, too. That was the first time I'd ever played one of the guitars that I'd painted, so it was a big highlight of doing this."
Haglund laughs, "I'm glad I didn't drop it or break a string with my big, fat hands."
Fifteen Keys: The Guitars of St. Louis 7 p.m. Saturday, October 11. The Stage at KDHX, 3524 Washington Avenue. $5. 314-664-3955.
RFT MUSIC'S GREATEST HITS
The 15 Most Ridiculous Band Promo Photos Ever "Where Did My Dick Go?" The Gathering of the Juggalos' Best Overheard Quotations I Pissed Off Megadeth This Week, My (Former) Favorite Band The Top Ten Ways to Piss Off Your Bartender at a Music Venue
---