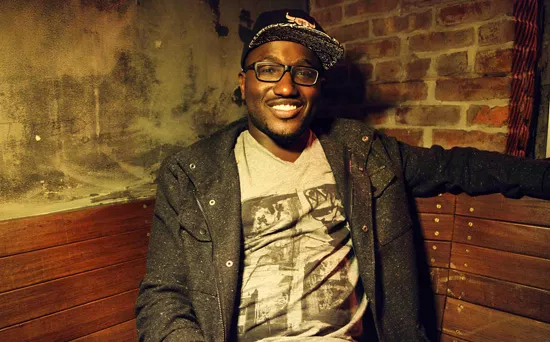 October is far and away the most comedy-heavy month we've had to date. Between open mics, local showcases, independent shows and Dave Chappelle, there's a show every night of the week. Fingers crossed it doesn't get baseball-ed too badly, because there may not be another month like this ever.
For those in search of laughter or curious about the goings-on of the comedy scene in St. Louis, we will be making monthly recommendations for shows in (and near) the city. From sure-thing hilarious to fingers-crossed, "Oh God! I hope this works" affairs, Funny Events is your connection to sketch, standup, improv and everything in between and out of the box.
Harold Night Every Thursday at The Improv Shop 8 p.m. & 9:30 p.m. | $5
Having been split in two, the Improv Shop's weekly Harold Night is now twice as fun. Whether you stop in for the early, late or both shows, you're in for a one-of-a-kind experience. Based entirely on audience suggestion, the manner in which Harold Night plays out is, in a way, up to you.
And following the theme of unpredictable, last month at the Shop Bobby Jaycox and Steve Raines produced a show that was two parts standup comedy, three parts improv and five parts hot sauce (314 Hot Sauce sponsored the show). Then they sprinkled it with $1 slaps and puppies. Yes, puppies. The Humane Society dropped in and at intermission brought out dogs up for adoption. And the $1 slaps? You could pay a single dollar to slap either Bobby or Steve. They called it "Stupid Brain" and they're doing it again, but definitely not the same, on October 29. And that's all we know.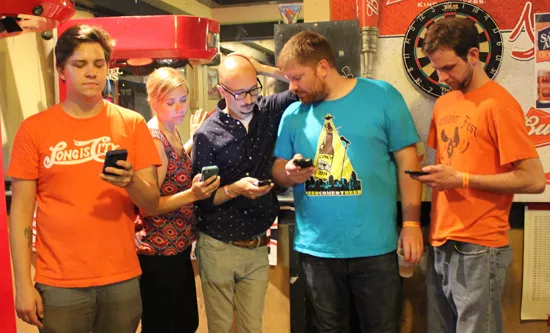 The Best Buds of Comedy Thursday, October 9 at the Elvis Room 8 p.m. | $10
The Best Buds of Comedy is a collective of comics who in some way shape or form are a product or resident of the Cincinnati comedy scene. With their individual credits combined, they have a comedy trophy shelf worth admiring. Each has made their mark on Cincinnati, and as a group they will do nothing short of making each stop on their Midwest tour a memorable one.
With five comedians on the lineup, listing their accomplishments and street cred would quickly get long-winded. But a quick roundup will do: One of the Buds was named the Funniest Person in Cincinnati, another made his TV debut this Summer on NBC's Last Comic Standing and one even had a seat at the judges' table at this year's RFT Standup Throwdown. St. Louis is the first of eight stops along the tour, so the Best Buds will be full of energy and will without question deliver a rambunctious night of standup. And they fully intend on being your new BFFs by the end of the night.
Continue to the next page for more.
Bare Knuckle Comedy Presents "Boo, Dude!" Saturday, October 11 at the Elvis Room 9 p.m. | $10
Back in the days when Bare Knuckle Comedy was Punch Drunk, Mikey Manker was a semi-regular guest on the show. His first full-length album, Beg, Borrow and Steal, was recorded live at Cicero's in 2011, and is chock full of cringe-worthy misadventures. Manker is like the kid that you want to be able to hear playing in his room because if things have gone silent, he's certainly up to no good. We haven't heard from Mikey recently, so there's no question he's headed to town with a few new stories and certainly more adventures.
Joining him in the trek south are Chicago comics Cameron Gillette and Nate Burrows.
Maria Bamford Wednesday, October 15 at Westport Funny Bone 8 p.m. | $25
Maria Bamford was named by Rolling Stone as one of its 50 Funniest People. She's been on tour this past year with Patton Oswalt, Zach Galifiankis, Tig Notaro and Kyle Kinane. It's been a long, long time since Bamford has performed in St. Louis. Come to think of it, it may be a first. She'll be at the Funny Bone for a single show only; you'll want to arrive early because it will be a packed house -- it's one of the most intimate rooms on her tour.
There's not a comic on the market like Maria, and there'd be no point in one trying to mimic her style. She's uniquely clever and strange with a voice all her own. Unless, of course, she's speaking from the point of view of her pugs.
...And if $25 is too steep or Westport too far for your mid-month Wednesday, Dave Ross, who was just in town opening for Kyle Kinane, is returning to St. Louis and will be at the Elvis Room on the BAMF's Funny Bone night alongside Kevin White and Zach Peterson. It's been a big, big year for Dave. In addition to hitting the road with Kinane, he's also the orator on the "Charleston" episode of Comedy Central's Drunk History, his sketch group WOMEN was recently featured on Tosh.O and his podcast Terrified was picked up by Nerdist.
Continue to the next page for more.
Hannibal Buress Friday, October 24 at the Pageant 8 p.m. | $27
The lineup at the Pageant this month is pretty unreal. Eight sold-out Dave Chappelle shows unreal. And there's not much else that can be said on Dave's behalf; he's a comedy legend, and he's coming to town. You don't need us to tell you that (again).
That said, the standout at the Pageant this October is Hannibal Buress. Since his stop last year at the Firebird, Buress has become the co-host of The Eric Andre show on Adult Swim, a cast member on Comedy Central's Broad City and recently appeared on Late Night with Seth Meyer in a jumpsuit with his very own face on it. The man has been making some serious moves in the comedy world and it's absolutely clear why. He stays busy. He still hosts Sunday nights at the Knitting Factory in Brooklyn, is knee-deep in the Comedy Camasido tour and is even doing dates with Funny or Die's Oddball Tour.
Also at the Pageant this month is Chris D'Elia (Saturday, October 11) whose first one-hour standup special "White Comic Black Male" debuted on Comedy Central last year. There's a good chance you might recognize him as Danny Burton from Undateable or because you're on Vine.
More and more local showcases are popping up all over town, because for the first time in a long time, venues are actually seeking out comedy (as opposed to allowing it). Honorable mention this month is awarded to Ha Ha Happy Hour, a showcase featuring the folks who seem to be running the scene and simultaneously aren't far from leaving it for bigger and better things. Teaming up on October 17 at Melt is Bobby Jaycox (Stupid Brain), Stryker Spurlock (Contraceptive Comedy), Tree Sanchez, Christopher Cyr (Wild Card Comedy), Emily Hickner (Bare Knuckle Comedy) and Brandon Judd (HodgePodge Trivia).
If you're into the local fare be sure to keep an eye on Comedy in the Lou's calendar for the most up-to-date list of the comedy happenings in St. Louis.
RFT MUSIC'S GREATEST HITS
The 15 Most Ridiculous Band Promo Photos Ever "Where Did My Dick Go?" The Gathering of the Juggalos' Best Overheard Quotations I Pissed Off Megadeth This Week, My (Former) Favorite Band The Top Ten Ways to Piss Off Your Bartender at a Music Venue
---