[image-10]
This week check out Mirah at Off Broadway, Rebirth Brass Band at the Gramophone, the War on Drugs at the Ready Room, Jack Grelle's record release, the last show at Apop Records featuring a line-up of experimental sounds and much room. Read on for our critics' picks, and stay tuned for more recommendations for shows over the weekend.
Mirah Monday, October 6 w/ Death Vessel @ Off Broadway 8 p.m. | $15-$18 By Christian Schaeffer We must suffer for our art, we're told, and so Mirah takes a close look at the contours of a broken heart on this year's Changing Light. Its best moments are visceral, spare and ceaseless, as on the thrumming single "No Direction Home," but the singer-songwriter never devolves into self-pity. For an artist who sprung out of the Olympia, Washington, scene with a ukulele, some busted drum machines and a restless, honest pop sensibility, Mirah's evolution and fruitful collaborations make her a dependable artist amid (and because of) her shape-shifting. Death Vessel, the high-pitched folk-pop project helmed by Joel Thibodeau, opens the show.
Tune-Yards Tuesday, October 7 w/ James Tillman @ The Ready Room 9 p.m. | $18-$20 By Matthew Jackson From this archived show review: The opening act was Tune-Yards, the one-woman band of Merrill Garbus. With a bassist last night, Garbus looped her pliant voice, West African drum patterns, snippets of found sound and whatever else she needed to recreate the ukulele-centric songs of her debut, Bird-Brains (recently re-released by 4AD). That album was recorded DIY with only shareware mixing software and a digital voice recorder. Based on her enthusiasm for a clutch of newer songs, we might get something special when she books time in a real studio.
Authority Zero Wednesday, October 8 w/ Bobgoblin, Your New Favorite T-Shirt @ The Firebird 7:45 p.m. | $13-$15 By Bob McMahon From this 2012 show review: Authority Zero brought serious chops to the proceedings as drummer Chris Bartholomew and bassist Jeremy Wood shifted effortlessly between full-throttle, double bass-drum workout punk to up-tempo ska, sometimes mid-song. Brandon Landelius kept pace with solid guitar work and took advantage of two small opportunities to cut loose with skillful, head-banging solos. But singer Jason DeVore was the star of the night, running around stage spitting growly but tuneful lyrics at a superhuman rate (Twista would be impressed at how fast he sings). The band kept the tempo and energy kicking throughout the night, wowing a roaring pit with screaming renditions of such favorites as "A Passage In Time" and "Retreat," but the highlight of the set came in the slower desert skank of "One More Minute."
Rebirth Brass Band Thursday, October 9 w/ Big Chief, Abita @ The Gramophone 8:30 p.m. | $16/$20 By Roy Kasten If you're in New Orleans on a Tuesday night and you're not at the Maple Leaf Bar, you'd better have a good excuse. The long residency of the Rebirth Brass Band at the legendary honky-tonk has been a crucible for the preservation and the progression of New Orleans music. Funk, jazz, hip hop, rock & roll, rhythm 'n' blues: These are not genres for the Rebirth crew; they are raw material to be boiled and roiled and, true to its origin, marched through the streets -- whether it's Mardi Gras time or not. No band before or since has made the archetypal second-line sound so universal and so life-affirming. Now in its third decade, RBB is still led by the marching band-schooled brothers Phil and Keith Frazier on tuba and bass drum.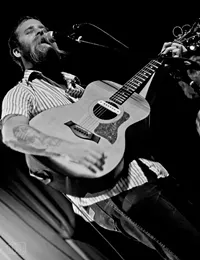 Jack Grelle Record Release Friday, October 10 w/ Rum Drum Ramblers, the Hobosexuals, Bobby Stevens @ Off Broadway 8:30 p.m. | $6 By Roy Kasten From the 2014 RFT Music Awards: As long as St. Louis has had punk music, it's had musicians like Jack Grelle who have crossed the lines between punk and roots cultures and figured out how to make something new out of where they're coming from. Finding a home on the Big Muddy Records label, Grelle gives an outsider's edge to country music that fits right in with that label's Midwestern punk-blues ethos. He's a clever, natural storyteller, with a voice that recalls gravelly John Prine, and with the Johnson Family Band behind him, he's getting better and better at the essence of hillbilly music -- to make you dance, drink and leave your cares outside the honky-tonk door.
CaveofswordS Friday, October 10 w/ Accelerando, the Potomac Accord @ Schlafly Tap Room 9 p.m. | free By Christian Schaeffer From the 2014 RFT Music Awards: If successful marriages are built around love, respect and a division of labor, Sunyatta and Kevin McDermott's union bears fruit every time CaveofswordS takes the stage. She sings with entrancing verve and laser-direct clarity; he creates atmosphere with a mix of trippy samples and visceral musicianship. Since the release of its debut Silverwalks (and its remix companion Skillwavers), the band has grown to include a living, breathing rhythm section that has added both industrial and jazz-like colors to the palette. That only makes CaveofswordS harder to pin down, genre-wise -- we can think of at least five other suitable categories in this local-music horse race.
Skulls Mind Saturday, October 11 w/ Die Reihe, Network Glass, DJ Michaella B. @ Apop Records 9 p.m. | free By Josh Levi Sometimes a dream pairing of two profound and unique artists takes years to develop. Such is the case of Skulls Mind, the collaborative effort of celebrated noise icons Jeremy Kannapell (Ghost Ice) and Joseph Raglani. For years the two friends have fried brains with their solo endeavors, often leaving anticipated collaborations with meandering execution. Fortunately, in the past year, the duo's vision has become fully realized with a marriage of the bizarre and the sublime. Backed by buoyant, sequenced electronics, recent performances have included off-the-wall banter, championing of Porsche posters and Boyz II Men-esque "baby" calls to the crowd. What's next in the Skulls Mind bag of tricks? There's only one way to find out. STL ex-pat Jack Callahan brings a new meaning to anti-playing with his modular synth project, Die Reihe.
Chick Corea Saturday, October 11 @ The Sheldon 8 p.m. | $45-$150 By Ryan Wasoba From this archived interview: Anyone seeking a definition of "jazz fusion" needs to look no further than Return To Forever. The seminal group, which is fronted by keyboardist Chick Corea, took the term literally by fearlessly and effectively welding jazz ideals with genres ranging from Latin music (1972's Light As a Feather) and disco (1974's Where Have I Known You Before) to Renaissance-fair prog-rock (1976's gold-selling Romantic Warrior). Along with groups like the Mahavishnu Orchestra, Weather Report and the Tony Williams Lifetime, Return To Forever helped open minds and pave the way for brave new approaches to both jazz and rock. The group's influence can be seen in the ambitious musicianship of Yes and King Crimson and the modern hip-hop of Dr. Dre and Lupe Fiasco (both of whom have sampled the band's songs on their own tracks).
The War On Drugs Sunday, October 12 w/ Peter Matthew Bauer @ The Ready Room 9 p.m. | $17-$20 By Christian Schaeffer "Under the Pressure," the opening track to the War on Drugs' latest, Lost in the Dream, is as much an introduction to the band as it is a nine-minute overview of what the Philadelphia-based quartet can conjure with its battery of fuzzy guitar pedals, woozy synths and sparkling pianos. Adam Granduciel continues to toe the line between amorphous, organic psychedelia and heartland rock & roll, and this LP nails that balance with emphasis on kinetic singles (like the modest hit "Red Eyes") and the dreamier passages that show Granduciel's instrumental push-and-pull within his songs. Peter Matthew Bauer, best known as the bassist and organist for the Walkmen, will open the show with tracks from his new LP, Liberation!
Note: Though we wish we could, we can't feature every great show happening in town in just one post. Look for plenty more recommendations this Friday in our weekend shows post, peruse the St. Louis concert calendar for more ideas and let everyone know what else you're looking forward to seeing this week in the comments below. To be considered for coverage in RFT Music, submit show info online or drop us a line anytime.
RFT MUSIC'S GREATEST HITS
Remembering STLPunk.com -- How to View the Site Today and Find Your Old Profile Page "Where Did My Dick Go?" The Gathering of the Juggalos' Best Overheard Quotations The Ten Best Dive Bars in St. Louis The 15 Most Ridiculous Band Promo Photos Ever
---