Steve Truesdell
Eddie Vedder performs with Pearl Jam at Scottrade Center on October 3, 2014. See more photos here.
Forget about Sting and his never-ending tantric sex. Pearl Jam just proved that its own Eddie Vedder is the master at giving it to us long, hard and deep.
Pearl Jam rocked a packed Scottrade Center on October 3 with three exhilarating hours of hits spanning the band's 25-year career. Three hours. Let that sink in. Three freaking hours. That's how long the Gilligan's Island crew was to have been on their doomed boat. That's longer than many baseball games. That's almost enough time to drive across the state to Kansas City. Three hours. An epic set like that is practically unheard of these days, but the grunge gods made sure that every glorious minute counted.
See also: Photos: Pearl Jam at Scottrade Center
Before any of that delightful rock happened, though, fans had to deal with unorganized security and massive lines. We're not sure what caused the backup -- after all, Scottrade Center had successfully processed Pearl Jam's sell-out shows and legions of fans in years' past. All we know is that RFT Music arrived at 6:45 p.m., didn't move forward more than five feet in 30 minutes, and finally made it through security and to our seat at 7:45 p.m. -- fifteen minutes past the start time listed on the ticket.
Good thing, then, that the show didn't begin on time. As Pearl Jam promised in a tweet, video screens in the arena showed the Los Angeles Dodgers trouncing the St. Louis Cardinals 6-1 in the National League Division Series. At first, that is. While waiting for PJ to show up, fans were treated to Matt Carpenter's solo home run that ignited a Cards rally over several innings. When the arena lights finally went out at 8:30 p.m., the Redbirds were up 7-6, and Scottrade had transformed into a mini Busch Stadium full of euphoric fans. (The Cardinals went on to beat the Dodgers 10-9.)
Most attendees were cool with Pearl Jam taking the spotlight away from the Cardinals. Seconds after the band walked onto the stage, Vedder already began making a "Come on, give it to us" gesture, beckoning the crowd to lose its shit over a group they hadn't seen since 2010. With nothing but spotlights on a darkened stage, Pearl Jam kicked into "Pendulum" from 2013's Lightning Bolt.
Pearl Jam seemed thrilled to be performing again after taking a short break from the Lightning Bolt tour. The St. Louis show was the second of the latest leg of said tour that's been grinding around the world for the past year, and Vedder and guitarist Mike McCready were especially animated, jubilantly bouncing around the stage and interacting with fans. Even Jeff Ament, who often looks like he believes playing music is the worst chore in the world, grinned a bit as he crouched low and made his bass purr during "Go" and then did some classic rock-star kicks for "Do the Evolution."
For a lesser band, a three-hour set might get bogged down with a few duds or too many downers. In Pearl Jam's capable hands, though, the time was filled with powerful singles and B-sides at a pace that gave the audience just enough time to breathe between monster rockers. This show's iteration of "Corduroy" was one of the best and most rousing we've seen, with Vedder singing a quick "Top of the eighth" Cardinals update first and McCready thrilling fans with an extended, funkified version of his classic behind-the-head guitar solo. "Corduroy" was so damn good, it felt like a no-holds-barred finale song, even though we were only about eight tunes into the night.
Likewise, "Even Flow" from 1991's Ten was freshened up quite a bit, with McCready howling out a solo that occasionally dipped into some minor chords and sounded like a freight train intent on plowing into your brain and leaving you happy about it. Meanwhile Ament and guitarist Stone Gossard battled it out next to the amps, teasing each other into a "Whose dick is bigger?" guitar-off that left fans breathless.
Find out which covers Pearl Jam did on page two.
Steve Truesdell
Jeff Ament and Eddie Vedder perform with Pearl Jam at Scottrade Center. See more photos here.
Many fans had gone into the show wondering if the notably left-leaning Vedder would share an opinion on the events in Ferguson. Vedder wasn't vocal about it, but there was an instance that could have been construed as a reference to the ongoing unrest. During "Daughter," Vedder took an extended bridge and inserted lyrics from "W.M.A. (White Male American)" into it, as he often does during live shows. Singing "Police stopped my brother again," the snippet felt especially profound, especially as Vedder shouted "Justice" several times before the song's end.
The crowd completely lost its mind when the band started up "Rearviewmirror," and for good reason. The song's pacing was even faster than the album version, and Ament and Vedder squared off during an extended outro while Matt Cameron banged the cymbals like nobody's business. At the end of the tune, which signaled the culmination of the first of three acts (THREE! HOLY SHIT!), Vedder lifted his guitar above his shoulders and shook it violently before pretending to throw it to the crowd and instead tossing it straight up into the air, almost pulling a Krist Novoselic.
After a four-minute break, the band returned to the stage, Vedder with a thick spiral notebook under his arm. "We're more than happy to keep playing for you," he said, taking an acoustic guitar and sitting on a stool in the brightly lit arena. "We can try this one, but if I fuck it up, I'm gonna stop. But if you sing it with me, I probably won't fuck it up." A hush fell upon the crowd as Vedder began John Lennon's "Imagine" alone, which he only started playing this summer in an anti-war stance. And while he did bungle the key for the first line, the audience didn't care. Their hero was singing one of the most ubiquitous peace songs the world has ever heard, and the only real blemish to the moment was seeing the random girl on the video screen earnestly mouthing the wrong words. Come on, lady.
Pearl Jam spent the second and third acts alternating thoughtful ballads and raging rockers. In what felt like the "joys and concerns" portion of a church service, Vedder mentioned a number of attendees who had written to the band about their problems and offered them warmth -- and then naturally followed that up with "But we're not gonna play a tearjerker now, we're gonna get back to work" and revving up the growly "Once."
Steve Truesdell
Stone Gossard performs with Pearl Jam at Scottrade Center. See more photos here.
But back on the slower side of things, the band treated longtime fans to "Chloe Dancer/Crown of Thorns," the astounding trance-like ballad conceived by Mother Love Bone, of which Ament and Gossard were members in the late '80s. Based upon Twitter reaction, this was the show's highlight for many attendees, including this reviewer.
Vedder's voice was rich during the entire three hours of the show, cracking only a smidge on "Given to Fly" about two and a half hours in. He didn't rely much on tricks like getting the audience to sing difficult portions of songs, either. Though Vedder was happy to pass the mic around to the crowd or let an organic singalong take hold, he fully grunted and belted his way through the band's 25-year catalog with what seemed like ease. Between his hearty lungs and his incessant cheerleader jumps, we were left marveling over this level of stamina
Toward the end of the third act, Pearl Jam let the audience sing nearly all of the first verse and chorus to "Better Man," leading band members to grin as if after two and a half decades, they still couldn't believe that this still was their beautiful life. Vedder and McCready did some showy back-to-back guitar playing that ended with both of them sliding down to the floor before Vedder jumped up, swung his guitar around yet again and did the instantly recognizable Pete Townshend windmill.
That, of course, foreshadowed PJ's version of The Who's "Baba O'Riley two songs later, with the entire band going apeshit and the crowd keeping pace right along with them. Vedder played two tambourines for a bit, only to throw them out to the audience before going through the cycle a couple more times. Later, with McCready doing yet another terriffic solo after the "They're all wasted!" part of the song, Vedder enthusiastically swung his corded mic in circles, spinning and spinning until he had a good fifteen feet of line going. The three-hour ride that preceded the moment felt just as dizzying as that mic must have, but it was a hell of a show from a band that hasn't stopped grinding. After a four-year break from St. Louis, Jeremy had finally spoken in class again here in the Gateway City, and it was something to savor.
See the full setlist plus watch fan videos from the show on page three.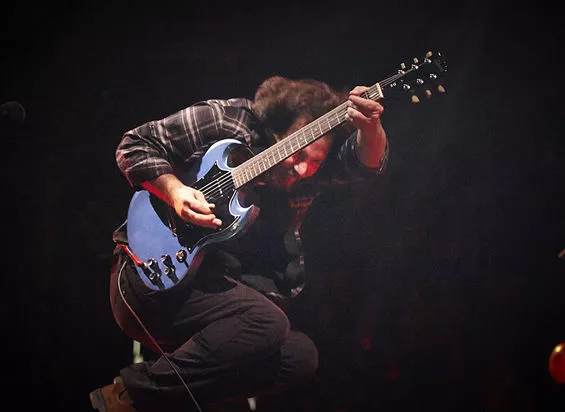 Steve Truesdell
Eddie Vedder performs with Pearl Jam at Scottrade Center. See more photos here.
SETLIST
Pendulum Low Light Elderly Woman Behind the Counter in a Small Town Go Do the Evolution Mind Your Manners My Father's Son Improvisation Corduroy Lightning Bolt Pilate Even Flow Swallowed Whole Why Go Not for Youn(Modern Girl tag) Daughter (W.M.A. tag) Jeremy Lukin Rearviewmirror
Encore #1 Imagine (John Lennon cover) Just Breathe Thin Air Footsteps Last Kiss (Wayne Cochran cover) Once Down Chloe Dancer/Crown of Thorns (Mother Love Bone cover) Porch
Encore #2 Given to Fly Setting Forth Better Man Alive Baba O'Riley (The Who cover)
RFT MUSIC'S GREATEST HITS
The 15 Most Ridiculous Band Promo Photos Ever "Where Did My Dick Go?" The Gathering of the Juggalos' Best Overheard Quotations I Pissed Off Megadeth This Week, My (Former) Favorite Band The Top Ten Ways to Piss Off Your Bartender at a Music Venue
---