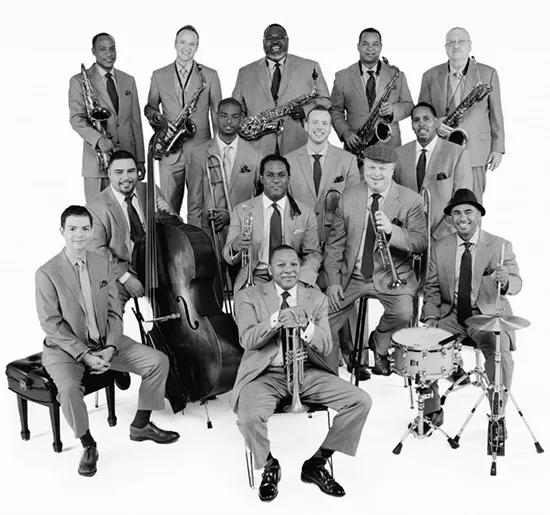 Press Photo | Frank Stewart
Jazz at Lincoln Center Orchestra - Friday, October 3 @ Jazz at the Bistro.
This weekend, check out Grove Fest or the latest FarFetched event for some free fun. In exciting news, Jazz at the Bistro unveils its new expansion. Other concerts to choose from include Pearl Jam, Ringo Starr, an album release party from Bruiser Queen and much more. Read on for our recommendations.
Friday (October 3):
Al Stewart @ Wildey Theatre 8:30 p.m. | $25-$33 Techincally 2014 is the year of the Horse, according to the Chinese Zodiac, but it will be the Year of the Cat in the Wildey on this night. Just go with it. (DH)
Endterim w/ Adult Fur, CaveofswordS, Black James, Scrub Lyfe, Blank Generation, Thelonius Kryptonite @ Pulitzer Foundation for the Arts 7 p.m. | free Hang out at a temporary construction across from the Pulitzer to catch this free FarFetched showcase set against a memorable backdrop. (MS)
Jazz at Lincoln Center Orchestra w/ Wynton Marsalis @ Jazz at the Bistro 7:30 p.m. | $125 Earlier this year, Jazz at the Bistro released plans for a $10 million expansion. This week, it hosts a grand-opening celebration to a sold-out crowd. Visit the Jazz at the Bistro website for a full schedule with plenty of opportunities to check out the new jazz center. (MS)
Pearl Jam @ Scottrade Center 7 p.m. | $69.50 Tell Jeremy we said hi. (MS)
Ringo Starr and His All Starr Band @ The Fox Theatre 8 p.m. | $49.50-$127.50 This incarnation of Ringo's All Starr Band features Todd Rundgren, as well as members of Toto, Mr. Mister, Santana and Journey. Way to pick 'em, Ringo. (MS)
For more options this Friday, consider checking out Macabre at Fubar and Bruiser Queen's album release at Off Broadway. Click on the links for more information via extended previews.
Saturday (October 4):
Australian Pink Floyd @ Family Arena 7:30 p.m. | $26-$68 Yeah, sure, we've got our own Pink Floyd tribute act, and it's a good one. But this one is supposed to be legendary. They should have had El Monstero open for 'em. Ooooh, or like a super-set with everyone onstage. With enough acid, that could be neat. (DH)
Casey Abrams w/ Ross Christopher @ Old Rock House 8 p.m. | $17-$50 You know him and love him and miss him from his run on American Idol. Oh wait, no, you don't? Because you don't watch that stupid show? Because, like, NO ONE does? Yeah, you're right. Still, this multi-instrumentalist has talent and pipes, regardless of what the Randy Jacksons of the world may think. (DH)
Grove Fest w/ / The Schwag, The Ragged Blade Band, The Blue Skies, Cannon Field, Matthew Perryman Jones, Old Capital Square Dance Club, Wild Party, DJ Alan Ray, SpaceShip, The Bottoms Up Blues Gang, Fresh Heir, Fly Moon Royalty, Rocksteady Flyers, DJ Mahf @ The Grove 2 p.m. | free Earlier this week, Grove Fest performers were announced along with "special headliner" the Schwag. Get the latest via the Grove Fest Facebook page. (MS)
Also on Saturday, Barrence Whitfield and the Savages plays at Off Broadway and Chance the Rapper hits Chaifetz Arena.
Sunday (October 5):
Tef Poe w/ Rockwell Knuckles @ The Gramophone 9 p.m. | $10 It is never not a good idea to catch Tef and Rocky onstage together, trust that. And in light of recent events, this show should be extra impassioned. (DH)
Fister w/ Black Tar Prophet, Ashes and Iron, Fumer @ The Demo 8 p.m. | $8 Find Kenny at this show -- the vocalist with the 'stache -- and hand him money to help fund chemo treatments for his brother's dog. Or you could donate here. But then you miss out on all the fun of having your brains turned to sludge by the heaviness of metal. (DH)
J Mascis also performs at Off Broadway on Sunday.
Note: Though we wish we could, we can't feature every great show happening in town in just one post. Peruse the St. Louis concert calendar for more ideas, and let everyone know what else you're looking forward to seeing this weekend in the comments below. To be considered for coverage in RFT Music, submit show info online or drop us a line anytime.
RFT MUSIC'S GREATEST HITS
Remembering STLPunk.com -- How to View the Site Today and Find Your Old Profile Page "Where Did My Dick Go?" The Gathering of the Juggalos' Best Overheard Quotations The Ten Best Dive Bars in St. Louis The 15 Most Ridiculous Band Promo Photos Ever
---