Recently, extremely dangerous pop-punk band Joyce Manor ignited controversy among true rockers everywhere after its members stopped one of their fans from stagediving on some small women. The band even later took to Facebook to condemn the practice.
Although the move is likely motivated by positive intentions, this band is stupid and wrong. Stagediving is the most important thing that any human being could ever do at a rock & roll show. If you do not stagedive at all shows, you are probably a coward who is afraid of everything. It is important for so many reasons, which I will now list for you in a simple and readable format that also pays me money.
6. You Paid To Get In (Probably)
Because your friend who knows the opening band wasn't responding to your seven text messages about getting guest-listed, you became a paying customer. And as we all know, the customer is always right. Therefore, you deserve to plunge your greasy and disgusting body all over whomever you want. And if anyone tries to stop you, do you know what you have the right -- no, OBLIGATION -- to do? The truest, most emo pop-punk rock thing ever: Ask for your money back and post about it on the motherfuckin' Internet.
5. People Secretly Want To Get Stagedived Upon
If these Joyce Manor fans weren't trying to get stagedived on, why were they standing in the only place where you can really see the band? Why even go out to watch an intensely emotional, mid-paced and kinda wussy-sounding group if you're afraid to get hurt in what undoubtedly will be the most extreme cluster of chaos this side of a Tom Petty cover-band concert? Look, they bought the ticket. Now take them on a ride to the floor, big dawg.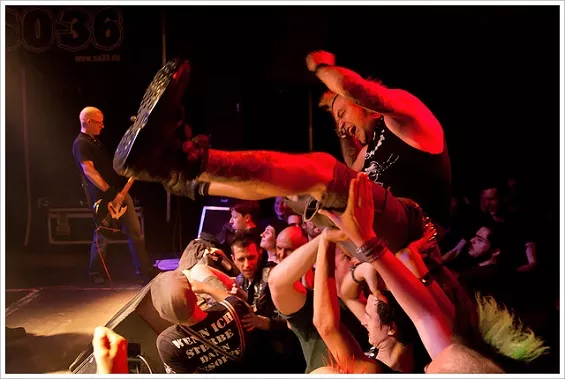 4. Better You Hurt People Than Some Other Asshole
Bad things happen all the time. You could get hit by a car, or some drunk fratboy might punch you at random for no reason. At least here, at the Joyce Manor concert, when you stagedive on someone and dislocate some of their vertebrae, your victim will fondly remember you and the good times you shared together listening to the band's muted emo stylings as they are cringing from nerve pain whenever they sit down or reach to pick up something they dropped.
3. It's Part Of Your Heritage
As a fat American with a disposable income that allows you to invest in music and art, stagediving is part of your culture. Stagediving has a place in all guitar-based music -- whether you're watching Exodus, Incantation, D.R.I., Negative Approach or a band such as Joyce Manor that kinda sounds like Weezer sometimes. By not stagediving at the emo pop-punk show, you are turning your back on decades of true reckless, crazed, rock & roll rebels like you, the guy watching a band that sounds like the musical equivalent of a baby blue button-up shirt worn with some cutoff denim shorts.
2. You Deserve To Have A Good Time At The Expense Of Others
Just like when you forced your friends to talk to the owner of the restaurant for an hour after you flipped the buffet over, the fact that you're having a good time is what's really important here. Because if you aren't having a good time leaping off the stage and crushing a child to the sweet crooning of Joyce Manor singer Barry Johnson, how can other people truly enjoy themselves?
1. Emo Pop-Punk Was Meant To Be Dangerous
Think about uhhhhh all the like, uhh, crazy things that uhhh have happened in the...emo pop-punk...scene. Church burnings and, uhhh , I mean did G.G. Allin really die so people could like watch uhhh pop-punk emo bands without getting hurt? I mean, like, uhh I think Saves the Day once threw, like, uhhh like, uhh, a water bottle in the crowd, and what if one of those aliens from the movie Signs was in the crowd. Or a cat. So like, uh, everyone should stage dive at...fuckin'...all shows. No matter how unnecessary and silly it is. Take the stage, take my hand and let's splatter some small people in sweater vests during this incredibly subdued and contemplative indie-rock band. It is the way it has to be.
Follow Drew Ailes on Twitter at @CountBakula.
RFT MUSIC'S GREATEST HITS
The 15 Most Ridiculous Band Promo Photos Ever "Where Did My Dick Go?" The Gathering of the Juggalos' Best Overheard Quotations I Pissed Off Megadeth This Week, My (Former) Favorite Band The Top Ten Ways to Piss Off Your Bartender at a Music Venue
---