Courtesy of Wade Durbin
Wade Durbin, second from right, and his girlfriend's family in front of the balloon of terror.
The St. Louis music community is filled with so much talent that it's difficult to walk down a city street without running into at least one person who's in a band that plays regularly. But sometimes it takes a bird's-eye view to really bring the point home.
That's what Wade Durbin and Beth Bombara found out recently when Durbin's hot-air balloon made a surprise landing outside the Illinois studio where Bombara is recording her forthcoming album. It's one of those things that only happens in St. Louis. Or, you know, Oz.
It all started a year ago when Durbin -- bassist for indie-rock group Pretty Little Empire and guitarist for Misfits tribute band We Bite -- learned that his girlfriend's mother had bought a Groupon for tickets for the family to celebrate her birthday in a hot-air balloon. Redemption time finally rolled around on September 28, and the group headed to New Athens, Illinois. Durbin, who does not like heights, put on his game face.
"I've got sweaty palms, a sweaty upper lip, and the reality of this is just hitting me. The thing wasn't even assembled or out of the trailer yet," Durbin tells RFT Music.
Contrary to many people's assumptions, hot-air balloons aren't always inflated before riders arrive. But watching the 40-minute assembly wasn't good for an acrophobe like Durbin.
"I might have even been better about it had it been fully assembled," Durbin admits. "I just saw that they were using these locking carabiners to put everything together, and I'm like, 'Man, I don't want to see where the rabbit comes out of the hat.'"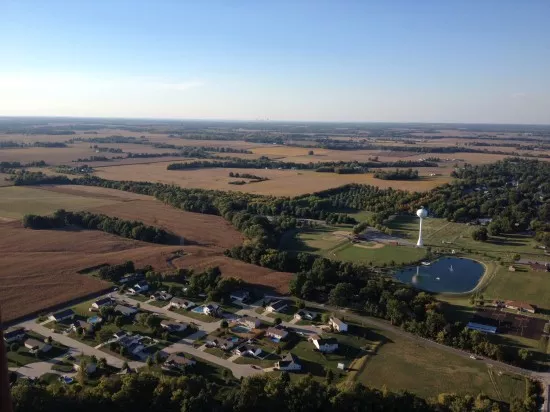 Courtesy of Wade Durbin
The view from the balloon.
Durbin took off in the balloon with his girlfriend's four family members and eleven other people, including the balloon crew. In a large, open-air wicker cab, the group flew over the Illinois countryside with no flight plan, literally going where the wind took them. Durbin stayed toward the center of the basket to keep his fear in check but still managed to catch some crazy views.
"The farmland is laid out like this big quilt, and that's cool," Durbin says. "We flew over this country farmhouse where people were out firing guns in this homemade range, and I'm like 'OK, let's not land there.' Are they planning for an apocalypse?"
Meanwhile, Bombara was recording tracks at Jettison Studios in New Athens for her fifth independent release, which she says may be available in the spring.
"I'm still working on a title, but it covers some musical ground that I've not explored until now," Bombara tells RFT Music. "But we were in the studio listening back to a vocal take, and the engineer got a call from his neighbor telling us to look outside because a hot-air balloon was coming in really close."
Continue to page two.
Courtesy of Beth Bombara
Durbin's balloon lands outside of Jettison Studios.
Indeed, Durbin's balloon crew was looking for a place to land after a 60-minute ride. Despite what cartoons typically show, there's no field with a bull's-eye painted on it, beckoning the balloon to land. Durbin says the crew merely looks for a wide-open, soft space, and the crew members driving the car that follows the balloon just ask permission from folks with large yards.
Bombara ran outside the studio and watched all of this, not knowing that Durbin was part of the flying group.
"I saw a huge hot-air balloon with a giant smiley face on it, at the top of the closest tree line a few football fields away. It looked as if they were trying to figure out where to land, but there was mostly cornfields and no grass to land in," Bombara says. "They came closer and closer, until they set down in the cornfield right next to the studio and asked permission to move to the studio's grass yard to lay the balloon down and pack it up."
Durbin couldn't have been happier.
"I really wanted to kiss the ground, but I didn't want to be so demonstrative in front of these people," Durbin says. "The balloon's deflating, and Kit [Hamon] and Beth show up. For a brief second, I thought that I died in this thing and they died in a car wreck and we were all meeting each other in the afterlife or something."
Bombara couldn't believe what she was seeing, either.
"At first, I thought it wasn't him because that would be crazy," Bombara admits. "Then I realized it was, and thought, 'Wow this is totally random and weird.'"
A few minutes later, the crew deflated and packed up the balloon, and Durbin returned to St. Louis for Pretty Little Empire practice. He's not eager to repeat his balloon experience, but Bombara has other ideas.
"I really want to bring a guitar up in a hot-air balloon and sing a song in it someday," Bombara says.
Wade Durbin performs a Halloween show with We Bite on Friday, October 31, at the Firebird. Follow the band on Facebook.
Beth Bombara expects her yet-untitled fifth album to be released in spring 2015. Follow her on Facebook.