Rob Syers provides a look into his work space.
SKiN GRAFT Records isn't exactly a household name, but the label holds a unique spot in the legacy of St. Louis music. With the help of Mark Fischer, local artist Rob Syers started SKiN GRAFT Comix in 1986, which would move from comics to music by the early '90s. Syers' art show, THE BLASPHEMOUS CARTOONIST MUST BE HANGED, opens tonight at the Old Millstream Inn (912 South Main Street, St. Charles; 636-946-3287) and runs through Saturday night.
See also: Homecoming King: SKiN GRAFT Records owner returns to St. Louis for one night
The move from hand-assembled zines and homemade comics to records and CDs wasn't exactly a transition from one medium to the other -- Syers helped bring the two together. 7" records were packed between pages of sequential art, and pensive band photos (the ones that seemed to grace every album cover in the '90s) were replaced by hand-drawn figures bursting with color.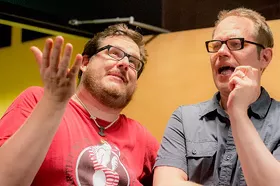 Rob Syers (pictured left) with SKR co-founder Mark Fischer.
Syers might be best known for his character Gumballhead the Cat, a bastard feline that drinks, smokes, stabs and crashes planes -- really not that much different from your typical back-alley cat. Gumballhead has a storied history told through short comics and huge, vibrant paintings. Syers even once penned a weekly Gumballhead strip in the Chicago Reader.
You can also drink the cat -- and it is delicious. 3 Floyds Brewing Company, based in Munster, Indiana, offers Gumballhead the Cat the beer. It's a smooth, citrusy wheat beer brewed with Amarillo hops.
Syers will have more than 50 paintings at this weekend's show, and most will be available for purchase. Although many do include the titular feline, Syers likes also to draw naked women with strangely colored skin and odd, warped objects. His work is varied, but the inventive use of colors remains a constant. We spoke with him at great length about Gumballhead, Chicago music and where he finds artistic inspiration.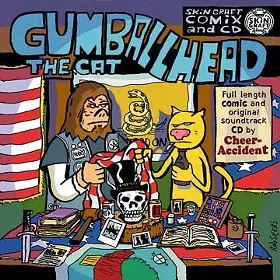 RFT Music: When did you create Gumballhead the Cat?
Rob Syers: He's based on an ex-girlfriend's cat. I made a drawing of him in 1991 and then forgot about it. Then months later I was making these terrible (on purpose) three-panel comic strips, I decided to use my ex's cat as a character. The cat got the nickname Gumballhead because it had one of those round cat heads.
A year later I was taking painting classes at the School of the Art Institute of Chicago, and I noticed that everyone was making these indecisive, brown paintings. I decided that if I was gonna stand out, I needed to use color -- bright color. No one used yellow, so I decided to make my subject, who was going to be frequent Johnny Carson guest George Gobel, yellow. I couldn't find a picture of Mr. Gobel, so I made the painting of Gumballhead the Cat. There, there's that boring goddamn story for the thousandth time.
In the '90s Gumballhead became the mascot for Chicago noise-rock group Mount Shasta and was prominently featured on the band's album covers. How did the relationship between you and Mount Shasta begin, and why did you decide to lend your character to visually represent the band?
Mount Shasta founder John Forbes was in pretty deep with me over some gambling debts. I told him that if he used "my stupid fucking cat" on his single and LP sleeves, I'd let him go on using a normal bathroom. And the rest is history. If you consider obscure comic-strip characters and obscure bands that broke up over a decade ago "history."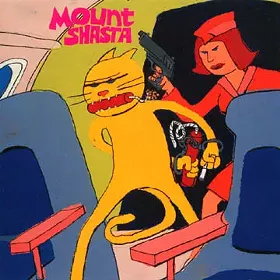 I do. In 2003 you collaborated with Chicago's Cheer-Accident to release Gumballhead the Cat, a CD and comic book set released by SKiN GRAFT Records. What was the impetus behind merging your art with their music? Do you think Mount Shasta was jealous?
I did it because I didn't want Cheer-Accident drummer Thymme Jones to break my kneecaps, seriously. Chicago music is fucking harsh, man -- I saw Steve Albini stab a guy in the neck with a pencil once.
Also, Mount Shasta didn't give a shit because they had been broken up for a few years.
Also, also: You used the word "impetus." Poindexter!
How did you begin working with 3 Floyds Brewing? Was the process gradual, or did they send a simple cash offer for use of the character?
I answered an ad in Chicago Craft Beer Times that said: "Wanted, cool cartoon character to name a beer after." I sent 3-F some samples and they asked me to meet with them at a bar down the street from my apartment. We talked about the deal for nine hours straight, shook hands on it and then Nick Floyd [owner of 3-F] said, "Bag 'em boys." And it was lights out for me.
I woke up at the brewery. They had tied my legs to a keg and tossed it into a huge container of waste mash. It sank slowly, dragging me into the used mash. "This is a test," Floyd shouted at me. "If you escape from the mash, we got a deal, if you don't...I guess your character is up for grabs." Then he laughed that evil laugh as I went under.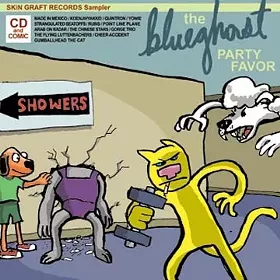 Lucky for me the Chicago craft-beer scene isn't nearly as dangerous as the Chicago music scene. David Yow, now that guy knows how to kill a guy. I've lived through what Yow had to offer. These beer boys will be easy.
I reached into my pocket and got my switchblade and cut the ropes. I was up and out of the mash, and in no time I flattened two of Floyd's lackies and made my way to his office. He was at his desk, he looked up from his paperwork, smiled, looked back at the paperwork and said, "Give the kid some beer and take him home."
Gumballhead was also published in a newspaper, can you tell us a little more about the experience?
Not really, you summed it up pretty nicely in that question.
Read on for more with Rob Syers ahead of his art show this week.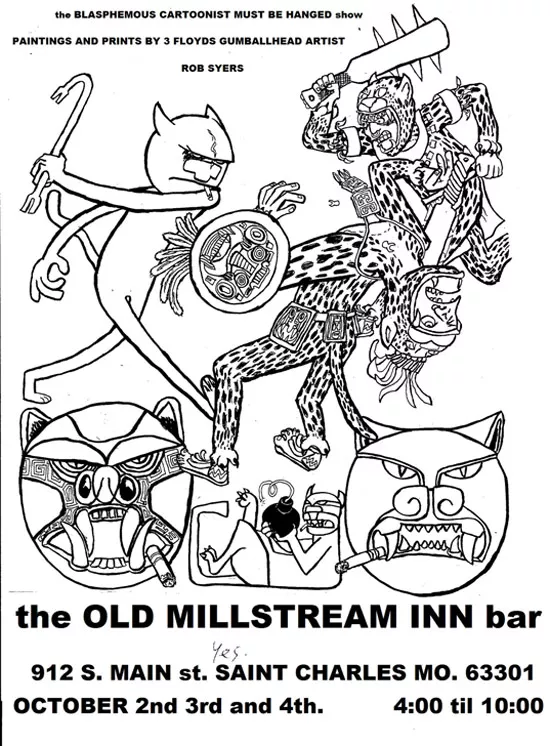 Although Gumballhead is a prominent figure in many of your pieces, he's not the only subject. Can you speak about some of your pieces unrelated to Gumballhead?
The Gumballhead the Cat paintings, as well as the comics, are commentary on the myth of freedom and an abstract of the endless grinding struggle of life. They're a lot less funny when you look at 'em that way.
The Stanley Roberts paintings are just me ripping off Cindy Sherman's Untitled Film Stills. Stanley has witnessed some sort of crime or wrongdoing, and the series goes on with him reacting to various aspects of what has occurred: Stan following someone, or being followed, or simply being paranoid about what has happened. I also paint brightly colored naked women on thrift store finds, because I love bright colors.
How does your approach to art differ from piece to piece? Do you set guidelines or rules for yourself when working on different paintings or comics?
I approach all my painting the same. I don't use black, white or brown in my work, which often leaves Gumballhead's cigarette looking like a crayon. I try to stay away from pop-culture references. I got asked by so many people to do a Dr. Who themed painting that I overrode my anti-pop-culture reference stance and did a painting based on Law & Order. Because if I'm going to do a painting based on a goddamn TV show, it's gonna be on one I fucking watch!
Is there an overarching narrative between Gumballhead stories?
Yes there is. I plan on starting up a webcomic one of these days, and the stories will be wound together there.
How do you feel about Gumball the cat, the main character of Cartoon Network's The Amazing World of Gumball? Do you feel cheated out of well-deserved royalties?
What am I, Walt fucking Disney? There's no way in hell I'm going to get uptight over a kids show, especially one so well made. If Gumball grows up, turns yellow, gets a round head, starts smoking and drinking, and gets into fist fights all the time, then I'll be upset. The only thing I don't like about that show is that it's never on when I can watch it.
So you're a fan of Gumball? What other modern cartoons, if any, are worth watching?
What am I, the fucking TV Guide? Look for yourself.
Can you tell us a little more about what to expect at this week's art show? Also, why St. Charles?
EXPECT TO BE DAZZLED BY MY DELIGHTFUL ARTWORK! Or delighted by my dazzling artwork, or some shit like that.
Why St. Charles? Is that what you just said? Why St. Charles? I'LL SHOW YOU WHY SAINT MOTHERFUCKING CHARLES YOU FUCKING CANDY ASSED TWERP!
The BLASPHEMOUS CARTOONIST MUST BE HANGED show! Art by ROB SYERS October 2 - 4 The Old Millstream Inn 912 South Main Street St. Charles 63301 4 p.m. - 10 p.m.
Follow artist Rob Syers through Gumballhead's Facebook or Twitter page.