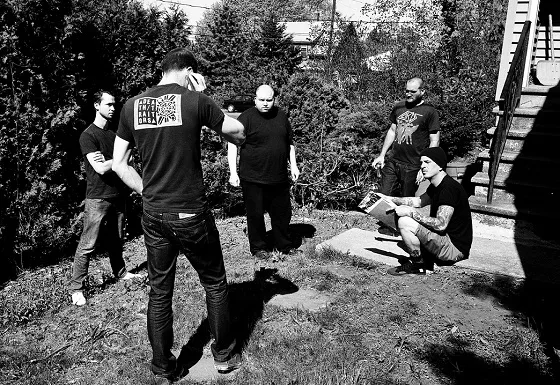 By Nick Lucchesi
[Editor's note: We've just received word from MLIW's people that one of its members has a family medical emergency and this show is canceled. The band hopes to reschedule soon.]
The last time Modern Life Is War played St. Louis, it looked liked like Hillary Clinton could be president, America was blissfully unaware of Sarah Palin and the first-generation iPhone was a tech revelation.
That's a roundabout way of saying it was only six and a half years ago, but in the molting hardcore-punk scene, that's enough time for a generation to arrive and evaporate from DIY spaces. If you go back even further to the band's very first show in St. Louis, held on an unremarkable summer night in 2003, online social networking had only begun to weave itself into how music fans communicate. YouTube was two years away.
"I have fond and vivid memories of all those early days," remembers Jeffrey Eaton, the band's singer. "That show was at the Lemp Arts Center; we were just very young, very naive, but ambitious and confident in the music we were playing. It was a really exciting time. Every show, we were playing to a room of people who had never seen us before. We felt like we had something to prove."
The Marshalltown, Iowa-based band then began a journey that would last more than five years, and would prove them to be remarkably ambitious and prolific: MLIW toured all over America and Europe, releasing three LPs in four years. Then came burnout, lineup changes and a "final tour" which included a spring 2008 stop at a south St. Louis DIY warehouse venue named Building R.
"After all that work and everything we did -- going around the world and putting out records on record labels, and kind of fulfilling all those dreams that we had -- in terms of the real world, you're just kind of dropped off back at your starting point as if you had never done that," Eaton says. In the years since the group disbanded, he has taken on jobs that former punk singers sometimes do: working as a production assistant on film sets, writing, DJing, construction. The band's other members relocated to different states.
A phone call between Eaton and bass player Chris Honeck in 2012 marked the beginning of the return for Modern Life Is War, which rehearsed again in September 2012 and announced its reformation on April Fool's Day 2013. The band followed through with the nine-song Fever Hunting LP in September of that year -- and it's the group's best material to date, despite the time away. Indie tastemakers Pitchfork even gave it a 7.9 out of 10. (It didn't review the band's three previous records.)
The band might be best described as longform hardcore. That its return record was an LP was expected. And that its standout song -- an epic titled "Chasing My Tail" -- is more than four minutes long feels true to form.
"We've always had difficulty doing small releases," Eaton says. "I think we look at songs in terms of an album. I think we're all album people, and I think that's something that we are really good at, that a lot of hardcore bands aren't."
However, Eaton says the band may soon do something atypical: go small. "I think there's a good chance our next release won't be our next album. We're going to do something smaller, possibly an EP or a split or something along those lines. I want to put something out relatively soon."
Thing is, MLIW didn't even have to record a new record; it had already released more than 40 songs. Its members could have easily cashed in the credit built up during the last decade.
"You're essentially putting your neck on the chopping block for no reason," Eaton says of releasing a new recording at the same time as a reunion. "We already had enough of a back catalog and enough of a reputation and fan base to just go play shows, but that's not really what we're about. We want to be relevant today."
That relevance comes into focus on "Brothers in Arms Forever," in which Eaton sings about a friend who returns from military deployments with post-traumatic stress disorder. "It's just really about my friendship with him and kind of seeing him for the first time when his health was really struggling. I just wrote that song on a gut reaction to what he was going through. He was having trouble speaking. He could speak like me and you, and then suddenly he couldn't. It was like an extreme stutter or an inability to put together thoughts in a coherent way. That was the line, 'Tongue tied, staring into a baby's eyes.' That's what that's about."
Continue to page two for more.
As a lyricist, Eaton shares stories of antiheroes in ballads like "Martin Atchet," told from the point of view of the protagonist in the 1992 graphic novel Skin, and in the band's version of the folk song "Stagger Lee," based on the famous St. Louis murder "Stag" Lee Shelton committed on Christmas night in 1895. Eaton counts Lead Belly, Woody Guthrie, Billy Bragg, Robert Johnson and the Clash as chief among his influences.
"I'm doing something in a tradition," he says when asked about comparisons to folk singers. "I'm doing it in my own language, about my own life, but I am doing something in a tradition. That's something that, for me, comes almost entirely outside of hardcore. I may love certain classic New York hardcore records, but typically my lyrical influences have not come from that scene at all. That's something I wanted to bring into it as one of the defining and most important aspects of our band."
During its initial run, Modern Life Is War's strongest St. Louis performances didn't take place on a stage: They were floor shows at the Lemp Neighborhood Arts Center, the American Czech Educational Center and a DIY-plywood stage at a warehouse that doubled as a skatepark. This tradition continues, as the band's upcoming show will take place on the lounge side of Fubar, which will surely be packed.
"I used to have a lot of anxiety about it," he says of being in front of a crowd. "Now I know that I am cut out to do it and that I'm great at it. And it's been more fun being onstage this time around. Since we don't do it as much, the burnout factor isn't there."
Eaton says Modern Life Is War probably won't return to a life on the road, opting instead to do weekend runs that might be a little more special to the band and its audience.
"We better give them what they deserve for coming out when they have to work tomorrow morning, or when they only have $100 in their bank account and they're spending $12 of it to come out and see us. We better make that feel worth it for them."
RFT MUSIC'S GREATEST HITS
The 15 Most Ridiculous Band Promo Photos Ever "Where Did My Dick Go?" The Gathering of the Juggalos' Best Overheard Quotations I Pissed Off Megadeth This Week, My (Former) Favorite Band The Top Ten Ways to Piss Off Your Bartender at a Music Venue
---