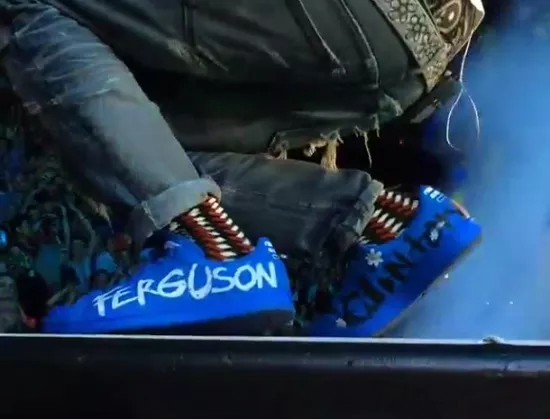 Screenshot from the Vine below.
It might seem crazy, what I'm about to say. Or not.
Pharrell Williams joins a long list of musicians who are concerned about the events that have unfolded since Ferguson police officer Darren Wilson shot and killed eighteen-year-old Michael Brown on August 9. Some, like Billy Bragg and Cat Power, have held solidarity concerts. Others, like Wiz Khalifa and Outkast, have made the "Hands up, don't shoot!" gesture during their performances. And still others, like Young Jeezy, Talib Kweli and MC Hammer, have visited Ferguson and talked with residents themselves.
But Williams has a different approach for drawing attention to the St. Louis County suburb -- he's using his shoes as a billboard.
See also: - Billy Bragg Performs Surprise Set at the Royale For Ferguson: "Liberty and Justice for All!" - Young Jeezy Visits Ferguson, Talks to 104.1 FM about Michael Brown
In an Adidas Originals collaboration that launched earlier this month, Williams released a monochromatic version of the popular Stan Smith silhouette. Available in blue, black or red, the sneakers also feature colorful insoles and Williams' name. They're pretty good looking shoes, honestly.
But plain shoes are really just a blank canvas to a creative artist like Williams. Thus, he put his mark on his kicks by writing "Hillary Clinton, go visit Ferguson" and accenting his words with daisies. Williams also included a red equal sign -- his signature Adidas mark -- on the toe. He's obviously trying to get the attention of the woman who has a shot at being the next president, reminding her to keep an eye on Ferguson issues if (when?) she begins campaigning. Check out this Instagram video where Williams wears the decorated sneakers during a concert.
Williams isn't simply letting his sneaks do the talking, though. In a recent interview on CNN, Williams spoke out against police actions the day Brown was shot.
See also: - Rapper Talib Kweli Claims Police Threatened His Life in Ferguson - MC Hammer Comes to Ferguson, Probably Fixes Everything
"That's excessive force. Where all those shots were, that that child laid in the ground. And he's a child. I know he's 6'2", 6'3", something like that, but he's a child, and he was laying on the ground for hours," Williams told CNN's Don Lemon. "There are good policemen, and there are bad policemen. There are good kids, and there are bad kids. Regardless to what that child was, he did not deserve to be shot down like that.
Williams expressed disappointment in the general media's coverage of Ferguson, saying that reporters chose to focus on a few shit-stirrers instead of the peaceful protesters or volunteers. But he also had harsh words for those involved in Ferguson's destruction.
See our full coverage on Michael Brown and Ferguson.
"And the looting of the stores in our own neighborhoods, I ain't telling you to do it nowhere else, but damn, why are you doing it in your own neighborhood?" Williams lamented.
Toward the end of the interview, Lemon asked Williams if he thought President Barack Obama needed to visit Ferguson himself.
"I think he needs to come down there," Williams said. "Because when your parents come into the room, whether it's you or your cousin that knocked the vase down, both of ya'll sit up at attention and everybody, as my dad would say, tightens up."
Watch the entire interview here:
RFT MUSIC'S GREATEST HITS
The 15 Most Ridiculous Band Promo Photos Ever "Where Did My Dick Go?" The Gathering of the Juggalos' Best Overheard Quotations I Pissed Off Megadeth This Week, My (Former) Favorite Band The Top Ten Ways to Piss Off Your Bartender at a Music Venue
---