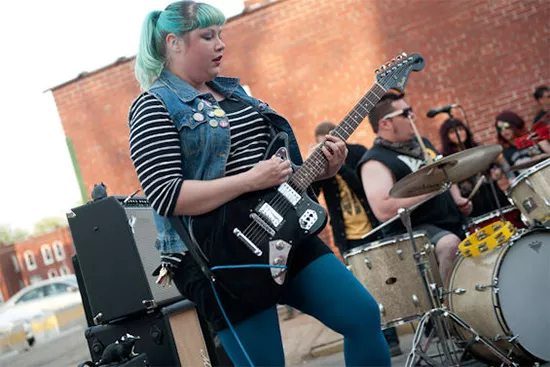 Bruiser Queen album release - Friday, October 3 @ Off Broadway.
This week, Bruiser Queen drops a new album, Stonechat plays its last show and St. Louis gets visits from several out-of-town, out-of-this-world performers. Select from shows including J Mascis, Barrence Whitfield and the Savages, Macabre, Chance the Rapper and more. Read on for this week's recommendations, and stay tuned until Friday for even more picks for the weekend.
Stonechat (last show) Monday, September 29 w/ Pile, Little Big Bangs, Blight Future @ Foam 8:30 p.m. | $5 By Bob McMahon From the 2014 RFT Music Awards: Collinsville trio Stonechat hits many of the touchstones of the math-rock subgenre. Herky-jerk, interlocking riffs spiked with bouts of dissonance? Check. Unconventional time signatures? Check. Drums that sound like they've been shoved down a flight of stairs? Maybe, but the staircase would have to be built by an obsessive-compulsive master architect to match the controlled chaos of Charles Nehr's playing. Lyrics fit for a comic book? Check, complete with said comic book accompanying the band's new EP BACCO. But how many math-rock groups feature a carnival organ? Newest member John Beabout's cartoonish instrument often stands in sharp sonic contrast to Sean Ballard's springy guitar, but his playing complements each spidery buildup and noisy breakdown perfectly, with the final result coalescing into smart songs that pack prog structures into pop run times.
Tatsuya Nakatani Tuesday, September 30 @ Lemp Arts Center 8 p.m. | $15-$20 By Daniel Hill From this archived show preview: Percussionist Tatsuya Nakatani approaches music in unique ways, primarily focused on improvisation. Born in Osaka, Japan and residing in the United States since 1994, Nakatani creates music that is non-linear and intuitively primitive, making categorization a difficult task. He is well known for employing a wide array of instruments and techniques for his performances, from drums and cymbals to kitchen tools and homemade bows.
Matisyahu Wednesday, October 1 w/ Radical Something @ The Pageant 8 p.m. | $25-$32 By Ettie Berneking From this archived show review: Only at a Matisyahu show will you find both yarmulkes and pot: The Saturday night crowd at the Pageant was transfixed as one of God's chosen people beat boxed and rapped his way across the stage.... Some people talk with their hands. Matisyahu beat boxes with his. It all starts out slow and simple. A few "boom koo ka choo's" that start to build into an unbelievably complex beat. His voice serves as each instrument. As he adds each musical layer, his left hand rests poised at his side. It jerks and then rises to float on an invisible wave before falling back.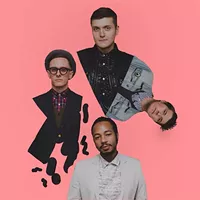 Miniature Tigers Thursday, October 2 w/ Skizzy Mars, Matty Rico, Machinegunheart @ The Demo 7:30 p.m. | $12-$15 By Christian Schaeffer From this archived show preview: Having survived a mid-'00s barrage of blog-buzz hosannas and an estimable amount of MySpace clicks, Miniature Tigers deserves some kind of endurance prize for coming through smelling rosy. Charlie Brand's kaleidoscopic pop songs tend to suffer from borderline personality disorder, but he shows a Shins-like delicacy in unpacking life's minuscule moments of elation and confusion. [2010's] Fortress wasn't exactly imposing or impregnable -- the hazy jams and distorted campfire sing-alongs could hardly be more inviting.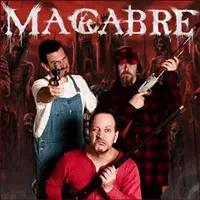 Macabre Friday, October 3 w/ Ringworm, Panzerfaust @ Fubar 8 p.m. | $15 By Rick Giordano If you're one of the select people who'd be drawn to something called "Murder Metal," chances are you're already quite familiar with Macabre -- the Chicago trio has been spreading its morbid tales of true crime via ripping death metal since 1985. Delightful stories of mass murder and mayhem from guitarist/vocalist Corporate Death abound, while drummer Dennis the Menace tries to catch his breath and not vomit or die. But you'll also find nursery rhymes, folk ballads and Willy Wonka covers sprinkled throughout the brutality as well. It's weird. It's gruesome. It's hilarious. And the bass player has been wearing the same Motörhead shirt for like twenty years. Cleveland hardcore legends Ringworm will be opening along with Canadian black metal (sure, that's a thing) band Panzerfaust. Snoozers are loozers.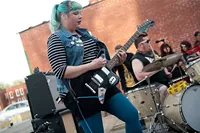 Bruiser Queen Album Release Friday, October 3 w/ Josh Berwanger Band, Pretty Little Empire @ Off Broadway 9 p.m. | free By Bob McMahon From the 2014 RFT Music Awards: Even for a band accustomed to hard work, Bruiser Queen is having an insane year. Somehow, the garage-pop duo released an acoustic EP, a seven-inch split and finished an upcoming full-length, despite a nonstop concert itinerary. But it's best to stay busy when you've hit your stride. The kicky and catchy songwriting approach its members employ is still as simple as their guitar and drums setup, which works because Morgan Nusbaum and Jason Potter know their way around a killer hook. New songs feature '60s girl-group influences and a greater variety of tempos, but they are still powered by Nusbaum's rich voice. With a coo that's equally arresting as her bellow, Nusbaum's pipes are Bruiser Queen's not-so-secret weapon, pushing its songs into the stratosphere.
Barrence Whitfield and the Savages Saturday, October 4 w/ Bible Belt Sinners @ Off Broadway 8 p.m. | $12-$18 By Roy Kasten Long before King Khan ruled the maniac garage-soul roost, decades before the Dirtbombs were blowing up Detroit, Barrence Whitfield was fronting a band accurately named the Savages and rampaging through any New England dive bar with the insurance policy to host them. Whitfield is a one-man R&B wrecking crew, part Little Richard, part Screamin' Jay Hawkins and ultimately a cult artist everywhere but (you guessed it) Europe. Paradoxically, Whitfield has made his best recordings with troubadour Tom Russell, but last year's Dig Thy Savage Soul tapped into the Bloodshot Records fanbase and served as a reminder that he still knows a thing or seven about tearing it up. St. Louis rockabilly stalwarts Bible Belt Sinners kick off this night of primal rock & roll.
Chance the Rapper Saturday, October 4 w/ Travis Scott, Sweater Beats @ Chaifetz Arena 7 p.m. | $25-$35 By Tara Mahadevan From this 2013 show review: Chance came out at 9:30 p.m. to play an hourlong set. His own outfit was simple: a white tee, khakis, black sneakers and snapback. Some emcees don't have a great stage presence or great live rapping skills, but you could immediately tell that Chance is different. He's young, but that just adds to his genuineness and charm. He also danced like a madman throughout his set, exhibiting his true weirdness, which was much appreciated.
J Mascis Sunday, October 5 w/ Luluc @ Off Broadway 8 p.m. | $20-$23 By Jaime Lees Touring in support of his new solo album Tied to a Star, Dinosaur Jr frontman J. Mascis steps away from the crushing volume of his main gig to embrace a softer, gentler sound. His new songs are lo-fi -- but not quite simple -- mostly acoustic adventures with just a few guitar solo slips. Infused with both sweetness and sadness, these songs bring to mind other classics like Big Star's beloved "Thirteen." Mascis has always written about love and heartbreak, but the message is usually buried in in the overwhelming sensory explosion that is Dinosaur Jr. Here, his compositions are unadorned, bare for the world to see. They're raw and heavyhearted, but in the best way.
Note: Though we wish we could, we can't feature every great show happening in town in just one post. Look for plenty more recommendations this Friday in our weekend shows post, peruse the St. Louis concert calendar for more ideas and let everyone know what else you're looking forward to seeing this week in the comments below. To be considered for coverage in RFT Music, submit show info online or drop us a line anytime.
RFT MUSIC'S GREATEST HITS
Remembering STLPunk.com -- How to View the Site Today and Find Your Old Profile Page "Where Did My Dick Go?" The Gathering of the Juggalos' Best Overheard Quotations The Ten Best Dive Bars in St. Louis The 15 Most Ridiculous Band Promo Photos Ever
---