All hail the lowly cassette. More than just an obsolete format with retro appeal, cassette tapes have historically served an important, almost subversive function.
Invented in the 1930s but only hitting market penetration in the 1970s, cassettes were cheap, portable and customizable. At the time, though, record companies panicked at the thought of people taping their favorite songs off the radio instead of buying them at the record store. "HOME TAPING IS KILLING MUSIC -- AND IT'S ILLEGAL," blared the industry.
Naturally, this became fodder for satire.
See also: Music Record Shop Opens in the Grove In Between Ready Room and Demo
For their first single, Malcolm McLaren had Bow Wow Wow debut with "C30, C60, C90 Go," an ode to home taping. When Alternative Tentacles released a Dead Kennedys cassette, they left one side blank, with this note: "HOME TAPING IS KILLING RECORD INDUSTRY PROFITS -- WE LEFT THIS SIDE BLANK SO YOU CAN HELP." (Little did the music industry know that it would have a much, much bigger problem once the Internet and MP3s became things.)
As the 1980s progressed and more cassette-centric technology hit the market -- dual decks, four-track recorders and of course the Sony Walkman -- the humble medium turned out to be ideal for recording and distributing music. Hip-hop jumped onto the cassette bandwagon almost immediately. There are entire blogs dedicated to tape-hiss-laden recordings of classic rap battles and park jams. Rap mixtapes still exist today, even if the "tapes" are usually download files.
Cassettes were also perfect for independent labels and renegade artists who wanted to release uncompromising music, but didn't have the money to press vinyl. Two of the best-known indie labels of the past 30 years, K and Sub Pop, started off as cassette labels. Bands like Bikini Kill, Versus and Bratmobile became well-known through self-dubbed demo tapes before releasing actual records. In the 1990s, Dennis Callaci's Shrimper label became among the first to release music by the Mountain Goats and Nothing Painted Blue -- both of whom were merely talented friends at the time.
For a long time, it seemed like MP3s and the Internet had taken the place of cassettes. But over the past few years, something unexpected happened: Cassettes started making a comeback, as labels like Burger and Kissability rediscovered their economy and portability. St. Louis can boast a small but burgeoning tape culture, with labels like Eat Tapes, artists like Black James, stores like Apop Records and events like Bruxism and Undercurrent STL favoring the format.
Enter International Cassette Store Day. In 2013, a small group of British analog devotees proposed the idea of a low-budget answer to Record Store Day. Twenty-eight shops in Europe and America participated by offering limited-edition cassettes and live performances. It was enough of a modest success that they're bringing it back this year.
Continue to page two.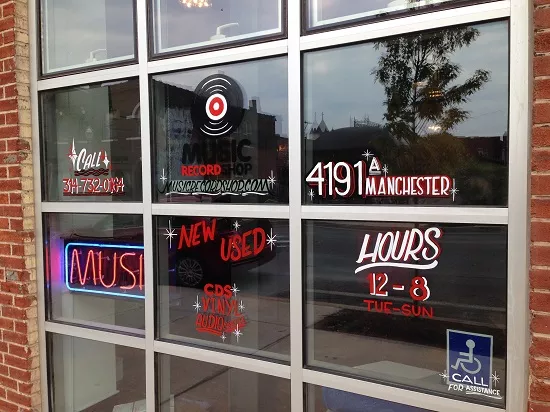 Rick Giordano
Music Record Shop
Hence, on Saturday, September 27, Music Record Shop in the Grove will serve as your local International Cassette Store Day representative. Starting at noon, the shop will be offering many of the official releases. These range from well-known acts like Karen O, Best Coast and Vivian Girls, to compilations by specialty labels like Slo-Fi, Pizza Tapes and New Wave Tapes. The store will also host performances by local favorites Little Big Bangs, Boreal Hills and the Reverbs, and will offer free Schlafly beer. In other words, a lot like Record Store Day -- except with shorter lines, cheaper products and a generally humbler attitude.
According to Music Record Shop's Mark Carter, cassettes have become a small but dependable portion of retail. "The sales of cassettes is amazing, both new and used," Carter said. "It really has gone beyond being a novelty. We have customers who are seeking out music released on cassettes. I'm not sure it will be a strong of a comeback as vinyl, but for now it's definitely growing in popularity."
Carter agrees that cassettes provide both value and portability. "I think it started as a novelty, but it has really caught on with the youth and indie music fans. They are cheap for the bands to create, and in turn inexpensive for the fans to purchase."
Long story short: Cassettes may break, twist or tangle, but they refuse to die. Stop by Music Record Shop on Saturday afternoon, experience International Cassette Store Day for yourself, and hit the thrift store for a used Walkman on your way home.
RFT MUSIC'S GREATEST HITS
The 15 Most Ridiculous Band Promo Photos Ever "Where Did My Dick Go?" The Gathering of the Juggalos' Best Overheard Quotations I Pissed Off Megadeth This Week, My (Former) Favorite Band The Top Ten Ways to Piss Off Your Bartender at a Music Venue
---