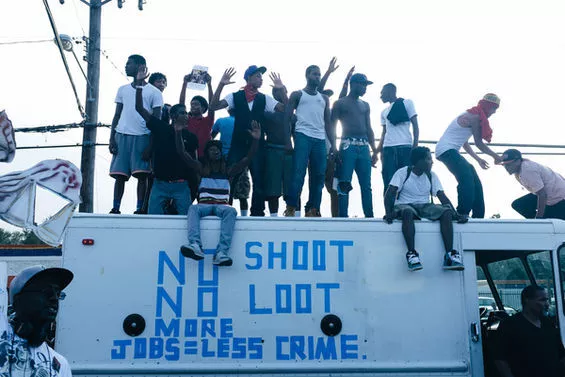 Editor: Tef Poe is an artist from the St. Louis area. Through powerful imagery and complicated honesty, he has earned a reputation as one of the best rappers telling the story of St. Louis, which is about much more than one place. Poe has been featured in music publications such as XXL and Urb Magazine. His project The Hero Killer was released on January 2 and was followed up this year by a full-length with DJ Burn One entitled Cheer For the Villain. Follow him on twitter @tefpoe. Get The Hero Killer here.
For a certain generation of people, the last great black revolutionary voices were Malcolm X and Martin Luther King Jr. That's not to say there weren't other people doing similar work and holding court with similar opinions as these two men, but Martin and Malcolm are the Superman and Batman of the civil-rights movement. Rosa Parks would be considered Wonder Woman. The movement looked like these people, and the narrative presented in the media also sounded like them.
See also: Tef Poe On Ferguson, His Hometown: "The Mike Brown Rebellion Has Begun"
MLK's face is tattooed on my left arm. His methods were, at times, actually very confrontational and called for direct action. He doesn't get the credit he deserves in this regard because most people have sensationalized the non-violent aspects of his teachings. I think it's important to forever honor MLK, Malcolm, Rosa and all of the greats from their class, but young folks today are inspired by a different kind of revolutionary voice.
The last great revolutionary voice of our time, in my opinion, was Tupac Shakur. The national anthem of Ferguson on the protest grounds is undoubtedly Lil Boosie's "Fuck the Police." This song became the anthem of many angry young protesters almost immediately. Most of the older folks marching with younger folks who asked them to stop using profanity never realized that the origin of those chants derived from the lyrics of this song.
Lil Boosie has more relevancy to Mike Brown's peers than Al Sharpton does. Chief Keef's perspective on how to handle police brutality is more politically correct than Jesse Jackson's. For pseudo street-intellectuals like myself, Killer Mike is the mainstream voice we have selected to vicariously live through.
It's important to have these people as your frame of reference when viewing Ferguson from a bird's-eye view, because this is honestly the only way you'll begin to understand the logic that caused us to fight back. Tupac Shakur was a bandanna-wearing, marijuana-smoking, middle-finger-flipping, book-reading, politically engaged young black man with anger issues. Our closest example of a push for revolution in America during our lifetime for the most part came from his war cry.
The current movement reflects people like him to the fullest -- black males with their shirts off, tattoos all over their flesh and bandannas on their faces, covering their mouths from tear gas. The young women of the movement are equally bold and courageous. Women like MC Lyte, Queen Latifah, Lauryn Hill, Jean Grae, Lil Ki, and Da Brat are radicals within their own right. They have helped create a attitude among the women of the hip-hop generation that differs from the narrative of Deborah Johnson and Betty Shabazz. Even though these women were also powerful and courageous, today's female activist and political organizer sports a different type of crown.
The attitude of the current generation is rooted in, "If you push me, I will certainly push you back." Hip-hop helped evolve this spirit many moons ago. The simple notion of refusing to comply when someone asks you to pull your pants up or turn your hat around to the front are low-key ways of saying to society, "I will not march to the beat of your drum."
This brings me to another point: As the hip-hop generation, at this current moment we are failing Mike Brown and the countless other victims of police brutality. Eric Garner of New York deserves more from us. Kajieme Powell of St. Louis deserves more from us. Now that the tanks and tear gas are gone, our brother Michael Brown deserves more from us. Marissa Alexander is behind bars without a voice, and she certainly deserves more from us.
I had high hopes that Michael Brown would be the wake-up call that forced hip-hop artists with mainstream influence to finally remember they are black in America. We're talking about a male-dominated genre where everyone is a self-proclaimed badass when it comes to beefing with other rappers, but here we are in direct conflict with the police state, and both locally and nationally the response has been lackluster.
For years I listened to songs from local rappers speaking of the revolution. Well, the damn revolution landed in our back yard, and most of us dropped the ball or were too scared to show up to the party. This is a problem we can fix -- it's time to wake up and define our own destiny as a collective. In the words of Dead Prez, "It's bigger than hip-hop."
---