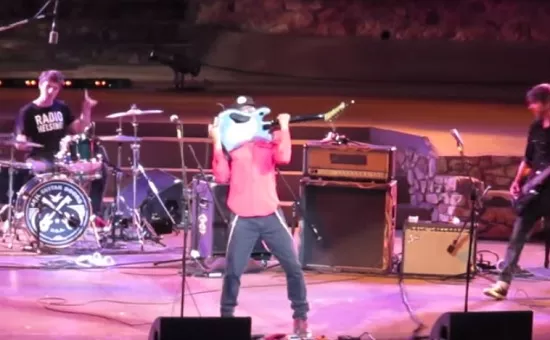 Screenshot from the video.
Tom Morello, former guitarist for '90s political rap-rock act Rage Against the Machine, has written a new song called "Marching for Ferguson" under his solo-act moniker, the Nightwatchman. Morello debuted the track at the Jail Guitar Doors' Rock Out! benefit concert, held September 5 at Los Angeles' Ford Theatre. The track, inspired by the shooting death of unarmed teen Mike Brown and the ensuing unrest in Ferguson, has a blues-rock feel to it and features the line, "Carving up that golden calf with a blowtorch and gas mask, I'm marching on Ferguson, I'm marching tonight."
Midway through the performance Morello breaks into a solo. But, true to his well-documented guitar eclecticism and unique style with the instrument, he performs that solo with his teeth, channeling his inner Hendrix.
Morello's Nightwatchman project started in 2003 as an outlet for his political views while he was performing apolitical music as a member of Audioslave. He has said that he was inspired by fellow musician and activist Billy Bragg, who also has been outspoken about the events of Ferguson, even going so far as to perform an unscheduled benefit show in St. Louis last month. "He gave me a fearlessness, a sense that there's no audience that you need to be afraid of," Morello said after first watching Bragg perform.
Morello has been tweeting about Ferguson-related events in addition to his usual activism. One Twitter interaction (Twitteraction?) saw the musician fielding criticism for the song's lyrics by a man whose profile picture featured himself playing golf:
He has also passed along information on how to get involved:
Still, none of it is as helpful to the cause as a good old-fashioned teeth solo. Watch the video yourself below.
RFT MUSIC'S GREATEST HITS
The 15 Most Ridiculous Band Promo Photos Ever "Where Did My Dick Go?" The Gathering of the Juggalos' Best Overheard Quotations I Pissed Off Megadeth This Week, My (Former) Favorite Band The Top Ten Ways to Piss Off Your Bartender at a Music Venue
---