Welcome to Hey DJ, a series that delves into the St. Louis DJing scene. Get to know some local music lovers and their quirks as they fill out our short answer questionnaire, and find out where to catch them around town.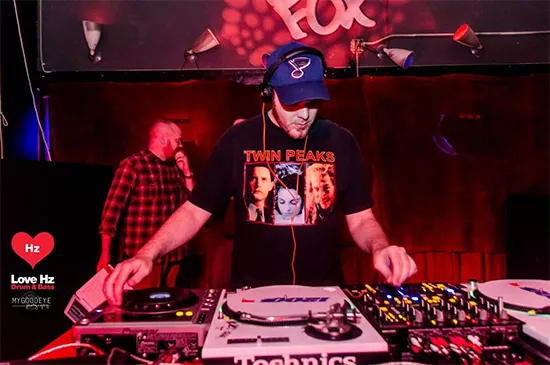 Courtesy of Brian Bradley
DJ Cryptonix.
When asked why he chose "Cryptonix" as his moniker, local DJ Brian Bradley responds: "It is a reference to cryptography, the study of encryption, particularly in the field of espionage. It's dark and mysterious, almost Kafka-esque. A fair amount of the music I play tends to have similar qualities."
Bradley plays uptempo drum & bass dance music -- specifically darker varieties including neurofunk and techstep. He describes his favorite stylistic elements as intricate break beats over heavy -- sometimes oscillating -- bass lines and synthesizers amid eerie sci-fi and horror film samples.
His first exposure to the genre was at weekly parties at a club in Washington, D.C., where he fell in love with rolling bass sounds by checking out DJs including Aphrodite and Grooverider as they performed through state-of-the-art sound systems. Today his influences range from drum & bass artists including Dom & Roland and Technical Itch to music from all over the board: Miles Davis, King Crimson and the Melvins, just to name a few.
When he's not busy running EDM label, Warrior Drum Recordings, you can find Bradley as DJ Cryptonix at the Crack Fox (1114 Olive Street) spinning under the event, "Love Hz: Drum & Bass," the first Friday of every month.
The album that best represents me is... Miles Davis - On The Corner.
I got into DJing because... I love jungle and drum & bass, and I have a desire to keep it alive in this constantly changing EDM scene.
The thing I like most about St. Louis is... the fact that there is a drum & bass following at all. I moved here from Virginia in 2011, and we didn't have any scene or following for drum & bass like this back home.
The first vinyl record I ever bought was... Cause 4 Concern - Symptom EP.
The most prized item in my music collection is... Miles Davis - Live Evil (gatefold double LP).
A record never allowed on my turntable is... Bad Company (UK) - Nitrous (Dillinja Remix). I love Bad Company and Dillinja, but that tune is godawful. No one should have to hear it.
The song that gets the best reaction when I'm performing is... Dom & Roland - Can't Punish Me.
The strangest request I've ever gotten while DJing is... Rednex - Cotton Eye Joe -- recently actually. The guy was screaming "Cotton Eye Joe" at the top of his lungs.
The vibe in the room during my sets is usually... anywhere from head-nodding in approval to full-on dancing (us junglists call it "brocking out"). Most of my crowd is usually made up of drum & bass fans and DJs, so there's definitely a feeling of camaraderie among us.
My most memorable gig was... spinning right before GEIN at Upstairs Lounge in July of 2013. Not the best turnout, but there was a ton of energy in the room that night, and for a short while, I had the dance floor packed.
One person to watch in the St. Louis music scene right now is... Jaizen aka Carnal Motive. He can do just about anything behind the turntables, from hip-hop and turntablism (scratching) to drum & bass, trap and dubstep. Every time I see him play, he has another trick up his sleeve.
Five current artists worth listening to are... Dioptrics, S.P.Y, Gridlok, Teddy Killerz and Gremlinz.
For more on DJ Cryptonix, check out the Love Hz website and follow him on Mixcloud or Facebook.
RFT MUSIC'S GREATEST HITS
The 15 Most Ridiculous Band Promo Photos Ever "Where Did My Dick Go?" The Gathering of the Juggalos' Best Overheard Quotations I Pissed Off Megadeth This Week, My (Former) Favorite Band The Top Ten Ways to Piss Off Your Bartender at a Music Venue
---