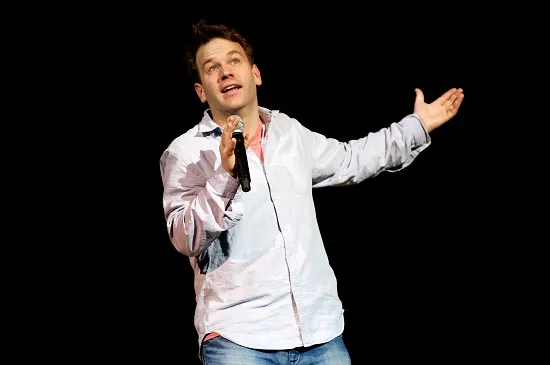 Brian Friedman
Mike Birbiglia
Humor can be expressed in many ways, be it a one-liner, a story, a picture or simply a physical action. It is a unique art form, dependent as much on the performer as it is on the audience. It can exist as an individual entity or take small roles in different forms. A funny character can pop up in a dramatic film, just as a wisecrack can stand alone as a single quip between two individuals.
It doesn't take a comedian to tell a joke, but it does take one to properly deliver that joke. And what separates the comedians from the joke-tellers is the knowledge of how to include their audience as opposed to isolating them.
"I have a binder of my present show, and I'm always revising it with a pen and a highlighter, and crossing things out and writing things in," standup comic Mike Birbiglia tells RFT Music. "Every night is different incrementally. I'm always changing it, at least a little bit."
The Shrewsbury, Massachusetts-based Birbiglia began his "Thank God for Jokes" tour in January of this year. The show will make its way to St. Louis this Friday, September 19, at the Pageant.
"The times in my life when I felt closest with people were when I shared a joke with my wife or my brother or my parents, and that's why live comedy shows, in a way, are sort of a religious experience," Birbiglia contends. "I hear a group of people, how they come together in a room, and they're all laughing at the same kind of borderline insane ruminations, all at the same time, and the attempt to connect on a human level -- that's the religious experience. And that's why I gave the tour its title."
The ambitious outing spans over 100 cities and has taken Birbiglia all across the country. His career has brought him overseas and around the world as well, presenting the unique challenge of a language barrier. But while humor can be restricted by and dependent on the dialect of a region, it is also able to transcend it.
Continue to page two for more.
"One of the reasons that I tour all over is that I actually want to know what works everywhere, because I want to know what is the most humorous of my material," Birbiglia explains. "But what's really cool, I find, is that if you can create a show that can work anywhere in the world, because it's so universal and yet specific at the same time to your own personal experience, that that's sort of where the magic lies."
Developing universal material is precisely the practice that separates a good performer from a truly remarkable one. Unlike a lyric to a song, a joke is not as open to interpretation. It's the comedian's job to take a humorous situation and deliver it to the audience in a way that is relatable.
"We're all trying to connect with people the best way that we can, and comedy is a form of communication," Birbiglia says. "Humor is a form of communication. That's essentially, in a lot of ways, what my show is about."
Birbiglia prides himself on being an all-inclusive comedian, and his show is designed especially for the live experience.
"Every time I walk on the stage, I'm trying to leave it all out on the floor and have it be the best show I've ever done," he explains. "That's how I want it to be every night, because every night is a special night. People got a babysitter, or they took time off from studying, or just time off from the important things in their life to set aside a few hours to see a comedy show, so I take it really seriously. I try to make it be the best show that people have ever seen."
RFT MUSIC'S GREATEST HITS
The 15 Most Ridiculous Band Promo Photos Ever "Where Did My Dick Go?" The Gathering of the Juggalos' Best Overheard Quotations I Pissed Off Megadeth This Week, My (Former) Favorite Band The Top Ten Ways to Piss Off Your Bartender at a Music Venue
---