Photo by Mitch Ryals
Inaugural Phases of the Moon Music and Arts Festival.
Brand-new music festivals rarely go off without a few kinks. Despite some interference from Mother Nature, the first year for Phases of the Moon Music and Arts Festival ran pretty smoothly. Located at the 3,000-acre Kennekuk County Park in Danville, Illinois, the festival drew 8,500 people for four days of music, art and community.
Here's the best and worst aspects of the affair:
The Best:
Photo courtesy of Phases of the Moon Festival
The Lineup:
The festival featured a lineup that appeased various musical tastes. The two biggest headliners -- Widespread Panic and the String Cheese Incident -- each played twice. Other notables included Galactic, Anders Osborne, JJ Grey and Mofro, Sam Bush Band, Grace Potter and the Nocturnals, the Jeff Austin Band, Leon Russell, Leftover Salmon, Karl Denson's Tiny Universe, Tedeschi Trucks Band, Soulive, Gov't Mule, Robert Randolph and the Family Band, and the Main Squeeze.
Clayton Elkins, an attendee from St. Louis, has been to about ten festivals since last year -- mostly electronic stuff. "This is a first for me, where all the bands play live music and it's not just a DJ hitting play," he says. "The lineup's real solid, all roots of rock."
Staggered Set Times:
For the most part, the organizers did a good job of spacing out the 70-plus performances. There were never any conflicts between the two main stages, but a few disappointing choices had to be made: Vintage Trouble versus Clare Dunn, Grace Potter and the Nocturnals versus Sam Bush Band, and Robert Randolph and the Family Band versus the Main Squeeze were just some of the nail-biters.
Photo by Mitch Ryals
Don't call her Furthur 2, she doesn't like that.
Furthur Bus:
No, it wasn't the real Furthur bus. That one died in 1969 and sits at the Kesey farm waiting to be restored. This bus was, however, painted by Ken Kesey and the Merry Pranksters and drove them across the country.
Photo by Mitch Ryals
Let the vibes flow through. Funk not only moves, it can remove. Dig?
The Sanctuary:
A four-day music festival can be a grueling experience, especially for those not used to ingesting inordinate amounts of mind-altering substances, getting no sleep and walking ten miles a day. Thankfully, the Sanctuary offered momentary relief in the form of daily yoga classes, massages, painting classes and demonstrations. The Sanctuary also featured a sound-immersion experience wherein people lay in a circle surrounded by gongs, singing bowls, chimes and other instruments from all over the world.
Photo by Mitch Ryals
You want sausage or bacon? How 'bout both?
Panic Stricken Chicken Shack:
Rena and Kevin Aday's campsite in the middle of the main GA camping field was an outpost of sorts from the early morning hours and throughout the afternoon. The husband-and-wife team travel to music festivals throughout the South and Midwest and serve food at a cheaper rate than vendors inside. "It's our only job," Rena says. "We usually make breakfast burritos in the morning until about 1, then go see some music and some back and make chicken wraps until 2 a.m."
Weary campers staggered past their canopy, which emitted smells of cooked bacon and eggs and fresh coffee. Soon, a line formed and important discussions ensued about the previous night's shows, college football and legalization of marijuana. By Saturday morning, when the word spread, a few folks brought chairs to shoot the shit and toke a few while the coffee brewed.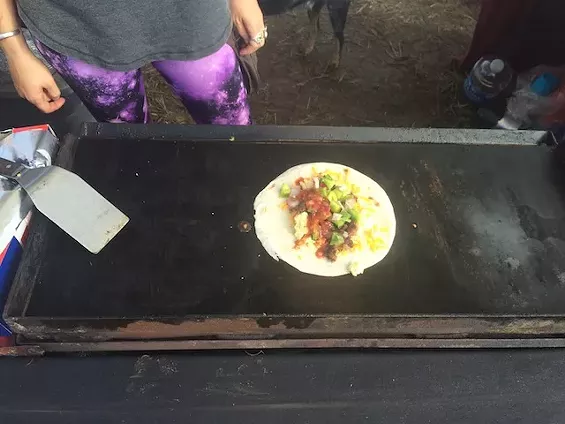 Photo by Mitch Ryals
"Ya'lls burritos is fyre!"
Tennessee natives, Kevin and Rena started serving food at music festivals in April 2003. They brought sixteen dozen eggs to this festival, but usually, Rena says, they easily go through 30 dozen.
Clean Toilets 'Err Day:
There are certain amenities frequently taken for granted, but one of the most under-appreciated, by far, is a flushing toilet and readily available toilet paper. Thankfully, the porta-potties were cleaned and toilet paper replaced each morning.
Continue to page two for the bad stuff.
The Worst: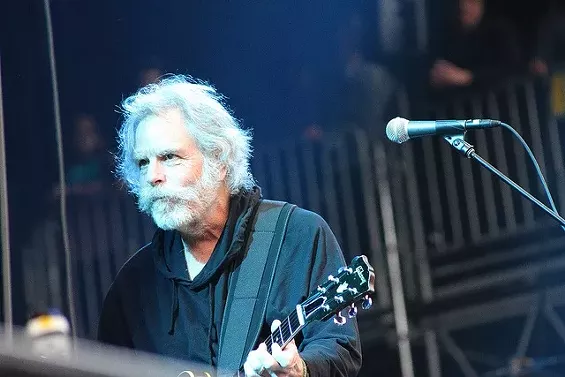 Flickr
Bob Weir at Outside Lands August 2013
The Mud
The last thing you want at a camping music festival is mud, but that's what we got. Some cars got stuck, but the parking attendants did a great job finding relatively dry areas to put vehicles. The mud also delayed set-ups, and Thursday set times were pushed back an hour.
You'll notice that three of the four "worst"s were caused by Mother Nature. With that in mind, hats off to first-time festival founders Barry and Sam Shear, the father-and-son team who pulled off a successful inaugural Phases of the Moon Music and Arts Festival.
Follow Mitch Ryals on Twitter at @mitchryals. E-mail the author at Mitch.Ryals@RiverfrontTimes.com.
RFT MUSIC'S GREATEST HITS
The 15 Most Ridiculous Band Promo Photos Ever "Where Did My Dick Go?" The Gathering of the Juggalos' Best Overheard Quotations I Pissed Off Megadeth This Week, My (Former) Favorite Band The Top Ten Ways to Piss Off Your Bartender at a Music Venue
---