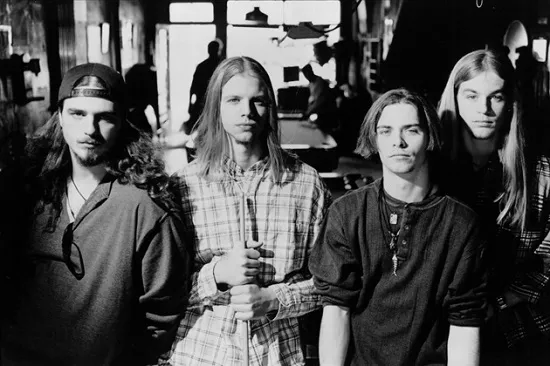 Ancient press photo from old timey times.
Drawing a collective "Wait, who was that again?" reaction from music fans across the world, Charlestown, Indiana, rock band Days of the New broke up on the stage of the Mad Magician this past Saturday. Following a no-show at Columbia's Blue Note on September 4, DOTN frontman Travis Meeks was reportedly acting erratically onstage in St. Louis, and according to one fan in attendance, "was so whacked out, he could barely play."
In frustration, bassist Jesse Vest took the mic from Meeks after the band fumbled its way through six songs, announced the end of the band and then walked offstage, joined by guitarist Todd Whitener and drummer Matt Taul. Meeks, according to fan comments on DOTN's Facebook page, lingered onstage for a while in a daze before wandering into the crowd, speaking incoherently and eventually screaming at the person working the merch table.
"We apologize to everyone who came to see us in St. Louis tonight," the band later said via Facebook. "We tried to make this happen, but as anyone who was at the show tonight knows, it was a very difficult situation."
This show was part of a reunion tour for the original lineup of the group, which had disbanded within a year of its inception, with Whitener, Taul and Vest going on to form the band Tantric.
"We do want to let it be clear that Travis was in no way pressured into this reunion," the band later added via Facebook. "In fact, it was very much the other way around. Travis literally begged us to do this tour, on the phone, in text, and in person. He had burned so many bridges in his career that no one would hire him to play a show anymore for fear that he would not show up. He knew the original lineup would lend credibility to the project and help him rebuild his career. Unfortunately, he was not able to handle the responsibility or manage his issues."
While diehard fans of the group mourned its sudden departure, casual observers in St. Louis were decidedly less heartbroken.

In all seriousness, though, here's hoping that Meeks gets the help that he needs. Point your Internet in this direction for more info on Tantric, coming soon to a Pop's nightclub near you.
RFT MUSIC'S GREATEST HITS
The 15 Most Ridiculous Band Promo Photos Ever "Where Did My Dick Go?" The Gathering of the Juggalos' Best Overheard Quotations I Pissed Off Megadeth This Week, My (Former) Favorite Band The Top Ten Ways to Piss Off Your Bartender at a Music Venue
---