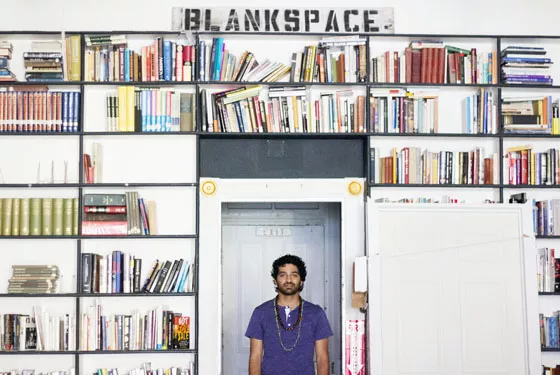 Mabel Suen
Kaveh Razani, proprietor and now full-on owner of Blank Space.
"We've intentionally kept ourselves from being any kind of artistic or stylistic censors. We literally take everything that we can," says Kaveh Razani, founder of hybrid venue Blank Space. The venue, which first began as an open-ended art project, has evolved into a bar that serves art and music in tandem -- a confluence of culture for local artists and musicians alike. Following the recent acquisition of the building located at 2847 Cherokee Street, the venue is moving forward with major construction and renovation plans.
"For the first six weeks, it was like a summer camp sort of thing," Razani says, recalling the days before the venue even had a name. "Nothing was set in stone. We were just squatting in this building we had rented, making art, cutting up furniture." He and his team started their lease on January 1, 2012.
See also: Blank Space Turns Two; Major Renovations Coming Soon
Within two months, Blank Space had its first inspection for occupancy. Razani worked through the following twelve weeks and successfully passed. And although the project wasn't to be bound by any specific set of rules, he knew that this would be a place for people to gather.
"The point was to allow the people we associated with and the people that walked by every day to come in and envision the space, and help make it real. From the beginning, the point was to be community directed," Razani says.
"On any given day there are ten to fifteen people that make Blank Space what it is," Razani explains. "There are people who have, in my opinion, more responsibilities here than me. For the first year and a half, there were less than five. At some points there were just two people running the place."
On the main level, a mid-size bar serving beer and cocktails is surrounded by walls of art. Beat poetry and public showings of locally sourced video happen on this floor, while dance parties with live DJs populate both levels.
In 2014, Blank Space is a home for hip-hop, punk rock, noise and other music that might otherwise be marginalized due to its lack of earning potential. Shows typically take place in the basement, and artists perform at eye level with concertgoers -- one benefit of a smaller, more intimate space. The walls are painted black, and subtle lights hang from the ceiling, giving off a cavelike vibe.
Events such as concerts, art shows and poetry readings are booked through Blank Space's email address ([email protected]), and if the date is open, Razani and company typically approve. That means a brand-new band can get in the door regardless of experience, genre, age or race. While diversity is key, the staff doesn't overtly enforce specific styles -- the doors are open, regardless of who comes knocking.
Continue to page two.
Razani admits that his idea of monthly memberships never panned out. As Blank Space grew, he was hoping to instate a membership fee or a monthly donation fund. He built a bar instead.
"I didn't want to start a bar. The last thing I wanted to do was apply for a liquor license. For us, it's a means to an end. We don't know if it's good or bad objectively, but I'll be goddamned if I'm going to trade Blank Space in because I've got hesitations about running a bar. The money we make at our bar pays for every good thing we do," Razani says.
In September 2013, Razani was introduced to a friend of a friend -- a private investor who widened the scope of the project. The investment that followed has allowed Blank Space to not only stay open, but even expand by purchasing the building from the former landlord.
Ownership of the building has allowed for the start of major construction, including back-patio seating, a full club sound system, a full-service cafe and the rebuilding of the main floor's bar. Razani aims to convert the upstairs space into a new bar with a second bathroom, ultimately transforming Blank Space into a three-level building to serve food, alcohol, art and entertainment -- all with community in mind.
"We have struggled with group dynamics, moral and ethical decisions, holding each other accountable and committing to a thankless job that is literally only justifiable if you can see the good that comes out of it," Razani says. "We keep each other honest. I think where we are now is the best place we've ever been. I believe we're running our space now better than we ever have."
RFT MUSIC'S GREATEST HITS
The 15 Most Ridiculous Band Promo Photos Ever "Where Did My Dick Go?" The Gathering of the Juggalos' Best Overheard Quotations I Pissed Off Megadeth This Week, My (Former) Favorite Band The Top Ten Ways to Piss Off Your Bartender at a Music Venue
---