"Honestly, I never planned to go onstage again in that way. If I feel like I'm getting to a place where it's mimicking or a caricature, I just want to move on. But I felt like: Let me do it now 'cause these kids [in the audience], it feels good to know that they're happy. I really don't actually get anything from performing."
That was Andre 3000's response when asked why he is touring now, in a (stellar) New York Times interview published on August 31 of this year. As one of rap's most enigmatic -- and undeniably talented -- figures, the man born Andre Benjamin, one half of the legendary southern rap group Outkast, no longer feels he has anything to prove in the world of hip-hop. "Part of art is knowing when not to put paint on," he also told the Times. "And when to change your medium."
See also: Our complete LouFest coverage
Benjamin famously walked away from stardom at the height of his group's popularity. Outkast did not even tour to support its highest-selling album, 2002's Speakerboxxx/The Love Below, which has been certified diamond with over 11 million records sold. Tour cancellations followed, the duo's professional relationship became strained, Benjamin fumbled through apologies to his partner, Big Boi.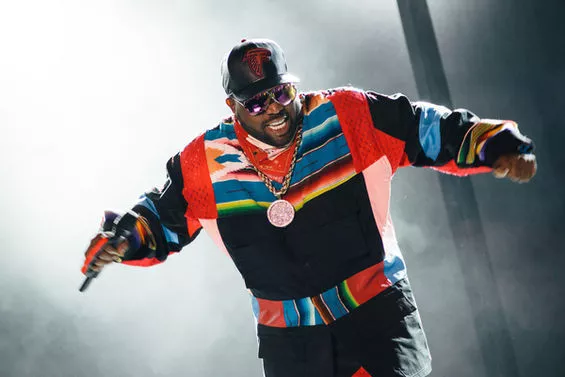 For fans of a man considered by many to be one of the greatest rappers alive, his absence from the spotlight was disheartening, to say the least. Big Boi pressed on with a solo career, releasing two critically acclaimed albums, but Andre all but dropped out of the scene altogether, only reemerging on occasion to lend a guest verse to a friend's record.
"Now the only time I'm really inspired to write raps is if an artist that I enjoy invites me to their party," he told the Times. "So if Future calls and says, 'Hey man, I want you to do this,' I don't want to let Future down. I don't want to let Lil Wayne or Drake down, because I love them."
So when it was announced at the beginning of this year that the 'Kast would be reuniting for a full reunion tour to celebrate its twenty-year anniversary, critics and fans alike responded with unbridled joy.
The first show of the tour, Outkast's first live performance in a decade, took place at Coachella Music Festival in Indio, California, on April 13. Reviews were mixed, with many noting that something was off. The blame was laid on Benjamin, who had come dressed in overalls as opposed to the eclectic style for which he is known, and appeared disenchanted throughout the night's proceedings. When it came time to perform the once-ubiquitous "Hey Ya!", Benjamin stood still as a stone and faced away from the crowd for his entire first verse.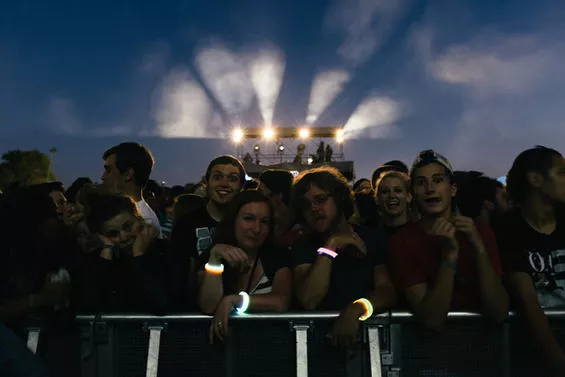 Bryan Sutter. More Oukast photos in our complete slideshow.
LouFest's crowd patiently await the start of Outkast's performance.
"It was foreign," he told the Times of his performance. "My head wasn't there. I kind of fluffed through rehearsals. A few hours before the Coachella show, I get a message that Prince and Paul McCartney are going to be there. My spirit is not right, and idols are standing side-stage, so as the show started, I'm bummed. This is horrible. In my mind I was already gone to my hotel room halfway through."
It took a phone call from Prince himself to set things straight. "When you come back, people want to be wowed," he told the rapper. "And what's the best way to wow people? Just give them the hits."
"They actually got Andre Benjamin [as opposed to rap persona Andre 3000] the first night [at Coachella]," Benjamin said. "And I clearly saw they don't want Andre Benjamin."
Five months of festival dates followed, bringing us up to the present: Outkast, performing live in Forest Park at this year's LouFest Music Festival.
Continue to page two.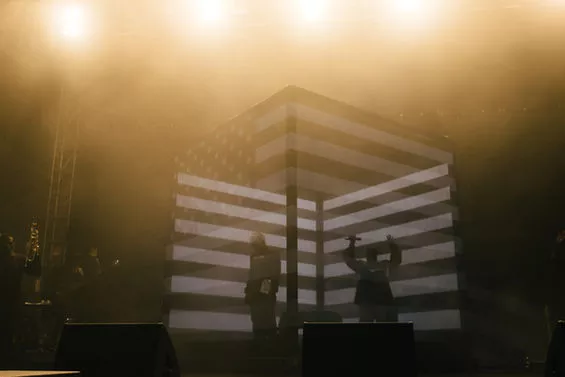 Bryan Sutter. More Oukast photos in our complete slideshow.
Andre 3000 and Big Boi, whose hands are raised in the air in tribute to Mike Brown, at the start of their set.
The setlist was incredible. The energy onstage was electrifying -- even the most curmudgeonly of critics would be hard-pressed to find a single thing to complain about in the performance. Big Boi and Andre 3000 took the stage close to 8:30 p.m., the former standing with his hands in the air -- a "Hand up; don't shoot" reference to the late Mike Brown -- and the latter dressed in a white wig, sunglasses and a black jumpsuit that read, "Can one rest in peace and violence?" A price tag hung from the outfit; it said, simply, "Sold Out."
From the opening intro of "Bombs Over Baghdad" to the final notes of set closer "The Whole World," the duo dominated the stage. Big Boi played his role of rap hustler with ease, spitting bars effortlessly, showboating for the crowd and generally just reminding the world that Daddy Fat Sax, too, deserves his place among hip-hop's legends.
But Andre 3000 was a man on fire. He ran all over the stage; he climbed up on speakers. He did the thing where you stand on one foot and put your hands out in front of you as though you are flying like Superman. He pretended his microphone was his penis, stroking it softly while Big Boi delivered a verse. Shortly thereafter, he grabbed one of the trumpets from the backing band, Horns Unlimited, and pretended it, too, was his penis -- for the entire duration of his song "Roses" from The Love Below -- and he didn't miss a beat or a bar as he did so.
He death-growled lines. As in, he occasionally would spit a bar or just a word much in the style of Cannibal Corpse -- a guttural, brutal sound unexpected in a pop act's set. He grinned ear-to-ear every time he did it. In fact, he grinned ear-to-ear for the entire performance.
He brought a dozen or so girls onstage during "Hey Ya!" so that they could "shake it like a Polaroid picture." None of them were probably old enough to remember what a "Polaroid" even is. At the close of that song, he went down the line and hugged and thanked every one of them.
He did somewhere between 30 and 40 push-ups onstage during Big Boi's verse on "The Whole World." At that song's end, he executed an extremely slow-motion somersault toward the side of the stage, cheesing as he did so before dropping the mic and freezing in robotic fashion. One of the world's greatest performers, he performed.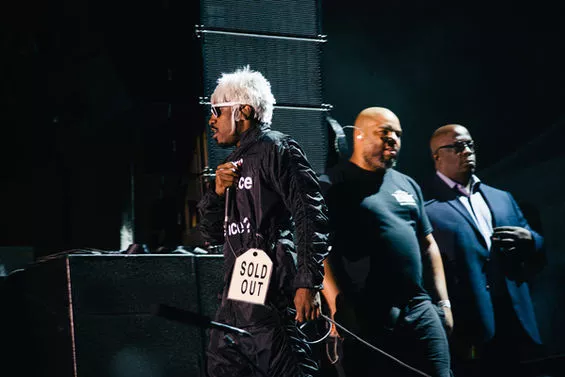 The difference between Andre Benjamin and Andre 3000, it seems, is vast in 2014. Artists and celebrities often struggle with balancing their on-stage and off-stage personas -- lest we forget, they are people too. And while Benjamin -- now a father, painter and actor -- has apparently largely outgrown the rambunctious 3000, he was still kind enough to trot him out for an entire summer, just for the fans. There is every reason to think this will be the end for Outkast. Big Boi will continue to kill it with his solo material, but Benjamin is looking to new things on the horizon.
"I remember, at like 25, saying, 'I don't want to be a 40-year-old rapper,'" he told the Times. "I'm 39 now, and I'm still standing by that. I'm such a fan that I don't want to infiltrate it with old blood."
Outkast has a total of seven dates left on this comeback tour. Fly, drive, walk or crawl to the one nearest you, and give thanks to one of the best rap groups on Earth for twenty years of Southernplayalisticadillacmuzik. You will not be disappointed.
Full setlist on the next page:
Setlist:
B.O.B.
Gasoline Dreams
ATLiens
Skew It on the Bar-B
Rosa Parks
Da Art of Storytellin', Part 1
Aquemini
SpottieOttieDopaliscious
Ms. Jackson
Kryptonite (I'm on It)
GhettoMusick
The Way You Move
She Lives in My Lap
Prototype
Hey Ya!
Hootie Hoo
Crumblin' Erb
Southernplayalisticadillacmuzik
Player's Ball
Elevators (Me & You)
Roses
So Fresh, So Clean
Int'l Player's Anthem (I Choose You)
The Whole World
RFT MUSIC'S GREATEST HITS
The 15 Most Ridiculous Band Promo Photos Ever "Where Did My Dick Go?" The Gathering of the Juggalos' Best Overheard Quotations I Pissed Off Megadeth This Week, My (Former) Favorite Band The Top Ten Ways to Piss Off Your Bartender at a Music Venue
---