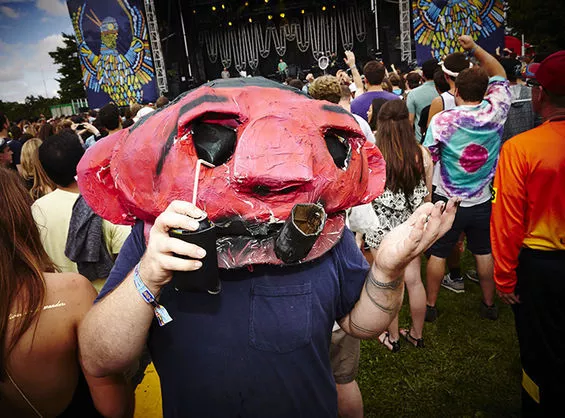 Steve Truesdell
This guy clearly falls in the "best" category.
By Nick Horn
Now in its fifth year, LouFest shows no signs of slowing down anytime soon.
Five years ago, the inaugural LouFest saw a turnout of just over 8,000, and was considered an overwhelming success at the time. While the final numbers for LouFest 2014 aren't in yet, we do know that attendance on Saturday alone more than doubled the first year's total weekend turnout, with approximately 17,000 people from St. Louis and beyond converging on Forest Park to check out what this year's festival had to offer.
So how did it go? Here's our round-up of the best and worst that LouFest 2014 had to offer.
See also: Our complete LouFest coverage
The Best: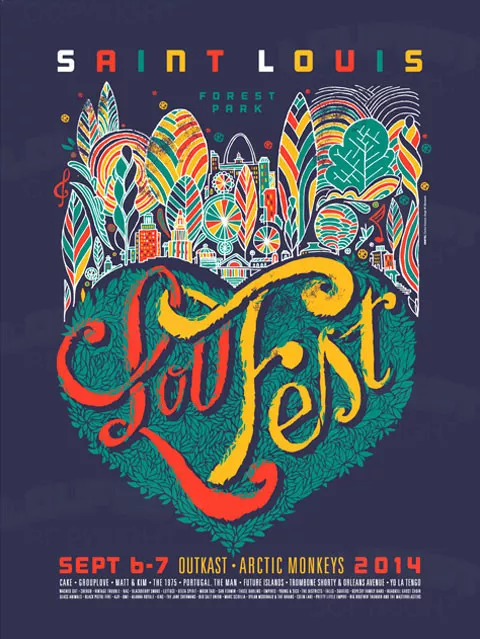 Art by Carlos Zamora. Purchase prints of the poster here.
This Poster - For this year's LouFest, organizers commissioned a poster by enormously-talented local designer Carlos Zamora. Even if you're not familiar with Zamora's name, you've almost certainly seen some of his work. Zamora has created designs for events and organizations all over the city, including the Laumeier Sculpture Park Art Fair, the International Photography Hall of Fame in Grand Center, the Shakespeare Festival St. Louis and STL design week. For this year's LouFest, Zamora crafted a festive poster with a much more organic look than much of his work. The result is an attractive way to both promote and commemorate LouFest 2014.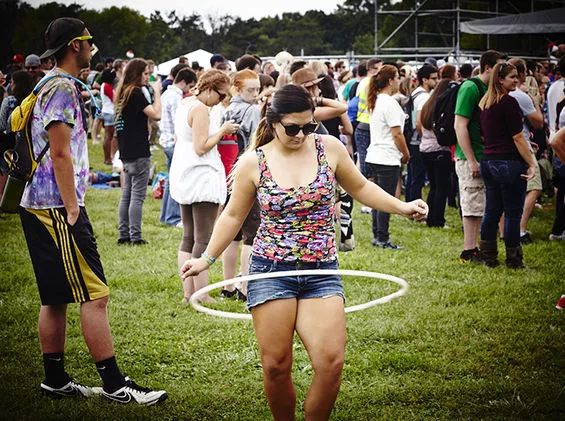 The Weather - After a week of good old-fashioned, swampy southern-Missouri heat and humidity, the festival gods smiled upon our fair city. Storm clouds began to roll in Friday night, bringing with them an almost immediate ten-degree drop in temperature. Save for a light shower during the first hour of Saturday's performances, the rain left, but those delightfully cool temperatures stayed.
Bryan Sutter
Bacon-wrapped spring rolls at Naked Bacon.
The Food - Thanks to an all-star cast of local eating establishments including Kitchen Kulture, Cleveland-Heath and Aya Sofia, the food available to LouFest attendees was better than the food... well, pretty much anywhere. Both the breadth of options and the quality of the culinary delights available at LouFest was something to behold. Aside from more standard festival offerings, Strange Donuts, Smoothie King, Jeni's Ice Cream, and Kaldi's Coffee were all there to ensure that no sweet-tooth went unsatisfied and that even the most hopeless of caffeine addicts got their daily fix.
Steve Truesdell
Three cheers for a job well done.
The Organizers/Staff/Volunteers - Here's to all the wonderful people who made LouFest happen, all the way from Brian Cohen himself to the crews who put up the stages, the security guards who manned the gates, the cooks, the bartenders, the volunteers at the information booth, the people picking up the trash and everyone else who did any of the million little things that go into making a music festival of this size run as smoothly and easily as this one did. From the RFT and all those in attendance, thank you.
Continue to page two for the bad.
Daniel Hill
Really more of a "Fedora Store" than a "General" one. We'd even go so far as to call this a "Specific Store."
The Worst:
The Sound from the Middle - LouFest's organizers, along with the natural contours of the chosen location, did a remarkably good job of setting up the festival space so that the music that occurred on the Forest Park, BMI and Shade stages didn't interfere with the music from any of the other stages in any of their respective listening areas. Given the small area in which the festival was held, that's quite an accomplishment. Unfortunately, if you happened to be at the LouFest General Store or pretty much anywhere else near the center of the festival during the times that performances overlapped, you were hit with a disorienting combination of three different bands playing three different songs from three different directions.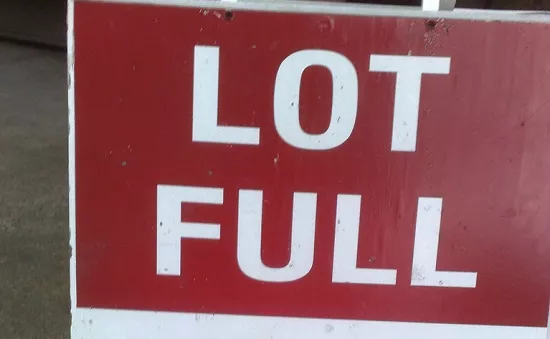 The Parking - Though Forest Park is an ideal setting for a festival like Loufest in so many respects, (It's centrally located, aesthetically attractive, easily accessible from the highway, etc.), the park does leave a little something to be desired in terms of parking. To their credit, LouFest organizers did provided ample bicycle parking (not to mention on-site repair services by Randy's Cycles), as well as a LouFest shuttle between the festival's entrance and the Skinker-DeBaliviere Metro stop to encourage alternative methods of transportation. However, festival attendees not living in the city or any Metro-connected suburbs were resigned to a lengthy walk to and from the festival.
Doc Brookman
Three local acts total, and Old Salt Union (pictured, kinda) and Pretty Little Empire had to perform simultaneously?
Trying to Catch Local Acts - Of the three acts on this year's LouFest Line-up that call St. Louis home, all performed in the earliest slots the festival had to offer. That's understandable, since those bands will likely have a considerably smaller draw than most of the more well-known acts that populated the later slots on the LouFest roster. Two of the three bands, however, played at exactly the same time. Unfortunately for fans of both Old Salt Union and Pretty Little Empire, Sunday's LouFest schedule meant that local music enthusiasts had to choose one or the other.
Monday Morning - Well, here we are. The magical two days that were LouFest 2014 have come and gone, and it's time to get back to the grind. Unfortunately, one short night of sleep wasn't quite enough to make you feel totally human again after an entire weekend of beer, direct sunlight and enough loud music to make any mere mortal's head spin. You're tired, you're hungover, and you can still hear OutKast ringing in your ears from last night. And you wouldn't have it any other way.
RFT MUSIC'S GREATEST HITS
The 15 Most Ridiculous Band Promo Photos Ever "Where Did My Dick Go?" The Gathering of the Juggalos' Best Overheard Quotations I Pissed Off Megadeth This Week, My (Former) Favorite Band The Top Ten Ways to Piss Off Your Bartender at a Music Venue
---