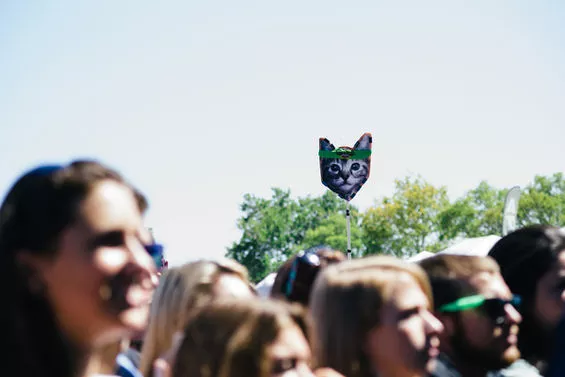 Bryan Sutter
All-seeing cat knows of your misdeeds.
By Melinda Cooper
Another LouFest is in the history books! With 40-some acts converging on St. Louis' Forest Park for the two-day festival, St. Louis' music fans had plenty to keep them singing and dancing throughout this past weekend.
RFT Music sent several operatives into the field, tasked with watching and listening and cataloging and reviewing the festivities for you, dear readers. Click here to see our full coverage!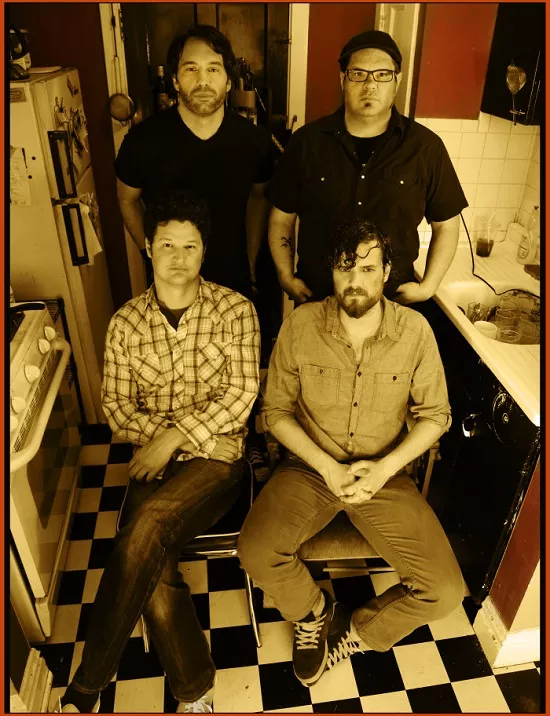 Pretty Little Empire
I showed up about two minutes late for this set, hustling across the lawn to get to the Shade Stage in time for Pretty Little Empire. By the time the band started its second song there were hands in the air, there was jumping up and down, and even a couple of girls doing that weird hippie thing with their arms that always seems to happen at shows.
It would be a lie to say that I wasn't wicked biased about this particular performance. Pretty Little Empire represents home for us. Justin, Wade, Will and Jason are our Loufest ambassadors, spreading the gospel of a local band who dug in years ago and worked hard to acquire something as special as the moment they were in right then. I checked out the crowd and I'm pretty sure a good 60 to 70 percent of the people there were friends who had a similar swell of pride hit them right in the chest as it did with me. At the same time, there were people I'd never seen before in my life working their way to the front of the stage while singing along to the second song in the set, "Master Plan".
The latest addition to PLE's line-up, Bruiser Queen's Jason Potter, has added to the rock portion of the group's genre description and seems to have instantly gelled with the rest of the group. BQ's other half, Morgan Nusbaum, joined Justin Johnson on vocals for the second half of the set, which only added to the pre-existing tension builds the band is known to create. Her harmonies on "You Can Have It All" brought new life to verses that I had not noticed in a long while. Wade Durbin's perfectly executed basslines maintained order while Will Godfred's dreamy reverb leads and raw, hollered backing vocals provided the distant dichotomy necessary to contribute to the bands overall controlled chaos.
It wasn't that far off from most of the PLE shows I've been to in the past few years. Lots of pictures taken throughout the duration and lots of people's eyes glued to the stage like they're about to be asked up is kind of a standard of sorts for these guys. But on this day, in the middle of our park among a cluster of local press, photographers, and regular showgoers, it was a little overwhelming to witness, and nearly like seeing the band for the first time all over again.
Continue to the next page for more.
Glass Animals
Everything about this situation should have made me incredibly crabby. Three very tall girls stepped on me to get to the front of the stage, the guy next to me was ceaselessly smoking and exhaling directly into my left eye while the afternoon sun fried the one patch of my face that I'd apparently missed with the SPF50. To complicate matters there was the fact that it was 1:30, set time...then 1:35...and nothing was happening. At 1:39 there were about six notes from a keyboard, a short, limp bit of applause, and then silence again. At 1:41 there was a quick "chun chun chun" from a guitar that sparked a small Woo Girl chorus, but then nothing.
It wasn't until 1:45 that Glass Animals finally took the stage. Suddenly these four guys seemingly popped up out of nowhere, quickly settled in with their respective instruments, and dropped the bass. All done with the sincerest smiles on their faces. You would have to have been a total jackass to be the guy in the crowd with the frowny face. Whatever was going on before didn't matter. These four guys from Oxford, England, are here on the first date of their American tour, which zig-zags across the country until they hit Seattle on October 5th. They were most likely rarin' to go.
Given the structure and sound of the band's June 2014 release, Zaba, I expected a far more complicated setup in order to maintain its ambient character for a live show. Instead there were a couple of guitars, a keyboard, a bass and a fairly simple, only slightly electronic drum kit. Of course there will always be the devil in those details. In this case there were several: like Edwin Irwin's ghostly reverb version of Joey Santiago's signature Pixies tone, or the mixture of Joe Seaward's use of drum pads in the verse of "Gooey" leading into a full-on acoustic drum explosion for the song's chorus.
The simple, well-planned drums combined with tasty spaces leave enough room for the gently crisp vocals to shine. The bass never got too busy to allow everything to breath and develop character independently. Oddly, the band's cover of Kanye West's "Love Lockdown" showcased its style possibly more than anything else in the set. The contrast between the original and this take drew the attention to Irwin's phrasing choices as well as the band's overall accompaniment well beyond what a concentration of originals might have done. It didn't hurt that everyone knew it well enough to sing along either.
Continue to the next page for more.
Lettuce
Two days ago I asked a friend what to expect from Lettuce. He gave me some quick notes about the band, but other than that I went into this one blindly, with no knowledge of who this was other than a group of guys in a band named after a leafy vegetable. I headed over to the stage Sunday afternoon with no preconceived notions. I was also coming into this situation after a major Trombone Shorty ear invasion which left me slightly exhausted. I didn't have high hopes.
Walking up I saw straw hats, Birkenstocks, a Phish backpack and a shit ton of glow-in-the-dark hula hoops. Dread had nearly set in when suddenly the music started.
This seven-piece band led by what looked like Fozzie Bear in a Sammy Hagar suit started a dance party on the stage which nearly immediately spilled over into the crowd in steady waves.
Fozzie Hagar (bassist Erick Coomes) led the crowd in bounces while his runs manipulated everyone into dance moves that no one would probably prefer to be seen doing in the cold, sober light of day. He held his audience so easily that suddenly I realized I, too, was bouncing in time with everyone else. I even saw an ultra suburbanite couple making funky stink faces while bopping around in their Polos and boat shoes like it was a goddamned Grateful Dead reunion. That was it for me. Honestly I've never seen so many people singing along to instrumentals before in my life.
About five songs in they were joined by vocalist Alecia Chakour. She jived perfectly with the ensemble, and at one point it sounded like she might be singing her actual guts out. Her sound is clearly communicated in three words: James Brown Winehouse. I felt like every sentence she sang should end with "get down!" and it was fabulous. This band has Action Figure Party's smoothness while holding true to the the low-down dirty-rottenness of Sly and the Family Stone.
However, there were also these comforting sounds throughout the set that I would never have associated with a "jam band." These 22-year funk veterans hail from Boston, Massachusetts, although after about two minutes into a set one would swear they had a South Broadway backbone. So yeah, "pleasantly surprised" is an understatement. Adam "Shmeeans" Smirnoff's generic hipster space band guitar effects somehow worked perfectly in the mix, with horns jumping in on the same licks moments later to bring the melody back to earth.
So when my friend said the following: "They are easily the greatest living funk band. New guard, instrumental prowess without wanking groove for days. Total party music. Impossible to sit still in their presence." I'm going to say, yeah, this was not too far off from the truth.
RFT MUSIC'S GREATEST HITS
The 15 Most Ridiculous Band Promo Photos Ever "Where Did My Dick Go?" The Gathering of the Juggalos' Best Overheard Quotations I Pissed Off Megadeth This Week, My (Former) Favorite Band The Top Ten Ways to Piss Off Your Bartender at a Music Venue
---