Another LouFest is in the history books! With 40-some acts converging in Forest Park for the two-day festival, St. Louis' music fans had plenty to keep them singing and dancing throughout this past weekend.
RFT Music sent several operatives into the field, tasked with watching and listening and cataloging and reviewing the festivities for you, dear readers. Click here to see our full coverage!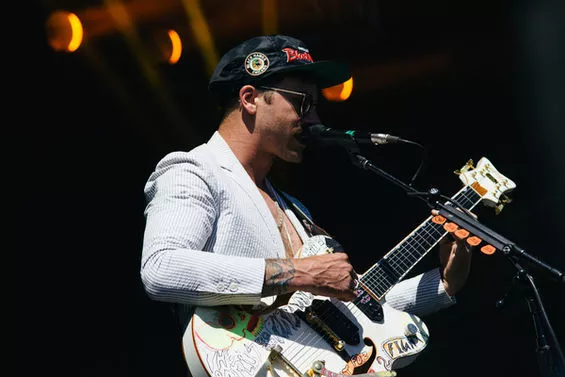 Bryan Sutter
Portugal. the Man
Portugal. the Man
Before Portugal. the Man played, NWA's "Fuck tha Police" blasted over the PA, casting its furrowed brow over the audience. It tucked the crowd into pockets of thought. As we recounted our feelings for Ferguson's trials and Mike Brown's place in history, the screams for Portugal. the Man died. For all the spoils of LouFest -- its great weather, escapes from reality, soiled shoes and sweaty shoulders -- we were reminded that something much bigger than St. Louis' biggest rock festival percolates within Missouri's borders. It escapes into our nation and seeps into the collective conscious. We go to these festivals to party, to see favorites musicians...but we should not forget the world is much bigger than Forest Park.
As if to assist in wide-ranged thought, Portugal. the Man opened with Pink Floyd's "Another Brick in the Wall." Bassist Zach Carothers was handed vocal duty and rumbled through the track like an overcast sky. Assisted by a roadie, he took shots of Jack Daniels while John Gourley, dressed like Freddie Mercury does Bruce Lee, helped out with vocals and guitar. "Purple Yellow Red and Blue" followed as the audience members lifted water bottles -- their contents' colors spanning a rainbow of whiskey, water and juice -- and refracted the cloudless sky above. Portugal. the Man did not appear aware of the heat.
Keyboardist/guitarist Kyle O'Quin's keys were played so well that it sounded like you were sitting across a table from him. The effect was that of a fingertip tracing the wet lip of a wineglass. The band tuned down as the solo keys interlude ushered in the second half of its set. A darker middle section followed, and was guided by another cover. "Don't Look Back in Anger" was right in Portugal. the Man's wheelhouse. Clearly comfortable with Oasis' original composition, Portugal. the Man's sometimes scattered style was warmed by Oasis' sweet dream of peace. It was a ripe note to begin the end of Loufest.
Continue to the next page for more.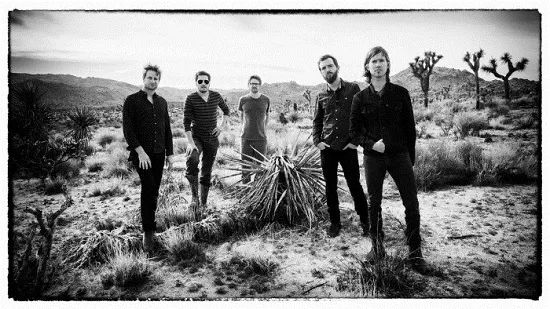 Moon Taxi
Shade and soft ground waited across the north side of the field. A trough of water was there for us as well. Such a brilliant concept -- a small army of smiling men and women squeezed metal handles and released ice cold water into bottles. Thank God for that human-operated water fountain; it proved crucial to festival survival. Moon Taxi was a lovely choice of band to place there.
Its guitars nuzzled against Bajan aesthetics as the wind chilled the air. The situation was ideal for people-watching. A woman stood, draped in a long black dress, and wiggled with a man whose face was never identifiable. Pairs laid down and rested with each other. There was a collective feeling of relaxation that hung around long after Moon Taxi's set faded away.
The song that lingers in my mind is "Southern Trance." That's when everything started to melt away. Moon Taxi's unencumbered ease assisted in a rare non-musical memory. If Portugal. the Man's set was a brisk flood of protest and gnawing rock, Moon Taxi's was the gateway to an essential release of tension.
Continue to the next page for more.
Bryan Sutter
Grouplove performing at LouFest.
Grouplove
LouFest could have used more local bands in the place of acts that were not prepared to play such a major event. It pained me that people paid to hear Grouplove screech through Beyonce's "Drunk in Love." Singer/guitarist Christian Zucconi's voice snapped with the stabbing force of a tree branch several times -- it was evident the song was far, far out of his range. Hannah Hooper couldn't do much in the vein of Beyonce's passionate vocals, either. She bounced around, flaunting a lithe hourglass figure while shrieking like a wounded harpy. It was she who took on Queen B's immortal pronunciation of "Surfboardt." The result had a nearby attendee shouting, "WHAT THE FUCK IS THIS?"
The instrumentation was tempered down into a melodramatic pop ballad that reminded me of Train. In front of me, a cool-looking girl in an On the Run tour shirt stood. The band's saving grace was its drummer, Ryan Rabin. In front of him was this mess of shattering vocal chords and uncomfortable stage banter -- "Anyone here smoke weed? Alright...that's creative" -- and Rabin just clouded the awful with world class talent. You could see the passion behind his playing throughout the entire set. Through "Ways to Go," "Colors" and a cover of the Who's "Baba O'Riley," during which Portugal's Kyle O'Quin took over keys and was flawless, Rabin was Keith Moon.
His kit was turned up in the speakers and brushed every second with an obfuscating flush of beauty. It tempered the itch brought on by "Drunk in Love." I scratched, and asked myself "Were the Strokes really not available?" Maybe next year we can have capable local bands, and more capable national bands favored by St. Louis to play LouFest next year. Just a thought.
RFT MUSIC'S GREATEST HITS
The 15 Most Ridiculous Band Promo Photos Ever "Where Did My Dick Go?" The Gathering of the Juggalos' Best Overheard Quotations I Pissed Off Megadeth This Week, My (Former) Favorite Band The Top Ten Ways to Piss Off Your Bartender at a Music Venue
---