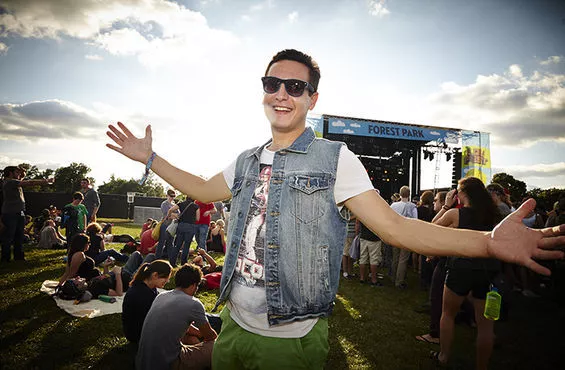 Steve Truesdell
The denim vest is making a comeback, y'all!
LouFest might be a haven for music lovers, but it's also a chance for fashionistas to strut their stuff. At this year's festival, we're finding that high socks, crazy hats, tattoos and flowers everywhere are particularly de rigueur. Heck, sometimes those fancy headbands and bracelets we're seeing even pull double-duty, stowing away... uh... paraphernalia for adult fun.
See also: These Bracelets and Headbands Let You Sneak Weed Into Festivals
So put down that issue of Vogue -- here's what the cool cats of LouFest say is high style:
BANDED TOGETHER
It seems that bunch of LouFest folks are fans of Bruce Springsteen -- or his fashion, anyway. Check out these unique tributes to the Boss' do-rag ways.
Steve Truesdell
'Mericuh.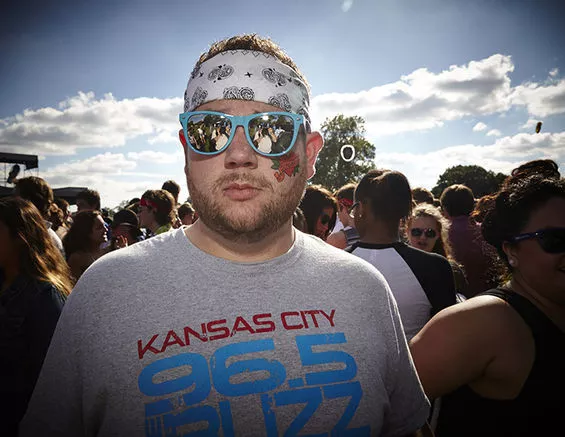 Steve Truesdell
The tattoo brings the look together.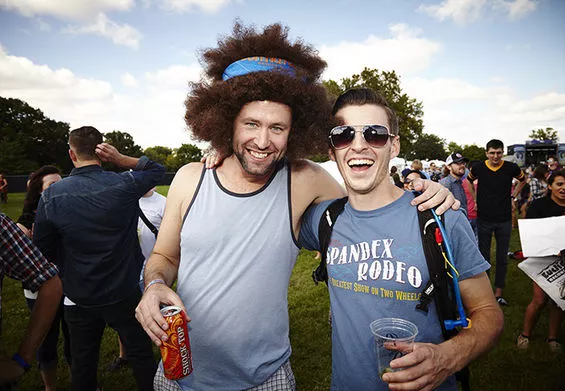 Steve Truesdell
Size large.
MAD HATTERS
Rain or shine, concertgoers know to protect themselves from the elements with hats of all types -- floppies, cabbies, baseball caps, whatever. We'll forgive them for ignoring our chapeau advice in this article, but just this once.
See also: Sixteen Stupid Hats Musicians Love Wearing
Steve Truesdell
Hats are where it's at.
Steve Truesdell
Ahoy, matey!
Steve Truesdell
Yes, he's wearing a baseball cap, but he's also got a hole in his chin. Neat.
TATS AN' 'AT
Warm weather during a music festival offers the perfect opportunity to be a bit more exposed -- and to show off those bitchin' tattoos.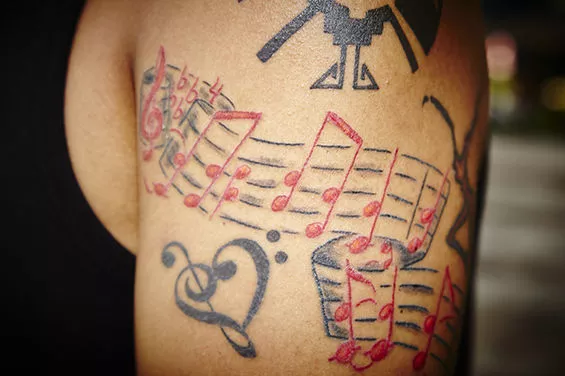 Steve Truesdell
Well this is apt.
Steve Truesdell
Ok, time to head to the LouFest Nosh Pit.
Steve Truesdell
We're not sure why the lady is wearing one of those Mormon swimsuits, but it's still pretty rad.
Continue to page two.
FLOWER POWER
LouFest attendees certainly are stopping to smell the roses -- especially when those roses are tucked away behind their ears or nestled into their beards!
Steve Truesdell
A very colorful Beardy McBeardyson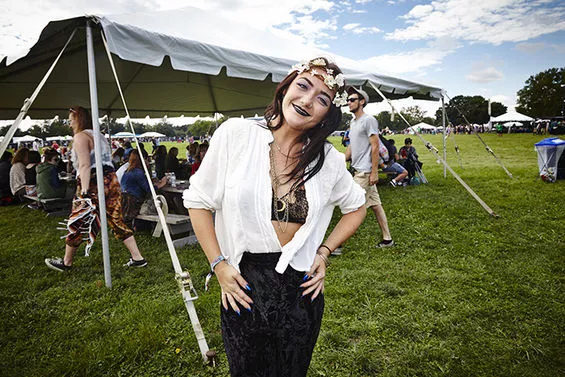 Steve Truesdell
The goth side of the Flower Force
THE BEE'S KNEES
Did former Cardinal pitcher Anthony Reyes really have that much of an effect on St. Louis fashion? Seems like it. Even though Reyes departed in 2008, vestiges of his knee-high socks still can be seen around St. Louis -- especially at music festivals, apparently.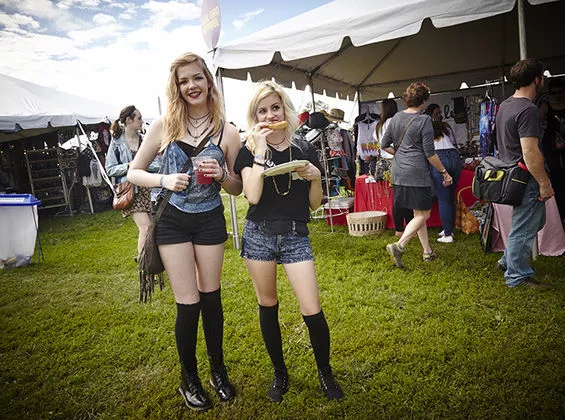 Steve Truesdell
They're missing Reyes' flat-brimmed cap.
Steve Truesdell
You know you want a pair.
See our complete LouFest coverage.
'STACHE BASH
Steve Truesdell
Here's looking at you, kid.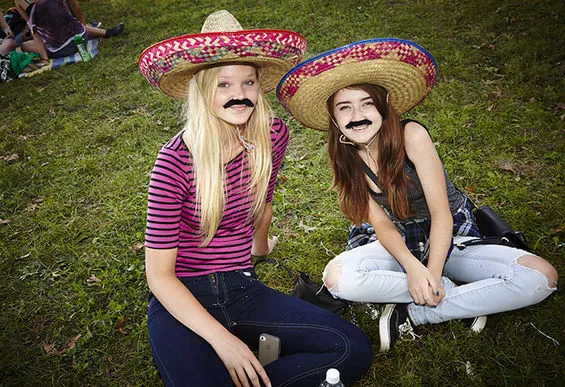 Steve Truesdell
Mustaches aren't just for men.
Continue to page three.
SHELL GAME
Everyone's California dreamin' at LouFest -- and it's easy to understand why, with the beachy weather we've been having.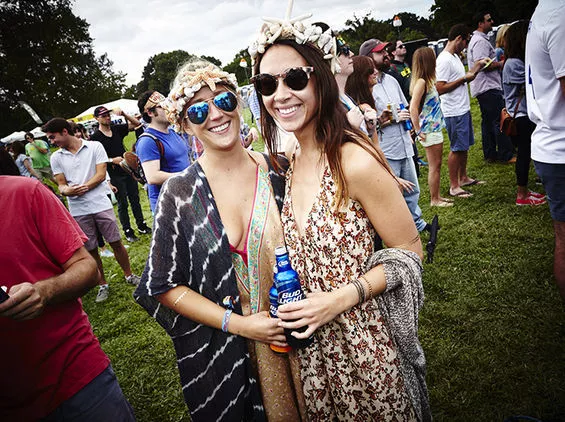 Steve Truesdell
Maybe shells and starfish will replace the flower trend next year.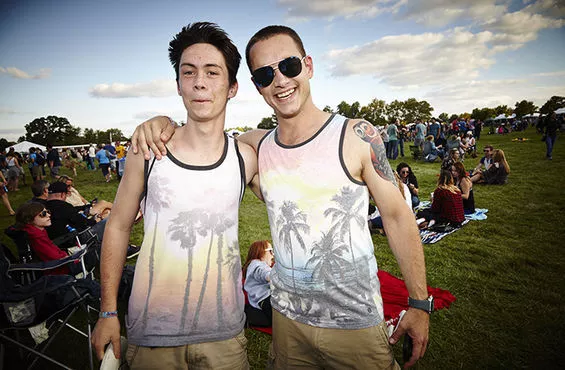 Steve Truesdell
Will they find paradise with the shell ladies?
See also: The People You'll Meet at LouFest 2014
WTF?
We have no idea what kind of fashion statement people are making in these photos, but we like it. We think.
Steve Truesdell
This guy's an animal in the pit.
Steve Truesdell
No words.
RFT MUSIC'S GREATEST HITS
The 15 Most Ridiculous Band Promo Photos Ever "Where Did My Dick Go?" The Gathering of the Juggalos' Best Overheard Quotations I Pissed Off Megadeth This Week, My (Former) Favorite Band The Top Ten Ways to Piss Off Your Bartender at a Music Venue
---