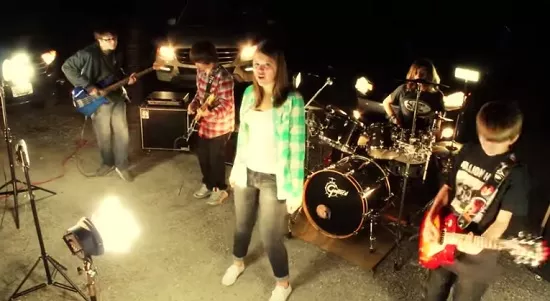 Screenshot from the video.
Eli Wallace, age fifteen (drums), Christian Wallace, age fifteen (lead guitar), Jonah Roy, age twelve (guitar, vocals), Olivia Vaughn, age fifteen (vocals) and Connor Ouchi, age fourteen (bass) comprise St. Louis power-pop/rock & roll band Million Hits. Under direction from their mentor, Matt Meyer (well-known around these parts for his work with the Ded Bugs, the Finns, Finn's Motel and Bass Amp & Dano), the group has been performing together for four years.
"I've been good friends with Eli's dad since college," Meyer explains. "He asked if I would mentor them. When I visited practice and saw the raw talent of the band, I was easily convinced into the role."
The group's members met in summer camp -- Camp Jam specifically, which focuses on music-focused, rock & roll education. Despite their young ages, this wasn't even the first iteration of the band.
"Jonah, Eli and I started playing five years ago as All the Young Dudes," Christian says. "Eli and I are cousins, so we went to Camp Jam together. Then the next year at camp, Eli and I met Olivia and asked her to join our band, which she did. We also asked Connor to join because we needed a bass player -- don't know why we didn't ask him the year before."
"I joined the band during the summer of 2011," Vaughn confirms. "Connor and I joined at about the same time. Immediately after that the band name was changed."
"We've been together as our current lineup for four years," adds Ouchi.
The group recently wrapped up filming for its first music video, for the ultra-catchy "Surrender to the Power of Rock & Roll," with help from Brian McClelland and his Blip Blap Video production company.
"We shot three locations on separate dates," Meyer notes. "The first location was an abandoned, falling-apart-at-the-seams refrigeration building not far from the banks of the Mississippi and the new and magnificent Stan Musial bridge, which was quite a contrast to the crumbling old factory. The second location was the Delmar Loop at night on a bustling weekend. And the third location was downtown at Busch Stadium's east parking garage, which provided an awe-inspiring bird's-eye view of downtown St. Louis city at night."
"These scenes really felt appropriate considering that what we sing about in this song is downtown St. Louis," Vaughn adds. "It was really cool going around St. Louis and experiencing places that I haven't been before."
The abandoned factory, apparently, was especially "cool."
"The weird thing about it was that it was freezing inside, despite that it hadn't been used in over twenty years," explains Ouchi. "I was told that the reason they kept it cold was because unfreezing the walls would cause it to become unstable and fall apart."
The song itself was written around a riff guitarist/vocalist Jonah Roy came up with a practice.
"We were beginning that transition stage where I wanted the band to become involved in songwriting," Meyer explains of his mentorship role. "We kicked around the riff for a while at rehearsal. I immediately had ideas of how to develop the music, but kept completely mum." Over the course of the next practice the band began to flesh the song out on their own, and Meyer helped with lyrics and musical direction.
"I've written a ton of songs. A lot of crap. Some mediocre. A handful of good ones," Meyer laughs. "From writing to performance to recording, I must admit, I'm really pleased with the way 'Surrender to the Power Of Rock & Roll' turned out. And I really hope it does well for Million Hits. I remember shortly after they learned it at that rehearsal, I told my best buddies in Ded Bugs, Jeff and Dave, 'Guys, I apologize in advance. I may have just given one of my best songs away to the Million Hits kids!'"
But it is all about inspiration, Meyer says. "Who's to say I would have ever written any of those lyrics or the rest of the music, had it not been for Jonah's opening riff? I'm inclined to believe that catchy little riff created by a twelve-year old was the Rosetta Stone."
Watch the new video below, and follow Million Hits on its Facebook page.
RFT MUSIC'S GREATEST HITS
The 15 Most Ridiculous Band Promo Photos Ever "Where Did My Dick Go?" The Gathering of the Juggalos' Best Overheard Quotations I Pissed Off Megadeth This Week, My (Former) Favorite Band The Top Ten Ways to Piss Off Your Bartender at a Music Venue
---