The crowd at last year's LouFest.
It's a big week for music in St. Louis. LouFest brings a barrage of artists to Forest Park while Pü Fest simultaneously congregates bands from near and far at Empire Hall. Besides that, there's plenty to look forward to all week, including the Breeders, Inspectah Deck and more. Read on for our critics' recommendations.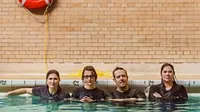 The Breeders Tuesday, September 2 w/ The Funs @ Off Broadway 8 p.m. | $22-$25 By Jaime Lees The '90s revival is upon us. Chunky-heeled boots and daisy-print dresses are back in fashion, but the most welcome -- and maybe unexpected -- thing to cycle back into favor is the Breeders. Known for its 1993 radio hit "Cannonball," the Dayton, Ohio band has recently been awash in productivity and acclaim. Last year it released a twentieth anniversary version of beloved album Last Splash and the influential group has been getting props all over world, with invitations to play at massive international music festivals. The band is passing on the love, too: Midwest/St. Louis art-punker act the Funs is scheduled to open for the Breeders on a five-day stretch of its current tour.
Lee Bains III & the Glory Fires Wednesday, September 3 w/ Tok, Boreal Hills @ Off Broadway 8:30 p.m. | $8-$11 By Christian Schaeffer You need only to watch the recent documentary Muscle Shoals (or read the liner notes of your favorite record) to know that the state of Alabama has a long history of producing vital American music. But the recent renaissance in and around Birmingham -- the Alabama Shakes, St. Paul & the Broken Bones, and now Lee Bains III & the Glory Fires -- makes a pretty convincing case for the new southern rock. The band's latest, Dereconstructed, is a blistering look at the south's identity past and present, from the brutal legacy of Bull Connor to the current state of civil liberties.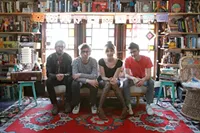 Bishop Allen Wednesday, September 3 w/ Jesse Marchant, Ian McGowan & the Good Deeds @ The Firebird 8:30 p.m. | $10-$12 By Roy Kasten It's been a shitty couple of weeks for the world, with images and acts of brutality coupled with rage both righteous and foolish as far as anyone might care to see. Bad time, in other words, for an Ivy League-educated, indie-pop band like Bishop Allen to release a good album. But Lights Out deserves your attention because its modesty is a feint for pleasures, consolations and observations about life, most delivered with a summery rhythmic pulse, even when those observations turn existentially dark. Every needling guitar hook, every fizzy synth, every post-collegiate reverie might just be a way to avoid the terror of "waking up alone." You'll never mistake Bishop Allen for a group of radicals, but you're not likely to hear a catchier pop album during this summer of discontent. Previously known by his initials JBM, New Yorker Jesse Marchant opens this show with lush and literate dream-folk a la J. Tillman.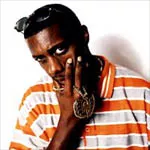 Inspectah Deck Thursday, September 4 @ The Mad Magician 8 p.m. | $15 By Daniel Hill From this 2012 write-up: Inspectah Deck is the Wu-Tang Clan's most underrated member. While it's true that the rapper has never released a solo album on par with Method Man's Tical or Raekwon's Only Built 4 Cuban Linx, his dense lyricism and clever wordplay has been featured prominently on some of the Clan's most memorable group outings, including the universally praised first verse of 1997's "Triumph." It was also Mr. Deck who opened "Guillotine (Swordz)" for Rae and even the group's first single, the classic "Protect Ya Neck." All told, he has contributed some of the best verses the group has to offer in the way of outright lyrical skill.
Pü Fest Kickoff Party Friday, September 5 w/ Tone Rodent, Jack Grelle, Pizza Boys, Black Panties @ Melt 9 p.m. | free By Jaime Lees St. Louis music event LouFest has been gaining a reputation as a solid destination festival, but this year it has also accidentally inspired a rival underground music concert with a tounge-in-cheek name: Pü Fest. The organizers aren't billing it as an anti-LouFest party, but as a DIY alternative to the mega-mainstream acts that LouFest offers. Pü Fest also will run throughout the weekend, hosting tons of local talent and crowd-favorite touring bands. The kickoff party is this Friday at Melt, and features Tone Rodent, Jack Grelle, Pizza Boys and Black Panties. The event is free and is your last chance to buy a discounted weekend pass before the festival starts.
Joyce Manor Friday, September 5 w/ The Exquisites, Meat Wave @ The Firebird 8:30 p.m. | $12-$14 By Ryan Wasoba Folks throw around the phrase "guilty pleasure" when discussing Torrance, California quartet Joyce Manor and its new album Never Hungover Again. But why should anybody feel guilty? The band strips pop-punk of most of its annoyances, squeezes full songs into two minutes or less (who needs bridges?), and plays the theme of transcendence-via-loneliness no more heavy-handedly than, say, Arcade Fire. If you dug the Thermals and Tokyo Police Club in their respective primes, or if you hear meaningless Green Day songs from your adolescence that mean something to you, Joyce Manor is your favorite band. You just may not know it yet.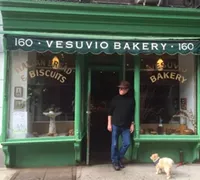 Tom Russell Saturday, September 6 @ Off Broadway 8 p.m. | $25-$30 By Roy Kasten For some four decades, Tom Russell has been chasing heroes, known and unknown: Charles Bukowski and Ramblin' Jack Elliott, but also forgotten vets, immigrants, workers, poets and those without work or poetry. As a songwriter, he has few peers in our narrative vernacular tradition, and while much of the Americana cadre is content with steel guitar and fiddle, Russell brings his stories to life with horns and gospel choruses, with dirty rock & roll and dirtier jazz. But he is at his best as a solo or duo performer, just voice and guitar, delivering his prolific body of work just as he wrote it.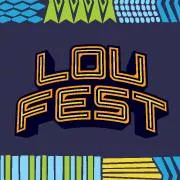 LouFest Saturday, September 6 Sunday, September 7 w/ Outkast, Arctic Monkeys, Cake, Grouplove, Matt & Kim, The 1975, Portugal. The Man, Future Islands, Trombone Shorty & Orleans Avenue, Kelis, Washed Out + many more 12 p.m. | $60-$350 @ Forest Park By RFT Staff From the RFT Best of St. Louis 2013: One would be hard-pressed to attempt to justify any other local festival's placement above this year's LouFest -- the sheer size and scope of the event easily place it in the top spot. The homegrown festival, founded by St. Louisan Brian Cohen, teamed up this year with C3 Presents, a promotion company best known for putting on Lollapalooza and Austin City Limits. The partnership resulted in an affair that was expanded in every way: More stages, bigger bands and bigger crowds pushed the event over the top, coming to life as the destination festival it is meant to be.
Note: Though we wish we could, we can't feature every great show happening in town in just one measly post. Look for plenty more recommendations this Friday in our weekend shows post, and peruse the St. Louis concert calendar for more ideas any time. Let everyone know what else you're looking forward to seeing this week in the comments below, and submit show info online any time to be considered for inclusion on these lists.
RFT MUSIC'S GREATEST HITS
Remembering STLPunk.com -- How to View the Site Today and Find Your Old Profile Page "Where Did My Dick Go?" The Gathering of the Juggalos' Best Overheard Quotations The Ten Best Dive Bars in St. Louis The 15 Most Ridiculous Band Promo Photos Ever
---