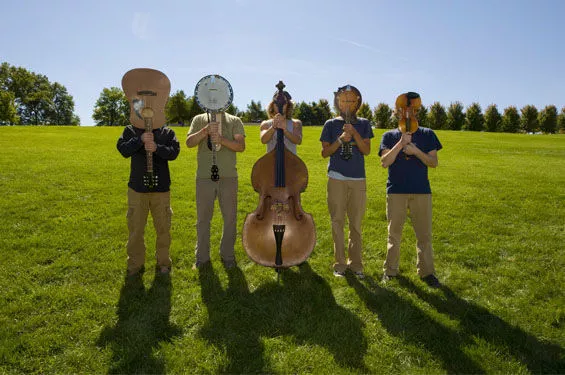 Old Salt Union is everything you would want in a song-driven, pop-friendly bluegrass combo. The members of the Belleville-based quintet are dexterous on their chosen stringed instruments, with short flashes of virtuosity amid more lyrically driven songs. All five members share the mic, and even if the harmonies aren't quite celestial, it adds to the communal-campfire feeling of these songs.
See also: Belleville's Old Salt Union goes from basement band to the Daytona 500
With Bridge, the band has released its second album in as many years, and a steady touring schedule and some high-profile gigs (the Daytona 500 this past spring, LouFest this coming fall) have prepped the band for a world beyond local clubs. This sophomore record is a solid calling card for a band that can competently play bluegrass and folk festivals without sacrificing attention to the stories within its songs.

For an album studded with folksy grooves and upbeat numbers, OSU throws a slight curve by opening Bridge with the minor-key strains and brimstone imagery of "Tuscaloosa," though the song forecasts many of the album's strengths: group vocals, percussive upright bass and skillful solos. The following song, "Bruised Hands," is a more traditional boot-stomper, showing the close, twangy harmonies and barnstorming rhythms that all but define the current crop of indie-friendly string bands. (Whether that's comforting or cloying is a personal call.)
While much of this album can be soft-touch and strummy, its diversions reveal a well-rounded band that has internalized many forms of American music. The slightly forlorn ballad "Growin' Old" picks at the scabs of lost love but retains its hopefulness as songwriter and guitarist Dustin Eiskant gives his most heartfelt vocal performance alongside John Brighton's Celtic fiddle lines.
It's these moments of genre straddling that keep Old Salt Union from becoming an up-and-down bluegrass band and push it nearer to the pop realm. The frantic mandolin upticks in "Stay Away," coupled with Eiskant's dramatically modulated vocals, give the song an emo intensity. Replace the banjo breakdown with a Stratocaster riff, and the song remains the same.
Old Salt Union's release show for Bridge will take place this Friday, August 29, at Old Rock House. Showtime is at 8 p.m., tickets are $8.
RFT MUSIC'S GREATEST HITS
The 15 Most Ridiculous Band Promo Photos Ever "Where Did My Dick Go?" The Gathering of the Juggalos' Best Overheard Quotations I Pissed Off Megadeth This Week, My (Former) Favorite Band The Top Ten Ways to Piss Off Your Bartender at a Music Venue
---