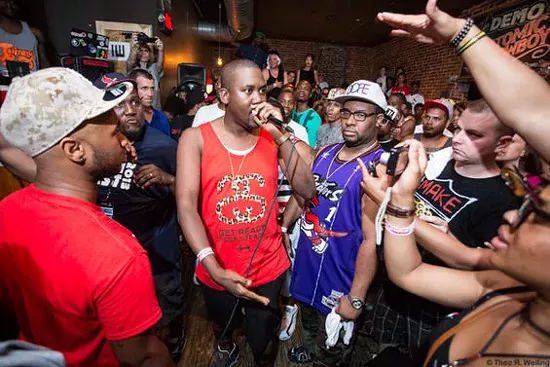 A scene from a previous S.L.U.M. Fest event.
This Sunday, the crew behind Saint Louis Underground Music Festival, a collective that showcases the hip-hop community in St. Louis, presents a benefit show for the late Michael Brown. The concert, hosted by Plush (3224 Locust Street; 314-535-2686), features more than a dozen local artists including Tef Poe, Thi'sl, Mario Pascal, Nato Caliph, 2014 RFT Music Award winners Doorway, and more. The all-ages, family friendly event runs from 4 to 9 p.m., and all proceeds will go to the family of Michael Brown.
"This show is designed to not only raise money for the family, but to help the city to come together in remembrance, solidarity and most of all in peace," S.L.U.M. Fest organizers say on the event's official Facebook page. "Music is a great form of therapy, and as the city of St. Louis come to terms with the lost of one of our own, we will use this event to celebrate the life of this young man."
S.L.U.M. Fest hosted its annual music festival as well as award showcases for the past five years, and this isn't the first time it has organized philanthropic efforts. S.L.U.M. Fest board member Finsta recalls a relief concert in which the group collected water and toiletries to donate directly to Haiti earthquake relief.
"We started from there, and have since kind of kept our feet to the ground," Finsta says. "If an issue affects one of us, it affects all of us."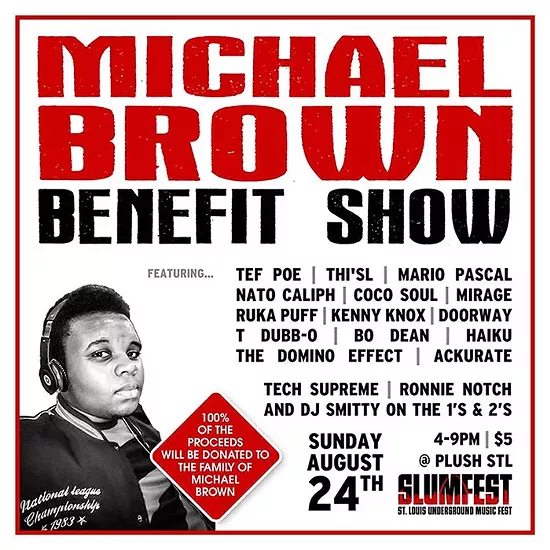 When asked how the S.L.U.M. Fest board went about curating the bill for the event, he replies, "A lot of these guys have been vigilant on the front line for this protesting since day one and have been out every day since. This is what most of the people on this list do on the daily, not just because it's happening. This is our way of saying thank you to the active members of the community."
This list of performers including emcees, vocalists, DJs and more will pour their heart and soul, pain and energy into individual sets throughout the evening's festivities in an effort to unite the local community through song.
"No matter who you are, where you're from or what culture you're in, music is always the common denominator to bring folks together," says S.L.U.M. Fest event director Rob Boo. "We just want everybody to come and have fellowship with each other and leave empowered with a sense that everybody did their part to help the family."
For more information on this event and others, visit the S.L.U.M. Fest website and S.L.U.M. Fest Facebook page.