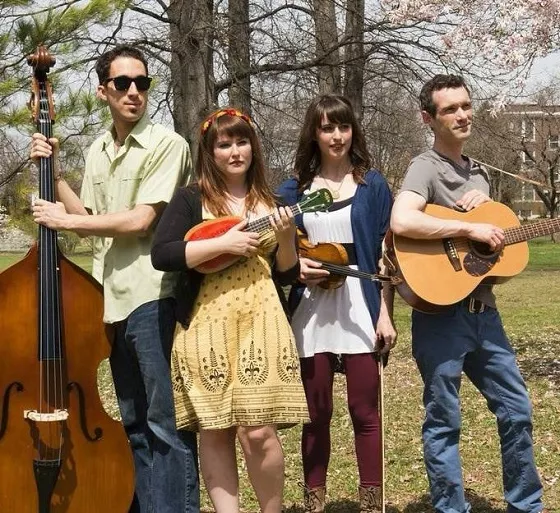 The founders of St. Louis group Letter to Memphis certainly know a good thing when they see it -- or hear it.
"The Sheldon," Gene Starks says with more than a little reverence in his voice. "That room is its own instrument."
"It's a very special room," adds Devon Cahill, almost whispering.
The esteem in which Starks, Letter to Memphis' guitarist, and Cahill, the group's vocalist, hold the Sheldon Concert Hall is warranted; after all, many have called the Grand Center venue "the Carnegie Hall of the Midwest," thanks to the room's perfect acoustics. That's why the indie-folk duo knows that debuting their album Phases there will be one of the most memorable performances of their lives.
"Imagine you're in the middle of the most beautifully tuned pipe-organ pipe," Starks says. "All the way to the ceiling and down to the floor, it's just this air chamber, and it's designed that way."
"Being able to sing in that room is just amazing," Cahill marvels. "I don't even know how to describe it. It just feels right."
Starks and Cahill won't have to wait long to reexperience the acoustic hug of the Sheldon, with the Phases release and performance happening Tuesday, August 26 (local indie-pop band Arthur and the Librarian will kick off the show). It's just around the corner, but for Starks and Cahill, Letter to Memphis' first full-length release has been a long time coming.
"We've been around since 2011, but neither of us had been in a band before that," Cahill explains. "And I'm not going to lie; we were a little green. For a long while, we didn't totally know what we were doing. But when we ultimately wound up falling into this good spot, we were like, 'Yeah, we need to finally record a proper album.'"
Cahill and Starks have been working on Phases for the past eight months, but the album's genesis started long before that. The pair actually began as roommates who were battling individual low points in their lives years ago. But with Cahill's background in musical theater and Starks' enthusiasm for different guitar styles, it wasn't long before they bonded over music and realized that they made a perfect couple.
"We're definitely kindred spirits. We literally finish each other's sentences," Cahill says. "We jinx at least once a day. It's bizarre."
Starks says that Cahill constantly was singing around the house, so he decided to noodle on the guitar a bit in accompaniment. That set the two into motion learning cover songs, playing bar gigs and, eventually, composing original music. But it was a special gift that really sent Letter to Memphis on its way.
"That changed the whole process, when she picked up the ukulele," Starks says. Cahill's mother had given her a ukulele painted like a watermelon for her birthday, even though the vocalist hadn't ever played an instrument. But with Starks' help, Cahill adapted to the uke with ease.
Continue to the next page for more.
"When she picked it up, it only took her maybe two weeks to be able to play blues changes with dominant seventh chords in all twelve keys," Starks shares. "It was that quick for her."
"It was just something that I hadn't experienced before, but it felt really right. It just felt like what I should be doing," Cahill says. "And now I've been writing songs on it and songs on the guitar, and it's awesome."
Starks and Cahill are adamant about understanding their place in the world at this moment, which became the theme for Phases.
"Yeah, I want to get people dancing and make them happy, but I also want to get them thinking about things," Cahill says. "I have issues with living in the past or worrying about the future. So it's just about being present -- that all the phases we go through bring us to where we are."
"And each of those parts of life contributes to your present self," Starks adds. "A lot of the images and themes we've explored are things people can relate to, and that's what we want you to walk away with: Look at your own experience in a different way and feel good about yourself."
The pair agree on many things, but one that is key is that the life events bringing Starks and Cahill to Letter to Memphis' present state have been priceless.
"It's been a total adventure. When we started, we had no idea that we would really be a band. We were fucking around, enjoying ourselves in the living room, learning 'Wild Horses,'" Cahill says. "We had no idea it would turn into writing and recording an album and playing the Sheldon Concert Hall. And now, it's all I can think about.
"I'm in love with being a musician. It's amazing."
RFT MUSIC'S GREATEST HITS
The 15 Most Ridiculous Band Promo Photos Ever "Where Did My Dick Go?" The Gathering of the Juggalos' Best Overheard Quotations I Pissed Off Megadeth This Week, My (Former) Favorite Band The Top Ten Ways to Piss Off Your Bartender at a Music Venue
---