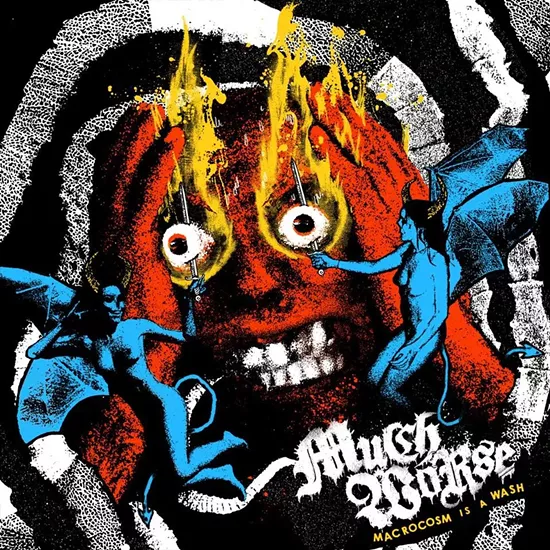 Much Worse - Macrocosm Is A Wash LP
Are you sick of being responsible? Does it annoy you to have to follow rules or be pro-social? Do you like basements? Well, if you are a goofy, degenerate weirdo who doesn't quite fit in anywhere else, you might consider our city's hardcore/punk shows.Your underlying anger problems can be brought out to their fullest potential (in a positive way). These are my recommendations for great local and national bands that don't play five-minute (marathon!) songs or remind you about drink specials. General rule of thumb: If you have five bucks and can show up by 9 p.m., then it's go time in the pit. One, two, fuck you!
Much Worse, the Warden, Q @ the Livery Co. August 16 9 p.m. / $5
This Saturday night will see Minneapolis' Much Worse making its annual appearance in the Cherokee Street neighborhood. This band is a must-see for anyone who gets goosebumps from fast hardcore with abrupt, curveball time changes. Most people who attend hardcore shows are under the impression that you have to wait for a breakdown to go off and slam one another into the walls. This is fine, but you don't have to just stand there nodding during the fast parts -- they are there for a reason. That reason is for you to run across a room into a pile of strangers or stage dive off of a folding table and risk blowing out your spine/joints. We all look stupid, so get stupider.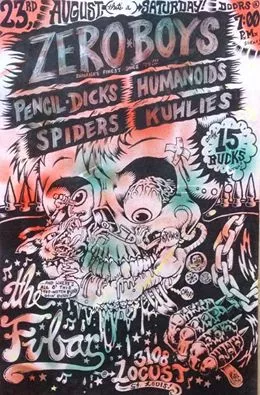 Top-notch flyer for the show
Zero Boys, the Humanoids, the Pencildicks, the Spiders, the Kuhlies at Fubar August 23 7:30 p.m. / $15
Apparently we left a great impression on the Zero Boys back in January, so the group has decided to come back for a rowdy little summer nightcap at one of St. Louis' best clubs. If you aren't familiar, the Zero Boys wrote one of the best records, period. If a listen or two of that doesn't make you want to pogo, you probably have some kind of molecular poseur disorder. Maybe they'll do that cover of Dow Jones and the Industrials' "Can't Stand the Midwest" again in the middle of the classic slam jams off of Vicious Circle.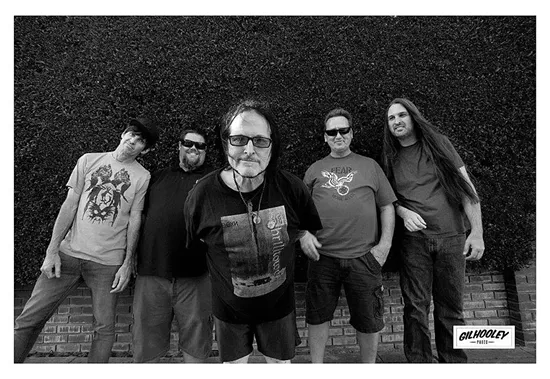 One of the most important grandpa punks, aging gracefully.
The Rikk Agnew Band, Pistofficer, Maximum Effort, Trauma Harness, Josh Violent at Fubar August 24 7:30 p.m. / $12
Rikk Agnew is one of the chief songwriters behind unfuckwithable grandfather DIY bands like the Adolescents, D.I. and Christian Death. This show will be a history lesson, with the rumor being that he plays some of the songs from each of the aforementioned bands. Plus, his new band is pretty killer too, sounding like a more polished, modern take on what his former bands did -- or when solo projects are actually worth a damn (ahem...Bruce Dickinson). Also Josh Violent (of Very Metal fame) will be getting hammered and playing banjo to a plethora of punk classics at this show. It will be a a sight to behold.
Iron Lung/Una Besita Uncontrolable tour flyer.
Iron Lung, Una Bèstia Incontrolable, Impalers, Renegade Assault Tank, Lumpy & the Dumpers at Melt August 26 9 p.m. / $10
This is the mega-daddy of DIY end-of-summer shows, especially with four touring bands. Iron Lung is one of the longest-running current-era powerviolence bands in the country. The two-man wall of blast insanity hasn't been to town in a while, and if we want to continue getting shows of this caliber all the punx/kids/nerds/dorks/dweebs should mob up deep and hard to get lost in a waffle tornado at Melt. Lumpy is the only local. He will probably think of something to make the occasion very special and disgusting.
RFT MUSIC'S GREATEST HITS
The 15 Most Ridiculous Band Promo Photos Ever "Where Did My Dick Go?" The Gathering of the Juggalos' Best Overheard Quotations I Pissed Off Megadeth This Week, My (Former) Favorite Band The Top Ten Ways to Piss Off Your Bartender at a Music Venue
---