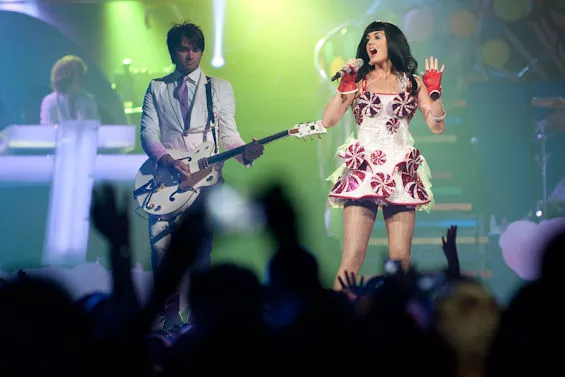 Katy Perry - Sunday, August 17 @ Scottrade Center.
We think it goes without saying that it's been a long week in St. Louis for everyone: T.G.I.F. Celebrate the art and music culture of the city by checking out a show this weekend. The concert calendar's ripe for picking. Locals Cara Louise Band and Kisser release new recordings, the Bob Reuter birthday show takes over the Ready Room, Doorway hosts a pajama party, Woodstock in the Grove goes down at Atomic Cowboy and much more. Read on for our recommendations.
Friday (August 15):
Cara Louise Band w/ Redheaded Strangers, Old Capital Square Dance Club, Miss Molly Simms, The Old Souls Revival @ The Firebird 8 p.m. | $8 Cara Louise Band drops its new EP, To Be Dead is to Be Known, featuring its country, folk and Motown inspired songs. Hear some of singer-songwriter Cara Wegener's tunes via Soundcloud. (MS)
Doorway w/ Tef Poe, Mai Lee, Indiana Rome, Aloha Mi'sho, Family Affair, Bo Dean, Allen Gates, Attitude, Sarah Michelle @ Blank Space 9 p.m. | $5-$10 This pajama party promises dancing, fun and a nod to the '90s. For more info, check out a full preview of Jammie Jam from earlier this week. (MS)
Also on Friday, consider checking out Umphry's McGee at the Fox Theatre, or head to Schlafly Tap Room for Kisser's Cassette Tape Release with Asheville experimental duo Ahleuchatistas. Just click the links to check out some previews published earlier this week.
Saturday (August 16):
City of Night After Party w/ Bug Chaser, Posture @ Melt 10:30 p.m. City of Night is a new grassroots, multi-disciplinary arts event in St. Louis and takes place at various venues around the city. Check out the full schedule of events throughout the weekend and catch this cool after-party at our favorite waffle spot. (MS)
Harvest Sessions w/ Kenny DeShields @ Tower Grove Farmers' Market 10 a.m. | free Fresh veggies and fresh jams go hand in hand. The Harvest Sessions are a good thing; why not check them out? (DH)
Much Worse w/ The Warden, Q @ Livery Company 9 p.m. | $7 This hardcore headbanger features Much Worse from Minneapolis. There's more on this show and plenty more punk shows happening soon in our guide to punk/hardcore shows for August. (MS)
For another Saturday option, head to the Bob Reuter Birthday Show at the Ready Room, covered in its own article linked here.
Sur - Sunday, August 17 @ The Firebird
School of Rock U-19 Bash w/ Steve Ewing, Jon Anderson @ Chesterfield Ampitheater 12 p.m. | $10-$50 Support the kids making music! They are our sonic future, and we'd rather not have to complain when we are old, right? (DH)
Woodstock in the Grove w/ Five Long Years, Max's Farm Band, Wrath of Khan, Terrapin Flyer, The Who Band, 4&20, Rico, Gypsy Jones, Dr. Zhivegas @ Atomic Cowboy 3:30 p.m. | $20-$30 Hopefully things don't get too loud... (DH)
Diarrhea Planet w/ Playing Possum, Shitstorm @ Off Broadway 9 p.m. | $10-$15 This band must really love St. Louis; it has been coming through constantly! Only fair to reciprocate. (DH)
We also recommend the following shows on Saturday Metal Wolves: A Benefit Show for the Endangered Wolf Center at Cicero's and Polyphonic Spree at Blueberry Hill.
Sunday (August 17):
Katy Perry w/ Kacey Musgraves @ Scottrade Center 7 p.m. | $26-$129.50 At this point, anything is better than sitting at home and watching the news, right? Maybe she will fire whipped cream out of her boobs again. (DH)
Sw/mm/ng w/ Sur, Tare, Stonechat, Crucial @ The Firebird 8:30 p.m. | $7 This stacked bill features a triple-header of touring bands. SW/MM/NG of Fayetteville plays dreamy pop, Austin's Sur brings the grunge to the stage and New Orleans' Tare blends indie and math rock. Just click the links to hear some tracks from each band. (MS)
Amanda Shires also performs in town on Sunday at Off Broadway -- another recommended pick from our critics.
Note: Though we wish we could, we can't feature every great show happening in town in just one measly post. Peruse the St. Louis concert calendar for more ideas anytime. Let everyone know what else you're looking forward to seeing this weekend in the comments below, and submit show info online to be considered for inclusion on these lists.
RFT MUSIC'S GREATEST HITS
Remembering STLPunk.com -- How to View the Site Today and Find Your Old Profile Page "Where Did My Dick Go?" The Gathering of the Juggalos' Best Overheard Quotations The Ten Best Dive Bars in St. Louis The 15 Most Ridiculous Band Promo Photos Ever
---