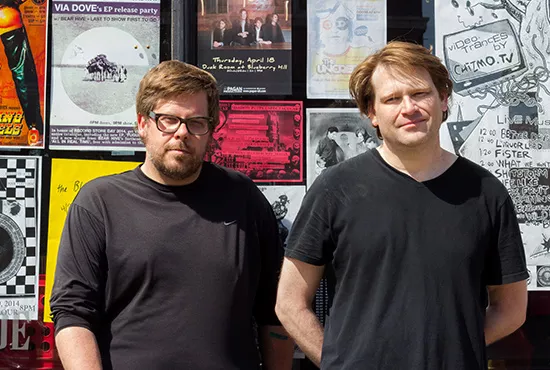 Mabel Suen
What We Won't See hangs out at their home base: Apop Records on Cherokee Street.
In this weekly column, RFT Music gets to know local creatives, musicians and their missions. Get a slice of the local scene, complete with a snippet of sound and info about upcoming releases and shows. Stick around to see what St. Louis artists have to say whenever they Fill in the Blank.
What We Won't See isn't quite a revival band. Despite its heavy leanings toward early industrial music, the St. Louis duo brings an unfiltered punk flavor to the genre. The fuzzed out guitar spits dissonant riffs, and the strict rhythm of a high volume drum machine keeps each song locked to solid grooves. For St. Louis, this band is one of a kind, blending nostalgic rock with avant-garde noise.
Bassist Scott Alexander heads the duo with a commanding voice. His monotone drones peak through cybernetic songs rife with sonic swells and synth play. By merging the robotic nature of sequencers with human vocals and live guitar, Alexanger creates an atmosphere that's danceable but intricate.
At any given show, one can catch guitarist Chris Smentwoski stomping around a spewing fog machine, sweat dripping from his forehead to his shoes. He might be better known for his work in Brain Transplant, a seminal group in the Midwest noise music scene. With What We Won't See, Smentowski trades in his typical free-form style of improvised music for controlled melodies.
Although abrasive backing tracks of beats and synth are key elements here, the band's earliest songs barely resemble its current sound. Alexander and Smentowski first started What We Won't See as a trio in late 2011 with drummer Aaron Smith. After a brief stint, Smith left and the remaining duo reworked material and wrote out new songs with a new emphasis on aesthetics.
"The band evolved, changes were made, synths filled out our rhythm section, smoke machines came on densely and ambient lighting set the mood," Smentowski says. Nowadays he likes to think of their sound technician, Ray Johnson, as a third member. Johnson's role ensures that What We Won't See sounds consistent and powerful from venue to venue.
"He really takes the stress out of making sure all the electronics are up and running so that we can focus on putting on a good show," Alexander adds.
What We Won't See's debut album Blood Covered Winter just dropped earlier this Summer, and is available through the band's website and on CD-R, complete with hand-crafted packaging. While listening online isn't the same as seeing the duo's silhouette peek through dimly lit clouds of fog, the band's sound translates well to record and is a good starting point for new listeners.
Read on as Scott Alexander and Chris Smentowski Fill In The Blanks.
Mabel Suen
What We Won't See performs live on Record Store Day 2014.
Scott Alexander: Vocals, Bass, Electronics
I make music because... I'm awake.
I've learned the most from... watching, listening and doing
I'm most productive when... working against a deadline
What I like most about St. Louis is... that it has a lot to offer culturally. Many major universities, affordable housing, underutilized neighborhoods, and a substantial pool of creative, artistic and intellectual people. I'm always proud of St. Louis' local bands when I see them open for touring acts. The local acts almost always represent.
The St. Louis music scene could use... more Smentkowski.
The best post-show food in St. Louis is... frozen pizza at my house. Come on by.
And what about the name What We Won't See?
What We Won't See can mean different things depending on context. What's the thing that will end up killing us, the most dangerous thing of all? It's what we won't see. Is there a solution to our problem, a way out of our troubles? Yes, but it's what we won't see. Do we impact the lives of others and the world around us? Yes, in countless ways which we won't see. Ultimately, it's about the countless important things that escape our attention, either because we are incapable of understanding, we aren't looking, we are willfully ignoring or we are intentionally avoiding.
---
Chris Smentowski: Guitar
I make music because... I'm a lifer.
I've learned the most from... my early days getting to know friends in the St. Louis music scene: Dave Stone, Darin Gray, Andy Ortmann from Panicsville and Alan Grimm's record collection. Alan in particular has been a secret weapon influencing my approach to both art and music. He runs the art studio where I work.
I'm most productive when... I'm in the mood.
What I like most about St. Louis is... there's a lot of great stuff going on here. The underground music scene has been huge here for a while, but I'm seeing tremendous growth in arts. I do a lot of mountain biking, so personally I have to give a nod to the area's amazing state and county parks and to Gateway Off Road Cyclists (GORC) who maintain the trails.
The St. Louis music scene could use... there are a few bands that do a lot of seemingly shameless self-promotion but are also closed-minded, meaning that they limit themselves to their insular crowd, without much crossover, and with little or no exposure elsewhere. Somehow this seems absurd to me.
The best post-show food in St. Louis is... home.
What We Won't See Saturday, August 23 At The Crack Fox 1114 Olive Street 8 pm | $8 | 21+ w/ Lida Una, Gemini Hustler, Wax Fruit
Follow What We Won't See through its Facebook page, and be sure to check out the latest album, Blood Covered Winter, streaming for free over at Bandcamp.
Previously from our Fill in the Blank series: - Travis Bursik - Black James - Shitstorm - Shark Dad - The Uncredibles - The Ded Bugs - Stonechat - Les Gruff and the Billy Goat - Nato Caliph - Jah Orah & KD Assassin - Zagk Gibbons - Britches - The Maness Brothers - Con Trails - This City of Takers - Syna So Pro - Eric Hall - Pink Sock - Scrub - Pet Rock the Musical - The Glass Cavalry - The Blu Skies - Animal Teeth - Popular Mechanics - Brotherfather - Bad Dates - Beauty Pageant - Pillow Talk - The Tennis Lesson - The Funs - Brothers Lazaroff - Quaere Verum - MME - Sarah Bollinger - Little Big Bangs - Everything Went Black - Lions Eat Grass - Kevin Harris - Laika - Heavy Horse - Barely Free Partial Prisoners - The Defeated County - Lizzie Weber - Kenshiro's - B.E.L.L.A. - Superfun Yeah Yeah Rocketship - Humdrum - The Blind Eyes
---