Polyphonic Spree - Saturday, August 16 @ Blueberry Hill.
This week, a variety of interesting acts make St. Louis an exciting music town to live in. Just take your pick from a pool of talented performers traveling from near and far. Choose from concerts including OK Go, Wiz Khalifa, Ahleuchatistas, Umphry's McGee and much more. Read on to get a taste of this week's show recommendations.
Earth, Wind & Fire Monday, August 11 @ Peabody Opera House 7:30 p.m. | $33-$123 By Annie Zaleski From this archived write-up: Drummer and vocalist Maurice White founded Earth, Wind & Fire in 1970. You could staff an entire basketball league with the number of musicians who have passed through EWF, but in 1972 singer Philip Bailey became the band's focal point with his castrati-like range. Bailey's high-flying vocals paired nicely with White's more husky, countrified delivery, and the combo charted a number of hits with various styles, ranging from the breezy funk of "Shining Star" to the cosmos-exploring "Fantasy."
Wiz Khalifa Tuesday, August 12 w/ Jeezy, Tyga, Ty Dolla $ign, Richie Homie Quan, Sage the Gemini, Mack Wilds, IAMSU, DJ Drama @ Verizon Wireless Amphitheater 6 p.m. | $27.75-$62.75 By Tara Mahadevan From "The Best St. Louis Hip-Hop Shows: August 2014": Wiz Khalifa, Jeezy and Tyga are coming through St. Louis for their Under the Influence of Music tour, with an incomparable list of openers including Ty Dolla $ign, Rich Homie Quan and Mack Wilds -- proof that the law ain't gonna interrupt Wiz's flow. Let us explain: This past May, while promoting his new mixtape 28 Grams, Wiz dropped a few cannabis-centric mixes that caught the eye of the authorities. He was subsequently jailed for possession before 28 Grams could debut. He was released after a day, but not before he posted a jail selfie and got #FreeTrapWiz trending on Twitter. Wiz's tour is in support of his next studio album, Blacc Hollywood, which drops August 19. Six is quite the early start time for a show, but this is a lineup you don't want to miss.
OK Go Wednesday, August 13 w/ DJ Mahf @ Old Rock House 8 p.m. | $18-$20 By Bob McMahon It's easy to get distracted by OK GO's flashy videos and showmanship. For most press outlets, the veteran quartet's music is secondary to the latest crazy concept with which the band is dominating YouTube. That's a shame, because the group continues to evolve while retaining its ability to write naggingly catchy hooks. Its new EP Upside Out, which contains four songs from the upcoming full-length Hungry Ghosts, finds OK GO continuing along the lines of the maximalist, synth-laden, occasionally funky sound that dominated 2010's Of the Blue Colour of the Sky. This time, the hooks are brighter and the group approaches Chvrches-level exuberance. It's a long way from the crunchy power-pop OK GO used to make, but the band's 2010 concert at Old Rock House showed its members can make a cohesive show out of their divergent styles.
Curtis Salgado Thursday, August 14 @ Old Rock House 8:30 p.m. | $12-$17 By Roy Kasten From this archived show preview: The blues don't bicycle, they don't microbrew, and they're as environmentally friendly as a pack of Winston straights. In other words, the blues don't belong in Portland, Oregon. And yet Curtis Salgado has emerged from the Northwest as one of the preeminent stylists and harmonica players of the post-blues rock era. He's a traditionalist, of sorts, with an instinctive feel for the Chicago style (John Belushi modeled the Blues Brothers after him) and for Southern-fried funk, two forces that come together on Clean Getaway, his first album since being given the death sentence of a liver-cancer diagnosis in 2005. But he's a survivor, and onstage he remains a powerhouse, all sweat and moan and urgency, with harp-licks sharp and mean enough to clear-cut Mount Hood.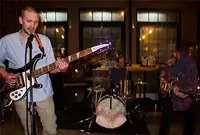 Kisser Cassette Release Friday, August 15 w/ Ahleuchatistas, Corrigan Brothers @ Schlafly Tap Room 9 p.m. | free By Joseph Hess From the 2013 RFT Music Awards: Spastic and heavy, Kisser approaches psychedelia with punk fervor. The trio creates a head space while taking on progressions of early kraut rock. The drums feel airy while feeding room to brainy bass riffs. The guitar reeks with noise, drawing from organic sounds to paint on schizophrenic songs. Kisser keeps a psych-rock core with deep hooks and spaced breaks. Vocals are subtle while disparate, lending a helping hand to Kisser's heady but approachable sound. Kisser's initial EP Black and Red features cuts that drone with a musical mantra and break with frantic melodies. Take in the cross-hatching of the old and new, and bring your earplugs.
Umphry's McGee Friday, August 15 @ The Fox Theatre 9 p.m. | $29.50-$42.50 By Tara Mahadevan With a bedazzling, kaleidoscopic light show timed to perfection with the band's music -- an amalgam of rock, metal, funk, jazz, blues, electronic, bluegrass and folk -- Umphrey's McGee might be the perfect band for fans of psychedelic drugs. While the group is often lumped into the same circles as the Grateful Dead, Phish and Widespread Panic, UM has largely been impacted by progressive rock bands like Pink Floyd, Frank Zappa and Yes, with a knack for taking the sounds of prog and adding a jam-band spin. What's not to like?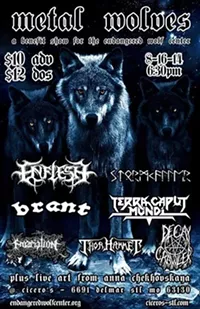 Metal Wolves: A Benefit Show for the Endangered Wolf Center Saturday, August 16 w/ Terra Caput Mundi, Emaciation, Decay Crawler, Brant Hutchcraft, ThorHammer, Enflesh @ Cicero's 6:30 p.m. | $10/$12 By Rick Giordano Dragons are not real and dinosaurs are extinct, making wolves the most metal creatures currently roaming the planet. After being featured on so many album covers/song titles/lyrics/band names, it's about time heavy metal gave something back to it's old friend Canis lupus. A collection of local newcomers including Decay Crawler and Enflesh will rally alongside St. Louis metal vets Terra Caput Mundi and Thorhammer to raise money for Eureka, Missouri's Endangered Wolf Center, a non-profit organization dedicated to preserving and protecting Mexican gray wolves, red wolves and other wild canine species. Those who prefer their charity without a side of headbanging and beer can still make a donation by visiting www.endangeredwolfcenter.org. Do it for the wolves.
The Polyphonic Spree Saturday, August 16 @ Blueberry Hill 9 p.m. | $20 By Kiernan Maletsky From this 2012 show recap: A Polyphonic Spree show is the closest you will ever come again to sitting around a campfire as an eight-year-old. The group is impractical (you try going on tour with a minor army), unhip (robes with hearts on them, guys!) and one of the best live experiences in music. What separates them from other bands with infectious happiness is the quality of the songs, but it is also the commitment of front man Tim DeLaughter.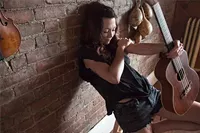 Amanda Shires Sunday, August 17 w/ Andrew Combs @ Off Broadway 7:30 p.m. | $12-$15 By Christian Schaeffer If you only know Amanda Shires through her role in her husband Jason Isbell's band, the 400 Unit, you only know half of the story. While she serves as a violinist, vocalist and lyrical muse to Isbell's top-shelf songs, her own albums reveal a multi-faceted folk artist that doesn't flinch at personal, deeply felt songwriting. Last year's solo effort Down Fell the Doves illustrated a rollercoaster ride of heartache and loss, from the drunk-in-love "Wasted and Rolling" to the confessional "If I," and her passes on violin and ukulele serve as complements to her high, quavering vocals. Fellow Nashvillian Andrew Combs will open the show, presumably playing songs from the as-yet-unreleased follow-up to 2012's Worried Man.
Note: Though we wish we could, we can't feature every great show happening in town in just one measly post. Look for plenty more recommendations this Friday in our weekend shows post, and peruse the St. Louis concert calendar for more ideas any time. Let everyone know what else you're looking forward to seeing this week in the comments below, and submit show info online any time to be considered for inclusion on these lists.
RFT MUSIC'S GREATEST HITS
Remembering STLPunk.com -- How to View the Site Today and Find Your Old Profile Page "Where Did My Dick Go?" The Gathering of the Juggalos' Best Overheard Quotations The Ten Best Dive Bars in St. Louis The 15 Most Ridiculous Band Promo Photos Ever
---