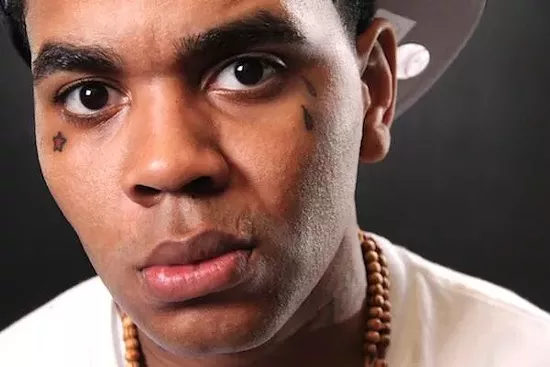 Kevin Gates - Saturday, August 9 @ The Ready Room.
This weekend, lots of great acts come through town including Justin Townes Earle, Dead Rider, Kevin Gates, REO Speedwagon, the Reptilian and more. Choose from one of those shows or check out a local series called Vibes, featuring art and music. Read on our recommendations.
Friday (August 8):
Dead Rider w/ The Conformists, Yowie @ The Firebird 8:30 p.m. | $8-$10 Dead Rider, an experimental rock outfit formed by U.S. Maple's Todd Rittman, plays some of the most demented yet dance-worthy songs you'll ever hear. Check out some videos and more on the Dead Rider website. (MS)
Justin Townes Earle w/ Emily Wallace @ Off Broadway 8:30 p.m. | $23-$33 In case you missed it, check out Roy Kasten's excellent feature story from this week's print edition, in which he heaps praise on Earle's latest record, Single Mothers. (DH)
REO Speedwagon w/ Chicago @ Verizon Wireless Amphihtheater 7 p.m. | $15-$200 Though Chicago should be headlining, REO Speedwagon is OK too, I guess. But get there in time for Chicago, you fool. Best band. (DH)
Vibes w/ Centipede x Abnormal, Prospect, The Souls of Liberty, Ciej, Domino Effect, Con, Mic-Key, Zado, Chris Smith Jr., LSTMBRS @ Blank Space 8 p.m. | $8-$11 In addition to performances from some of St. Louis' sickest rappers, look forward to checking out plenty of visual stimuli ranging from photography and graffiti to live painting and fashion. (MS)
Saturday (August 9):
Blizzard Babies w/ Posture, Poop Burger, Leggy @ Apop Records 9 p.m. | $7 This show features two sets of out-of-towners: Blizzard Babies from Chicago and Leggy from Cincinnati -- the former a dark surf band and the latter a garage pop outfit. Click the links to hear some of their tunes. (MS)
Kevin Gates w/ Chevy Woods, Markoe, Doughboy @ The Ready Room 8 p.m. | $16.50-$20 Did you guys notice that the show above this one has a band called "Poop Burger" on it? I couldn't get past that to write an actual description of this one, but, uh go to it OK? (DH)
The Reptilian w/ Two Knights, Mothlight, Anodes, Laika @ Lemp Arts Center 7:30 p.m. | $5 Fans of screamo can get their fill with this mulit-pronged bill featuring three hard-hitting out-of-town acts: the Reptilian, Two Knights and Mothlight. Just click the links to sample some tracks. (MS)
For another option on Saturday night, consider checking out Dave Alvin & Phil Alvin with the Guilty Ones at Off Broadway. Click the link to read more via a preview from earlier this week.
Sunday (August 10):
The Gorge w/ Oxblood, Black Fast, Hell Night @ The Firebird 8 p.m. | $8 Seriously: Poop Burger! (DH)
Miley Cyrus @ Scottrade Center 7 p.m | $19.50-$89.50 Miley makes good on her canceled Bangerz tour date with a re-do show. Look forward to awkward tongue slips and wrecking ball references -- you know, if you're into that kind of thing. (MS)
Sea of Shit w/ Nos Bos, Shaved Women @ CBGB Chicago powerviolence headlines this show flanked by local hardcore aficionados. (MS)
Note: Though we wish we could, we can't feature every great show happening in town in just one measly post. Peruse the St. Louis concert calendar for more ideas anytime. Let everyone know what else you're looking forward to seeing this weekend in the comments below, and submit show info online to be considered for inclusion on these lists.
RFT MUSIC'S GREATEST HITS
Remembering STLPunk.com -- How to View the Site Today and Find Your Old Profile Page "Where Did My Dick Go?" The Gathering of the Juggalos' Best Overheard Quotations The Ten Best Dive Bars in St. Louis The 15 Most Ridiculous Band Promo Photos Ever
---