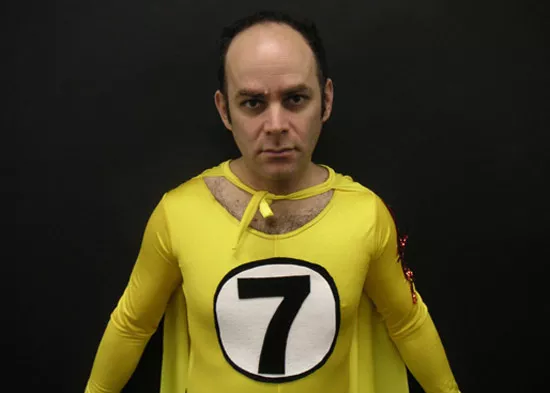 For those in search of laughter or curious about the goings-on of the comedy scene in St. Louis, we will be making monthly recommendations for shows in (and near) the city. From sure-thing hilarious to fingers-crossed, "Oh God! I hope this works" affairs, Funny Events is your connection to sketch, standup, improv and everything in between and out of the box.
Bill Cosby Saturday, August 9 at the Ballroom at Four Seasons in Lumiere 6 p.m. & 8:30 p.m. | $35 to $65
Remember when Doug Stanhope said Bill Cosby isn't relevant anymore but "it's cute to see an old man can make words?" Well Bill Cosby is not only making words but telling jokes too, and and to no one's surprise, it's sold out. Sorry -- don't mean to tease, but it wouldn't feel right not to announce that one of the greatest comedians alive is in town.
Todd Barry Tuesday, August 19 at the Firebird 8 p.m. | $20
This time last year Todd Barry embarked on "The Crowd Work Tour." The concept was to leave half of his act -- the jokes -- behind, and just work off the audiences. It's a daring and bold move because crowd work can go really, horribly wrong. And perhaps that's the draw -- you simply don't know what's going to happen next. But though it is true that there's a gamble with crowd work, Barry is truly a safe bet.
This time around I'd predict a 50/50 split: You're guaranteed to get the jokes, with the added bonus of a unique and one-of-a-kind show at the Firebird. Barry is a conversationalist; his is an accessible brand of humor with a spark of curiosity, executed so well that one could easily believe his performance was planned to feel impromptu.
Jake Baker Thursday, August 14 thru 17 at the Funny Bone in Valley Park Various Times | $13
Jake Baker comes through town once or twice a year. Baker is a creative type with an imagination that leads to well-rounded stories, as opposed to ones that are simply embellished. He's just so damn charming you'll refuse to believe he is anything less than genuine.The last distinct memory I have of Mr. Baker is watching him head to the microphone sporting a leather jacket in the dead heat of summer -- I don't know if it was part of his act, or if he's still bearded and unkempt as before, but I do know that his physical appearance and choice of outerwear isn't why you should head to Valley Park to catch one his shows. But it is a bit of insight as to how a stoner like Jake Baker can also simultaneously have a take-charge attitude.
Kenny DeForest Saturday, August 23 at Brennan's 8 p.m. | $5
Kenny DeForest is delightfully irreverent. If you are offended by strong language, this is not the show for you. However, it is important to note that Kenny is not a shock-value comic. He's articulate, charming and doesn't shy away from taboo topics or omit any of the gory details.
Joining him and adding a local flair is Andrew Frank, who might possibly be Bill Cosby's grandson twice removed, with the sweaters to prove it. Also on the bill is Emily Hickner, who landed herself in the Final Four of this year's Standup Throwdown and Kenny Kinds (the Standup Throwdown Champion).
RFT MUSIC'S GREATEST HITS
The 15 Most Ridiculous Band Promo Photos Ever "Where Did My Dick Go?" The Gathering of the Juggalos' Best Overheard Quotations I Pissed Off Megadeth This Week, My (Former) Favorite Band The Top Ten Ways to Piss Off Your Bartender at a Music Venue
---