[image-8]
This week, Wild Hex releases a new tape while supporting the Miami Dolphins from Minneapolis, the Baseball Project performs at Blueberry Hill with Water Liars, and Dave Alvin & Phil Alvin with the Guilty Ones take the stage at Off Broadway. Read about these shows and more in this our critics' picks.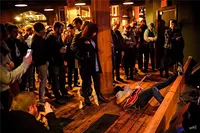 Wild Hex Tape Release Monday, August 4 w/ Miami Dolphins, Posture @ Melt 9 p.m. | $5 By Jenn DeRose From the 2014 RFT Music Awards: Toddlers were among the Record Store Day revelers at Apop Records this year, pounding the sky and dancing to the bands outside. It was fairly innocent until the Wild Hex set, when the kiddos picked up extinguished cigarettes and previously drained beer bottles from the pavement and enthusiastically mimicked drinking and smoking while strumming serious air guitar. Wild Hex corrupted these developing minds with the pure power of thrashing, frantic rock & roll. The band's latest album, You're Gonna Get It, was released by Hexian member and proprietor of Don't Touch My Records Gabe "The Babe" Karabell.
DJ Mahf Tuesday, August 5 @ Pin-Up Bowl 10 p.m. | free By Blair Stiles From the 2013 RFT Music awards: DJ Mahf works from some place in his brain that pumps out enough enthusiasm to make his work look easy. Performing with a chilled zeal, the Indyground DJ interplays dense minutes of thumping samples with crackling movie clips and fine-tuned, one-and-two-handed scratches. He has already banged around Kansas City's spirited Middle of the Map Festival with labelmate Brett Gretzky, crossed the northern American border and cut and pasted for Red Bull's Thre3style competition this year. Whether live or replayed through Indyground's streaming footage, Mahf exudes the enjoyment he feels: In tempo he bobs at the waist, moving faster in the moments when he is inundated with the floor's energy, always looking pleased. It is Mahf's obvious enjoyment of his craft that puts his sets so squarely in the spotlight.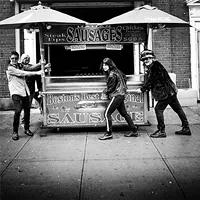 The Baseball Project Wednesday, August 6, 8 p.m. w/ Water Liars @ Blueberry Hill 8 p.m. | $15 By Jaime Lees It's a band. That plays songs about baseball. That's all. But the aptly named Baseball Project isn't some county fair novelty act, it's a modern day supergroup. The players drafted to this musical team include Scott McCaughey (Young Fresh Fellows) Steve Wynn (The Dream Syndicate), Linda Pitmon (Zuzu's Petals) and Peter Buck and Mike Mills of R.E.M. fame. Songs like "Extra Inning of Love" and "Monument Park" carry titles that push the sporty theme, but these cuts are more than that; they're stories told through the filter of the game. The bands melodies glow with a warm, familiar fuzz-pop sound-- reminding listeners that these musicians shaped America's musical history in the same way that The Babe shaped America's pastime.
Sturgill Simpson Thursday, August 7, 8 p.m. w/ The Dock Ellis Band, Brian Henneman, Kip Loui @ Off Broadway 8 p.m. |$14-$19 By Christian Schaeffer If Sturgill Simpson's new record title, Metamodern Sounds in Country Music, sounds like both a dissertation title and a fuck-you, it's probably a little of both. His interest in metaphysics, world religions and hallucinogenics are outlined in the unforgettable opening track "Turtles All the Way Down." He might play country music, but it's very much on his own terms. But even when his lyrics get a little meta, or when he's rescuing the '80s one-hit wonder "The Promise" and turning it into a torch song, his honky-tonk foundations and weathered voice hold court with craggy authority.
Dead Rider Friday, August 8 w/ The Conformists, Yowie @ The Firebird 7:30 p.m. | $8-$12 By Joseph Hess As lead guitarist of avant-rock outfit U.S. Maple, Todd Rittman dazzled crowds through the '90s and early aughts. His present-day work in Dead Rider has a more refined taste; here, Rittman works as a frontman, bending pop music around cold-hearted lyrics, raspy vocals and an ever present poly-rhythm. Keys and strings work in tandem while melody leaks out with subtle cues to Rittman's descontructionist past. Dead Rider still gets noisy, but the songs are executed with a strict, almost surgical style. Some of Chicago's finest experimental musicians work as Rittman's backing band, including Thymme Jones of the renowned Cheer-Accident.
Dave Alvin & Phil Alvin with the Guilty Ones Saturday, August 9 w/ Candye Kane @ Off Broadway 8 p.m. | $25-$38 By Roy Kasten Brothers Phil and Dave Alvin are nearly as well known for the tensions that have kept them apart as the music they've made together. For the last twenty years, Phil has soldiered on with a Dave-less Blasters, while his younger, story-singing and guitar-slinging brother created his own legacy. But the only thing thicker than blood is the American roots music they both love, and on this year's Common Ground, a tribute to Big Bill Broonzy, the two reunite for a back-to-blues-basics set that reminds fans, and perhaps themselves, of just how powerful their musical bond really is.
Shaved Women Sunday, August 10 w/ Sea of Shit @ CBGB 9 p.m. | $5 By Joseph Hess From this archived show preview: Shaved Women uses repetition like a head slamming into a wall. This persistence comes from hardcore and metal, but genres do little to describe Shaved Women. The group paints nihilistic music, providing fresh songs with focused brevity. Chris Eck and John Birkner somehow make their guitars sound like an organic, guttural noise with metallic sheen. Vocalist Ben Salyers provides deep growls while Tom Valli takes to the skins like a metronome on steroids. The lyrics dig in with long nails as they rhyme with simple, memorable prose. Shaved Women's sets feel claustrophobic and rip with a sound that defines the landlocked, trapped Midwest.
Note: Though we wish we could, we can't feature every great show happening in town in just one measly post. Look for plenty more recommendations this Friday in our weekend shows post, and peruse the St. Louis concert calendar for more ideas any time. Let everyone know what else you're looking forward to seeing this week in the comments below, and submit show info online any time to be considered for inclusion on these lists.
RFT MUSIC'S GREATEST HITS
Remembering STLPunk.com -- How to View the Site Today and Find Your Old Profile Page "Where Did My Dick Go?" The Gathering of the Juggalos' Best Overheard Quotations The Ten Best Dive Bars in St. Louis The 15 Most Ridiculous Band Promo Photos Ever
---