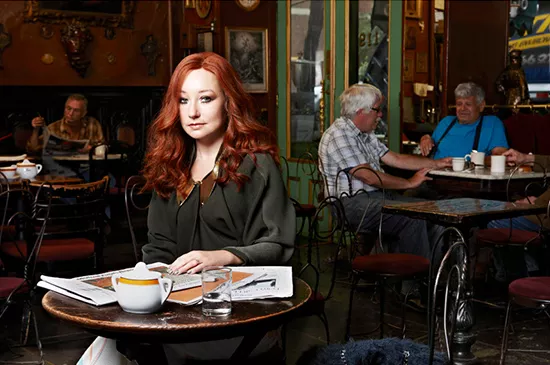 Tori Amos - Friday, August 1 @ Peabody Opera House.
This weekend, check out an art opening or beat battle at Blank Space, catch a free local show at the Schlafly Tap Room, celebrate Lemp Arts Center's 20th anniversary with a special avant-garde performance, or catch a number of other great shows happening around town. Read on for our top concert picks and recommendations.
Friday (August 1):
Bruised Innocence w/ Black Spade, Nappy DJ Needles @ Blank Space 7 p.m. | $5 This exhibit opening features the work of local artist Jessica Brown accompanied by an evening of DJ sets. Black Spade at the Blank Space. Black Space at the Blank Spade. Whoa. (DH)
The Jedi Knighties w/ The Carondelettes, Fat Tramp Food Stamp @ Schlafly Tap Room 9 p.m. | free Soul, pop and good old-fashioned rock & roll make up the lineup for the Tap Room's Friday night local entertainment. At the Tap Room the shows are always free, and the beers are always cold. (MS)
Tori Amos @ Peabody Opera House 7 p.m. | $39-$86 This Bob's Burgers parody always comes to mind. And we're totally OK with that. (MS)
Hed PE w/ Bound to Break, Exit 714, Seminary Villains @ Pop's 6 p.m. | $10-$15 Ask the singer of Hed PE to play the Clue, wouldja? (DH)
For another option on Friday, check out Dave Stone Trio at Mangia Italiano.
Saturday (August 2):
Bull of Heaven @ Lemp Neighborhood Arts Center 8 p.m. | $7 LNAC celebrates twenty years of experimental music in its space with Denver's Bull of Heaven, an avant-garde duo known for its prolific backlog of contributions -- more than 400 albums released free of charge. This rare live performance will last three to four hours. (MS)
Crooked I w/ Haiku @ The Mad Magician 7 p.m. | $15 He's in Slaughterhouse -- what else do you need to know? Must-see. (DH)
LeAnn Rimes w/ Erin Bode @ The Pageant 7 p.m. | $33 Country queen LeAnn Rimes performs to help benefit the Vatterott College scholarship fund. Local jazz vocalist Erin Bode opens. (MS)
Lifted #14 w/ Centipede, Mvstermind, Cn Clear, Nperson, Trapdaddy500, King Boom @ Blank Space 10 p.m. | free Lifted, a monthly event at Blank Space focusing on future electronic music and art, hosts round one of a beat battle between six local emcees. Check out the beat scene and see who reigns victorious. (MS)
Also on Saturday, the Washington Beach Bums perform at the Heavy Anchor and Funky Butt Brass Band takes the stage at Off Broadway. Click the links for more info on both shows via our critics' previews.
Sunday (August 3):
Moxiefest w/ Brad Baker, Breanna Douglas, Robert Perks, MindFlow, Lindsey & Katie Monoc, Under the Willow, Aristocrat Laundromat, For Word, Black Dahlia, Don Giovanni, Bluefish, Broheuser Busch, the Neighborhood Watch @ Zeta Phi House 10 a.m. | $10 This thing is happening at a frat house? Bring your whole clique and go all Animal House on 'em. (DH)
Sea of Bones w/ Fister, Bastard, Valley, Bong Threat @ Fubar 8 p.m. | $8 "If Sleep stuck its head in Acid Witche's pussy and puked Slayer's cum, a baby was born." (DH)
Another recommended show includes Life Like Civilized, Protestor and more at C.A.M.P.
Note: Though we wish we could, we can't feature every great show happening in town in just one measly post. Peruse the St. Louis concert calendar for more ideas anytime. Let everyone know what else you're looking forward to seeing this weekend in the comments below, and submit show info online to be considered for inclusion on these lists.
RFT MUSIC'S GREATEST HITS
Remembering STLPunk.com -- How to View the Site Today and Find Your Old Profile Page "Where Did My Dick Go?" The Gathering of the Juggalos' Best Overheard Quotations The Ten Best Dive Bars in St. Louis The 15 Most Ridiculous Band Promo Photos Ever
---