[image-9]
This week, catch acts including Nick Waterhouse, Helmet and Filter, Kings of Leon, the Washington Beach Bums and much more. Read on for some recommendations for the next seven days, and don't forget to check back on Friday for more weekend picks.
Nick Waterhouse Monday, July 28 w/ Brother Lee & the Leather Jackals @ The Firebird 8 p.m. | $12-$15 By Roy Kasten Nick Waterhouse is the Cab Calloway to Paul Janeway's Otis Redding, the Ray Charles to Mayer Hawthorne's Isaac Hayes. Far from an overpowering vocalist, Waterhouse transcends run-of-the-mill soul revivalism on the strengths of his arranging and songwriting. On this year's sophomore release Holly, the occasional co-conspirator with LA.garage-soul band Allah-Las cooly steps through ten originals that chart a desolate and idiosyncratic paranoia you could burn your last square to (or just dance): close and sweaty, with visions of baritone saxes and the Raelettes in your smoke-filled eyes.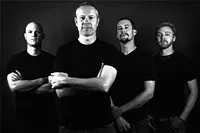 Helmet Tuesday, July 29 w/ Filter, Local H @ The Mad Magician 7 p.m. | $25-$28 By Shae Moseley From this archived show preview: By the time Helmet released its seminal 1992 album Meantime, metal had become a caricature of itself, bastardized by cheesy hair bands and leather-clad tough guys. Helmet's low-key, T-shirt-and-jeans aesthetic and the sludgy simplicity of its drop-tuned chunking, on the other hand, was a breath of fresh air, bringing plenty of raw energy to the table but checking the pretense at the door. Singer/guitarist Page Hamilton's melodies channeled the darkness of Black Sabbath but with an innovative post-hardcore dissonance and carefully placed mathiness that set the stage for the unlikely success of other understated post-rock bands like Failure and Hum later in the '90s.
Trauma Harness Wednesday, July 30 w/ American Hate, Ruz, Self Help @ Livery Company By Josh Levi From the 2014 RFT Music Awards: Trauma Harness may just be one of St. Louis' best-kept secrets. For years now the angular trio of Jenkins, Peterson and Birkner has produced an infectious brand of downer post-punk that would send any fan of the Fall or Wire running for the merch table. Through excellent musicianship and a crystallization of its power-pop and art-punk influences, Trauma Harness has proven to be one of the most interesting (if not overlooked) acts in the city. Whether ripping a virulent set of original songs or entering uncharted territory with an all-synth set, the band continue to set a new standard for creativity and sonic communion.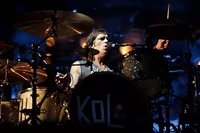 Kings of Leon Thursday, July 31 w/ Young the Giant, Kongos @ Verizon Wireless Amphitheater 7 p.m. | $29.50-$65.50 By Tara Mahadevan Nashville's Kings of Leon skyrocketed to fame with the three singles "Sex on Fire," "Use Somebody" and "Notion" from their 2008 album Only by the Night, with all three hitting number one. Initially, Kings of Leon stuck to a hearty brew of southern rock and blues sounds, but after their success, the quartet began to incorporate the genres of alternative and arena rock. Their latest musical endeavor, Mechanical Bull, dropped in September 2013 to positive reviews, peaking at number two on the US Billboard 200.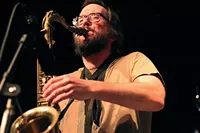 Dave Stone Trio Friday, August 1 @ Mangia Italiano 11 p.m. | free By Nick Horn From the 2014 RFT Music Awards: If you've never heard of Dave Stone, you are out of the loop. In addition to his more than twenty years of contributions to St. Louis' noise and free-improvisation scenes, Stone's trio -- composed of himself, bassist Bob DeBoo and drummer Kyle Honeycutt -- has got to be breaking some kind of record with its nineteen-year-long Friday night residency at Mangia Italiano. The pianoless trio -- all three accomplished players in their own right -- slays standards, throwing in the odd original and even a bit of free playing. If you're a jazz fan and you haven't yet seen the Dave Stone Trio, cancel your plans this Friday and head to Mangia. You won't regret it.
The Washington Beach Bums Saturday, August 2 w/ Chill Dawgs, Vanilla Beans, Bassamp & Dano @ The Heavy Anchor 9 p.m. | $5 By Cassie Kohler Party king Andrew W.K better watch his back. The Washington Beach Bums are trying to steal the title of the next great rock'n'roll party band. How could you expect anything less with lyrics like "What would Washing Beach Bums do? Party! Party! Party!"? They want you to shotgun a beer (or a dozen), gorge yourself on pizza, spin in circles, puke and pass out face first and naked on the filthy floor of a stranger's house. Their debut album, Party, is rife with songs designed for just that and littered with track titles like "Four Loco," "The Night I Almost Died," "Land of a Thousand Ex-Girlfriends," and "the Show Must Party On." Drinking, drugs, sex and parties -- if you haven't figured it out yet -- are the Washington Beach Bums' modus operandi.
Funky Butt Brass Band Saturday, August 2 @ Off Broadway 7 p.m. | $7-$10 By Roy Kasten The last thing the Funky Butt Brass Band needs is street cred -- the sextet has been blowing doors off dives, nightclubs and barbecues in St. Louis since 2008. This past June, FBBB trumpeter Adam Hucke was hit by a stray bullet during a round of gunfire outside one of the band's local haunts, the Broadway Oyster Bar. Hucke has recovered and the band second lines on with its New Orleans-meets-St. Louis funk'n'strut style. When it comes to tough originals and tougher covers, no band shells out a more bulletproof mix than FBBB. For this early show at Off Broadway, the band will be dishing catfish, cornbread and slaw while it lasts. Come early, come hungry.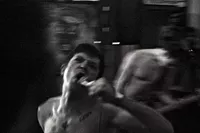 Life Like Sunday, August 3 w/ Civilized, Protester, Misled Youth, Q @ Community Arts and Media Project 9 p.m. | $8 By Jimmy Eberle From the 2014 RFT Music Awards: Find one other band in town with a singer that can catch loogies he just spit into the air back in his mouth while menacingly pacing the stage (or floor, as is often the case) and howling verses with anger and conviction. You can't. Add some noisy riffs and no-bullshit, in-your-face hardcore to that makes-you-feel-dirty atmosphere and you've got Life Like, a band so raw and nasty it will make you want to take a shower. The music is deliciously violent and disgusting and as intense as can be.
Note: Though we wish we could, we can't feature every great show happening in town in just one measly post. Look for plenty more recommendations this Friday in our weekend shows post, and peruse the St. Louis concert calendar for more ideas any time. Let everyone know what else you're looking forward to seeing this week in the comments below, and submit show info online any time to be considered for inclusion on these lists.
RFT MUSIC'S GREATEST HITS
Remembering STLPunk.com -- How to View the Site Today and Find Your Old Profile Page "Where Did My Dick Go?" The Gathering of the Juggalos' Best Overheard Quotations The Ten Best Dive Bars in St. Louis The 15 Most Ridiculous Band Promo Photos Ever
---