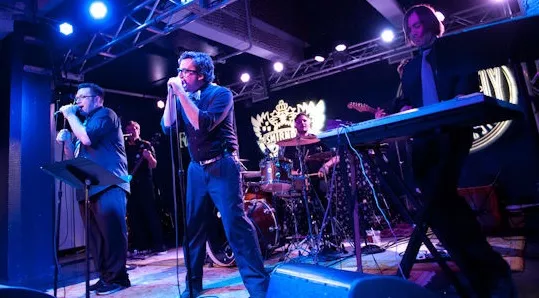 Jon Gitchoff
Dance Floor Riot playing the RFT 2012 Best of St. Louis party.
Will there be dancing at Riverfront Times' first ever beer-and-barbecue bash, Q and Brew in the Lou? Well, consider this: Attendees will have the opportunity to sample beers from more than twenty craft breweries and there will be music.
But not just any music, folks. Dance music courtesy of two bands so hip-swayin' they have the word "dance" in their name. Legit.
Dance Floor Riot is a perennial "Best Cover Band" finalist in RFT's annual music awards. And the same can be said of Old Capital Square Dance Club in the RFT Music Awards "Best Country Band" category.
The drinking, the eating and the music gets under way Saturday afternoon, August 23, at Union Station's South Plaza. For more information, check out Q and Brew in the Lou or simply reserve your tickets here.
Continue on for videos from Dance Floor Riot and Old Capital Square Dance Club.
RFT MUSIC'S GREATEST HITS
The 15 Most Ridiculous Band Promo Photos Ever This Incredible Make-A-Wish Teenager Went to the Gathering of the Juggalos, Got a Lap Dance (NSFW) Crotching Whiskey at the Justin Bieber Concert and Getting Thrown Out: A Review The Top Ten Ways to Piss Off Your Bartender at a Music Venue
---