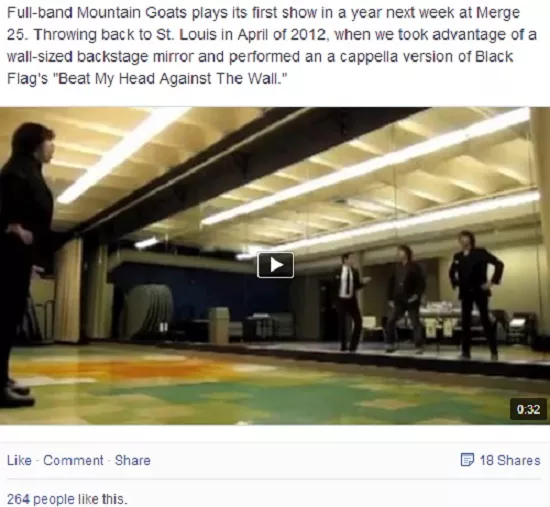 Screenshot from the video. See below for the one you can click on.
North Carolina-based folk-rock band the Mountain Goats is currently gearing up for its first full-band show in a year, as part of Merge Records' 25th anniversary festival that runs from today through this Saturday. In anticipation of the big event, drummer Jon Wurster recently posted a very odd video to his Facebook page, in which the three-piece is seen dancing and singing an a cappella version of Black Flag's "Beat My Head Against the Wall."
See also: The Mountain Goats and Water Liars at the Gargoyle, 4/21/12: Review and Setlist
The show took place in April 2012 at the Gargoyle. Wurster says "we took advantage of a wall-sized backstage mirror" for the video.
Writer Julie Dill reviewed the performance at iwenttoashow.com, and wrote the following about the encore:
My memory tells me one was a Black Flag cover, but I can't seem to find evidence of what song it was, or whether he's done it anywhere else, so he might have been joking. I'm bummed, because it was a great song and I'd like to listen to it again.
The review is then corrected and notes that the encore song was Nothing Painted Blue's "Houseguest." From context, it would seem that singer John Darnielle made reference to the inside joke that is this video from the stage, claiming to perform a Black Flag song and probably winking at his bandmates while doing so. Cute.
Anyway, enjoy this very strange video. And if you are lucky enough to be at Merge 25, enjoy that as well -- sure to be a doozy.
RFT MUSIC'S GREATEST HITS
The 15 Most Ridiculous Band Promo Photos Ever This Incredible Make-A-Wish Teenager Went to the Gathering of the Juggalos, Got a Lap Dance (NSFW) Crotching Whiskey at the Justin Bieber Concert and Getting Thrown Out: A Review The Top Ten Ways to Piss Off Your Bartender at a Music Venue
---