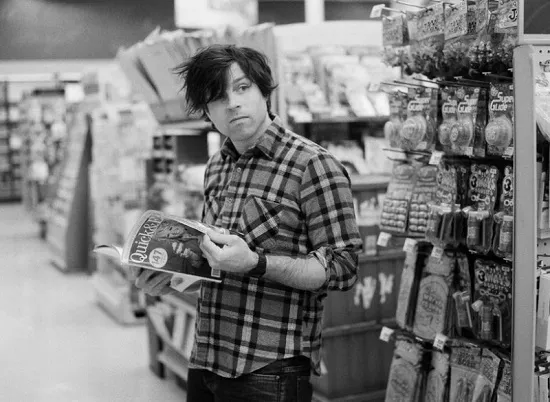 Singer-songwriter Ryan Adams has announced a fall tour, which will be making a stop at the Peabody Opera House on October 19. Tickets are $35 to $45 and officially go on sale this Friday, July 25, at 10 a.m., but you can order them a day in advance by using the password "gimme," according to a post on Adams' Facebook page.
You would do well to take advantage, if you want a guaranteed seat at the show. Adams' latest EP, 1984, part of the Pax Am single series, was announced this morning immediately following these tour dates. It sold out in fourteen minutes.
Here is what reviewer Chris Bay had to say about Adams' 2012 stop in St. Louis, from this review:
By shifting across the stage often (he also stood at a stage-left mic for a few tunes) and changing instruments, Adams kept the pace and dynamics interesting. Time between songs was filled with eager jokes that were met with even more eager laughter. He seemed more comfortable on stage last night than he has in years. Though the set was filled with well-known tunes -- many in attendance knew every word -- it never felt overly nostalgic. Instead, it was a distilled demonstration of some of Adams' most original and meaningful work, passionately delivered. It was a performance that many fans had been hoping for.
Tour dates below:
10/01/14: Santa Barbara, CA -- Arlington Theater * 10/05/14: Portland, OR -- Arlene Schnitzer Hall 10/06/14: Seattle, WA -- Paramount Ballroom 10/07/14: Vancouver, BC -- Orpheum Theater 10/09/14: Edmonton, AB -- Francis Winspear Theater 10/10/14: Calgary, AB -- Southern Alberta Jubilee Auditorium 10/12/14: Winnipeg, AB -- Burton Cummings Theater 10/13/14: Minneapolis, MN -- Northrop Auditorium 10/14/14: Milwaukee, WI -- Riverside Theater 10/16/14: Chicago, IL -- Chicago Theater ** 10/18/14: Ames, IA -- Stephens Auditorium @ Iowa State Center *** 10/19/14: St. Louis, MO -- Peabody Opera House 10/20/14: Kansas City, MO -- Uptown Theater
RFT MUSIC'S GREATEST HITS
The 15 Most Ridiculous Band Promo Photos Ever This Incredible Make-A-Wish Teenager Went to the Gathering of the Juggalos, Got a Lap Dance (NSFW) Crotching Whiskey at the Justin Bieber Concert and Getting Thrown Out: A Review The Top Ten Ways to Piss Off Your Bartender at a Music Venue
---