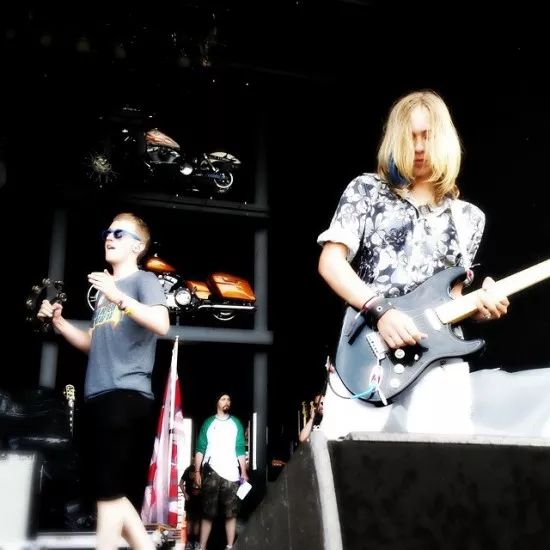 All photos courtesy of School of Rock
School of Rock students from Ballwin and Kirkwood perform at Summerfest in Milwaukee.
Some kids go to summer camp. Some kids mow lawns. Some kids play softball.
And some kids take their musical acts on tour, perform at the world's largest music festival and get face time with the drummer from the original Smashing Pumpkins. You know -- no big.
It's been quite a summer for students at the Ballwin and Kirkwood locations of the School of Rock, where music-loving kids ages seven and up train in vocals, guitar, drums, keys and more. But students aren't simply playing scales in front of an instructor (though they of course learn the basics and build upon their talent); School of Rock also emphasizes performance art, band communication and stage presence. And what better way is there to test rock-star skills than, well, by being a rock star?
"Now that the kids have gone and done Summerfest, they've come back and told the other students, 'Oh, man,'" says Jordan Heimburger, general manager of School of Rock in St. Louis.
This summer nearly twenty St. Louis School of Rock students and instructors loaded up a bus and rolled through the Midwest for five days, notching shows in Chicago and Milwaukee, among other cities. These budding virtuosos pushed their art and intensity further than ever, thriving on performing for the first time outside of St. Louis.
"This was the first tour I'd ever been on, and I'd love to go on tour again," says Myles Kellerman, sixteen, who plays guitar and attends Francis Howell High School. "I had no idea what to expect. I figured I'd get really sick of everybody and would just be really tired, and it was the complete opposite."
During the tour the St. Louis students met up with those from other School of Rock franchises, performing back-to-back sets and reveling in a sea of new friends who shared similar aspirations of becoming the best at their craft.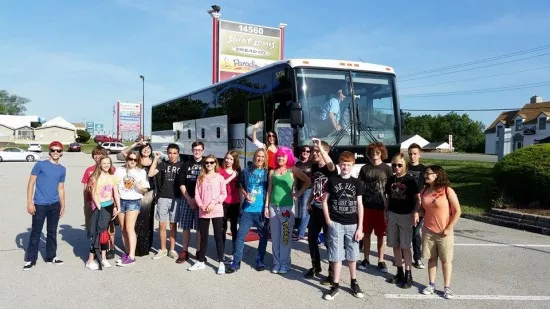 "'If anybody goes to the bathroom on the bus, I will cut you,' is what one of the girls said." -- Peter Kastaris
"One of the rules I like to live by is one live performance is like ten practices in your basement," says Peter Kastaris, sixteen, a drummer and emerging vocalist who attends Lindbergh High School. "Getting up there and playing is going to prepare you way more."
"Our School of Rock has only been here since last August, but some schools have been around for ten years," Kellerman adds. "Seeing those people play, it's unbelievable how tight and together they are. I got to talk to the guys from Boston, West LA and Texas."
Though the mingling aspect is fun, it also serves as an important lesson for maximizing your potential in the music industry.
"They're doing what the real currency of a music career is, and that's making connections," Heimburger says. "They're kids now, but they're meeting their future musical peers across the continent and keeping those relations through social media and whatnot, so they'll have someone they can call up when they're twenty."
But the big test still loomed: Summerfest, which bills itself as the world's largest music festival. Held over eleven days on eleven stages, this would be the most high-profile performance the School of Rock kids would have yet. Since SoR opened in St. Louis nearly a year ago, students have performed at LouFest, Six Flags and the balloon race in Forest Park, but Summerfest was a different animal.
On page two, School of Rock meets a David Bowie collaborator.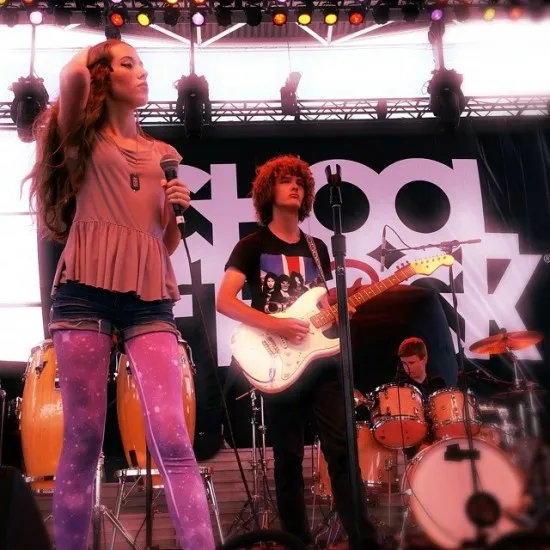 School of Rock students perform on one of the massive Summerfest stages.
As part of School of Rock's emphasis on true band-building and stage presence, SoR locations from all over North America convened in Milwaukee to play Summerfest. Gracing the same festival that Usher, Lady Gaga and Brad Paisley would soon play, the School of Rock students geared up for an epic battle of the bands and a severe test of their calmness.
"You walk, and you're like, 'That's not the stage.' Then you walk some more and yeah, that's the stage!" marvels Kellerman. "It was crazy. I heard 'Summerfest,' and it sounded like it would be just a little wooden stage in a big field. But it was almost like at Verizon Wireless Amphitheater. Just massive."
Fifty-nine School of Rock bands would perform during the festival. Reports say that total Summerfest attendance was about 850,000, and though the students weren't headliners, they still commanded plenty of attention. Judges included Jimmy Chamberlin, original drummer for the Smashing Pumpkins; Earl Slick, guitarist who has collaborated with David Bowie and John Lennon; Damon Ranger, who has collaborated on many award-winning songs and nabbed an Oscar for his work on the Life of Pi score; and James Williamson, whose work with Iggy & the Stooges influenced '70s punk.
"It was a long day, but there's something about playing in front of a lot of people that just gives you adrenaline rush, and you just get the energy to go out there and kill it," Kastaris says.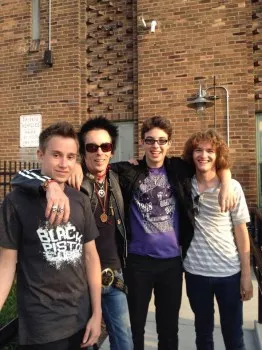 SoR students hang out with Earl Slick.
"I saw eleven-year-old drummers who could barely pop their head over their drum set that were ten times better than I was at that age," he adds. "The first thing I did when I got home was step up on that kit and practice. It's really driven me to become a better musician."
Though the St. Louis students didn't win any hardware during the battle of the bands at Summerfest, they performed well and are using the experience as inspiration for many of their upcoming club gigs back home, including the U-19 Bash on Saturday, August 16, at Chesterfield Amphitheater. As the title suggests, the event will showcase SoR talent age nineteen and under, except for two important people -- Jon Anderson of Yes and Steve Ewing of the Urge.
"I saw Yes play one time, and I thought those guys were amazing," Kellerman says. "And then I heard we'd be playing with Jon, and I was like, 'Wow, I need to start practicing a lot more.'"
"We're working hard to develop as many ties in the community as possible, tying our kids into the real music community as we can and not making it a pretend thing," Heimburger says. "It's like, 'You guys are going to take all our gigs eventually, so you might as well know us.'
But after a performance with Anderson and Ewing, an air-conditioned tour bus and a platform at a major music festival, will the School of Rock students assume that playing out always is this good? The answer ultimately doesn't matter to Kellerman.
"I really want to do music for a living, and this school has shown me that I'm definitely on the right track," he says. "It's amazing and so much fun, and I'd love to keep doing this."
RFT MUSIC'S GREATEST HITS
The 15 Most Ridiculous Band Promo Photos Ever This Incredible Make-A-Wish Teenager Went to the Gathering of the Juggalos, Got a Lap Dance (NSFW) Crotching Whiskey at the Justin Bieber Concert and Getting Thrown Out: A Review The Top Ten Ways to Piss Off Your Bartender at a Music Venue
---