Micah Usher for Riverfront Times
Fans at Kinfolks Soul Food Festival on Saturday -- before things got messy.
An Oklahoma-based production company with an "F" rating with the Better Business Bureau did little to improve its reputation during a stop through St. Louis on Saturday.
Slideshow: Kinfolks Soul Food Festival in Forest Park
Those who attended the Kinfolks Soul Food Festival on Forest Park's Art Hill complain that the event was mired from the start. Fans had to stand in excruciatingly long lines to enter the festival, even as temperatures soared into the upper 90s, and then wait 40 minutes between musical acts once the event finally got under way. And the problems didn't end when the much-delayed festival finally wrapped at 12:45 a.m. -- nearly two hours after it was supposed to have concluded. As the sun rose on Sunday, park officials realized that no one from Kinfolks Soul Food Festival had bothered to clean up litter from the event that left Art Hill looking like a debris field.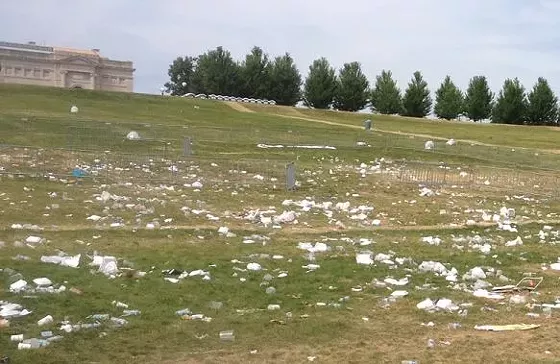 Courtesy of Gary Bess
Art Hill littered with food containers and bottles from Kinfolks Soul Food Festival.
"We haven't had a situation like this in years," parks director Gary Bess tells Daily RFT. "They failed to comply with a number of their permits. From start to finish it was mismanaged."
On Sunday morning Bess says he called the local firm that was supposed to pick up after the event and was told that financial arrangements had fallen through between the cleaning company and Kinfolks. But the owner of the cleaning company had his people come in anyway, says Bess, because he wanted to maintain good relations with the city. The same cleaning crew picked up after Fair St. Louis earlier this month and, according to Bess, had the park looking spiffy each morning.
Photo courtesy of Gary Bess
The parks director adds that organizers of the Kinfolks festival also failed to lower the volume onstage -- as outlined in its permit -- at 8:15 p.m. so as not to disturb the musical Porgy and Bess playing at the Muny. The festival, which featured R&B acts such as Morris Day & the Time, Mint Condition and Kelly Price, then played on well past its curfew of 11 p.m.
"At 12:45 the park rangers and police came by and basically closed the event down," says Bess.
The organizers of Kinfolks Soul Food Festival will lose the $1,000 security deposit they placed with the city to host the event in Forest Park. Kinfolks' insurance company may also be on the hook for damages to the property. Bess says Art Hill looked to be back to normal for the most part after the clean-up crew finally removed the litter on Sunday afternoon -- though grass seems to be dead in one spot where someone may have dumped cooking grease.
Continue on for complaints from fans who attended Kinfolks' St. Louis show and events elsewhere.
Kinfolks has yet to respond to the numerous complaints left on its Facebook page by those who attended Saturday's show.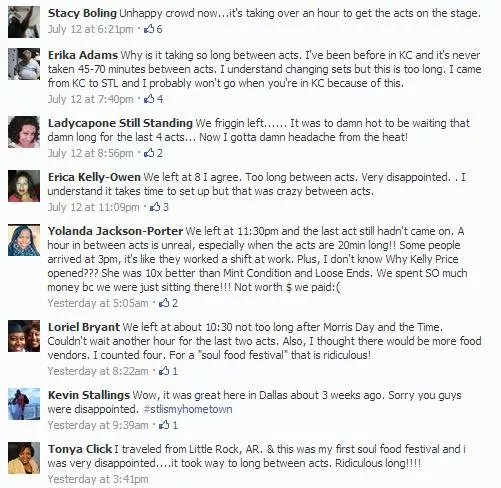 www.facebook.com/soulfoodfest
According to its website, the organization is holding similar festivals in 21 cities this year, with the mission of highlighting traditional soul food while bringing together families and friends for a day of reunion and award-winning entertainment.
Last summer Kinfolks held a similar all-day concert and food festival in Chesterfield with little fanfare. Though according to a 2012 complaint to the BBB, the production delays that hampered Saturday's show in Forest Park are not a first.
"My party waited three hours before finally deciding to cut our loses and not continue wasting time at a festival that lacked organization, professionalism, and a general respect for their patrons," reads the complaint from someone who attended a Kinfolks festival in Charlotte. "Since I left at 8 p.m., I have no idea of when the 'show' started or if it started. Even more frustrating is the lack of updates by the program's emcee concerning reasoning for the 3+ hour delay in 97 degree heat. I find the presentation by The Kinfolks Foundation to be embarrassing, unprofessional, dishonest and disorganized."
So where will Kinfolks Soul Food Festival take place next summer -- if it returns to St. Louis?
"At this point, based upon its operation this year, I don't believe this is a good event for Forest Park," says Bess.
Update: Below is a letter RFT Music received Tuesday afternoon from an Enid Hill, which further illuminates the problems with Saturday's festival. Hill says she has filed a complaint with the BBB and sent the following note to Huggy Lowdown and Chris Paul, emcees for the festival and members of the syndicated Tom Joyner Morning Show that airs weekdays in St. Louis on Old School 95.5 FM.
"Talk about pissed! Y'all need y'alls behind whooped for hosting and being associated with a messy concert like the Soul Food Festival held in STL Sat., July 12, 2014. How can the City of STL have a 4-day fair that goes off without a hitch (over a July 4th weekend) attending to the needs of 50,000 plus people per day and the Soul Food Festival can't put on a one day concert and do the same?

There were no trash receptacles (people walked around with trash bags for you to put trash in) and even though gates were to open at 3, it was nearly 4 pm before we were allowed entry into the concert venue (so for those of us who arrived early, we stood in line nearly 2 hours). Food was overpriced and nothing to write home about. A cup, not bottle, of water was $3 and we were made to throw our water away upon entry while continually being told "be sure to keep yourselves hydrated" throughout the entire concert.

Kelly Price came on at 5 and her set ended at 5:37 but she talked 20 minutes of this time. Go to the TJMS, Wendy Wms, the View, or the Queen Latifah show to tell your life story (not that we didn't learn something about you, but we were at a concert and wanted to hear music)! She never sang one complete song, did runs like a DJ mixing at a dance party.

Here is the actual concert timeline: Kelly Price 5:00 - 5:37 / Mint Condition 6:31 - 7:07 / Loose Ends 8:22 - 8:55 / Morris Day 9:45 - 10:15 / Con Funk Shun 10:56 - 11:22 / SOS Band Midnight - 12:39 a.m. So as you can see, it took up to an hour or more, per act, to tear down & set up before the next act (while we sit in 90+ degree weather) only for some acts to fall short of their performances.

Loose Ends was horrible. They sang off key from the minute they hit the stage and once announced it still took 15 minutes before they came to the stage. We sat in total silence waiting. The most unfair aspect of this concert, besides our disappointment and inconvenience, was the fact that because it took so long between sets many people left after Morris Day (the 4th act). By the time Con Funk Shun and SOS Bank came on, the park was nearly empty and just like Morris Day, they were the saving grace of the concert but had lost much of the audience prior to coming on which was a great disservice to them as artists. I would recommend that others please reconsider before attending this concert. To think that you could bring something so unacceptable to the City of STL and expect us to settle for it is not only a disservice but a disgrace.

I have written the St. Louis Post Dispatch, The St. Louis American, 95.5, the City of St. Louis Mayor's office, and the Parks and Recreation Department that represents Forest Park to state my utter disbelief and dissatisfaction. We are not happy campers."

Beyond Disappointed,

Enid K. Hill
Email the author chad.garrison@riverfronttimes.com or follow on Twitter @chadgarrison.