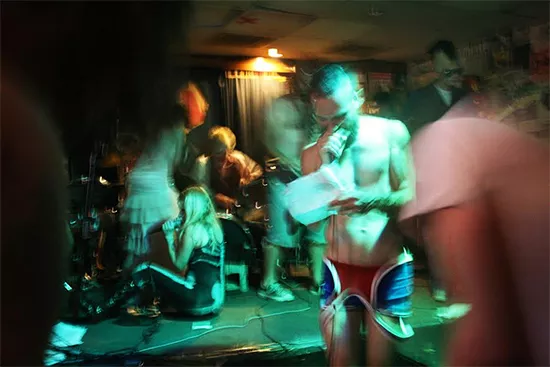 Photos by Mabel Suen
Skarekrau Radio at Lemmons, circa 2010.
In this week's music feature, we talk about Lemmons, the beloved south-city spot for punk rock and pizza. The dive bar closed recently to the surprise, and dismay, of many. We were unable to fit all the interviews of people's favorite memories from the bar's twelve-year existence into the print edition, so we've included some outtakes here. Read on for more stories from Lemmons' staff, patrons and more.
See also: Memories of Lemmons: St. Louisans Recall Their Favorite South Side Dive Bar
Todd Rodenberg Dorsey (former Lemmons employee): I worked at Lemmons for twelve years, starting as the sound guy and ended up working every position at the place. Lemmons has been my life for years. I worked there through all the eras - a sports bar turned rock bar; Mother, Jugs & Speed; Ma and Pa; and punk scene. The Wednesday/Thursday trivia has been a great part of Lemmons. Jamie started trivia with Sandy, and his death in the bar affected all of us deeply. When Kevin took over trivia, he continued a long-standing tradition and introduced us to new friends. By the way, I had a system for numbering the tables during trivia. And I met my wife at table #55.
Michael Gross (former Lemmons owner): I did have one show that I opted out of. It was a Valentine's Day show. This was probably five or six years ago, and I don't know any of the groups or anything. They wanted to put up a blow-up pool of fake blood made of syrup. It was a goth band and they wanted to do a whole mud-wrestling thing, but the question arose: Who would clean the bar up? I always look back at that one as sort of a missed opportunity.
Ellen Cook (Ellen the Felon): I've played so many shows and done so many shots there. I've always heard stories about human shuffleboard in this giant beer container on wheels upstairs. They also used to have this shot dice game that was amazing. I don't really remember too much about how that went.
Joshewa Boyer (former Lemmons bartender and manager): As for favorite stories, there are a few, but my favorite was during my wedding reception. I took it as a celebration, so I did what I think most would do in that situation: I got drunk. I mean, really really drunk. After several shots and quite a few beers, I got extremely sick in the bathroom.
After several minutes of that, I realized how desperately I needed to go home. I left the bathroom and then noticed that it was only 9:30, and the party was going strong. I pretty much had to say fuck it and grab another beer. I think that's what Lemmons kind of was. It was basically a place that played fast and loose with the rules - and that's one of the things about that place that I think people will miss.
Brian Fleschute (Pat Sajak Assassins, former Lemmons concert booker): I played there a couple times before working there, and Todd Dorsey asked me if I could do sound at the time coming out of the second Creepy Crawl. I was helping Jamie out while he had health issues and took over when he passed. When I was booking, I would just basically book it around the touring bands, who liked Lemmons more than local bands did. Free pizza and gas money is always good when you're on tour. We became a 3 a.m. bar after the smoking ban, and lost business around that time. That combined with the fact that more and more venues continually popped in town over the years hurt a little bit.
Racheal Kitchen (former Lemmons employee): Lemmons to me is a place I made a lot of good friends and memories. I feel like I was lucky enough to work at Lemmons when it was at its peak. We had so many good times and a lot of crazy, late nights. I was once egged outside of Lemmons by a couple of young teenage boys driving down Gravois. I'll miss Shaun Morrissey randomly falling asleep everywhere at Lemmons, the countless number of benefits thrown there and, of course, all the loyal patrons.
Denny Dyer (Black For a Second, Winchester, former Lemmons cook): I was about nineteen when I first stepped foot in Lemmons. A handful of my friends had turned 21 by then and had been going there regularly on Monday nights for free pizza and shitty b-movies. At the time, I was playing in a band called A Little Noise. The singer worked at Whole Foods and rented the place out for a work party. That was the first time I played a show on that stage. After I moved to south city a few years later, the place became my regular hang out after work. Eventually I needed a job, and it just so happened that around the same time, Lemmons needed a cook.... Ever since then I went back and forth between the kitchen and the bar and just kind of generally made sure the place opened and closed every day.
Before Jamie died, his health had been fading and he had moved in to the office upstairs at Lemmons. This was around the time he stepped down from booking after having done it for years. He couldn't devote the time or energy needed anymore. Todd took over for awhile, and after him, Brian did booking for quite some time. After that Brian, John and Daren were in charge of booking for a brief period of time. Make no mistake, booking is a frustrating job, especially when you're trying to book twelve bands a week. I saw a lot of successful shows there and a lot of shows where less than fifteen people would show up.
Towards the end it was particularly frustrating. Customers were complaining about drink prices. Random foot traffic would be deterred by cover charges. We would be nprepared for more successful shows and service would suffer. More and more bands and venues were emerging competition for any Friday or Saturday night. At some point, a lot of local bands just didn't even want to play shows there. At any rate, like I said, booking is a difficult, and often times an unrewarding job. I was asked to do it several times and I always declined. The guys that filled that role did their best and i guarantee they did a better job at it than I ever could have.
Continued on the next page.
Denny Dyer (Black For a Second, Winchester, former Lemmons cook): I have numerous favorite shows. I loved every show the Humanoids ever played there. I remember The Helium Tapes brought in like 150 people one night, which was just bonkers. Tok always put on amazing shows. Anything Jeff Hess or Matt Harnish did on stage was great. The Haddonfields, Breakmouth Annie and Cuban Missiles never disappointed. Vanilla Beans have some of the funniest onstage banter I've ever heard.
The Stay Retarded Weekend show was maybe the coolest thing I'd ever seen there. There was crowd-surfing, high-kick contests, chop slaps, like 30 bands in two days and just a ton of fun. We had to move all the tables downstairs for that one. I'm sure I'm forgetting some of my favorites, but my brain is fried after trying to drink the last of Lemmons' alcohol in the last four days....
In the end I think it was time for the bar to close. We just couldn't provide customers, bands, or the staff with what they wanted. Everyone was just burnt out and worn down. Over the years we put on some great shows and had some great times, and those were the highlights. When over 100 people come in for a show, get the food and drinks they want in a timely manner, and everyone can raise a glass to a room full of strangers and friends alike, you did everything right. We just didn't do it right often enough. I made some great friends and shared some great memories that I'll take to the grave. I think that makes it worth it.
Robert Severson (Googolplexia, Pancake Productions): I don't remember how I first heard of it. In the beginning, of course, it was "Lemmons Basement Bar," and even to this day I frequently am tempted to continue into the words "Basement Bar" after saying "Lemmons" even though it's been what, eleven years since the basement was even open?
If my pocket calendar is to be believed (and it probably is), I basically spent upwards of one-hundred percent of my nights at Frederick's Music Lounge, the Hi-Pointe, the Way Out Club, the (downtown) Creepy Crawl or Lemmons (Basement Bar) -- only one of which is still around now! So to me, at first, it was kind of the hot new spot for live rock'n'roll in town just as I was becoming a person that was into going to hot new spots (or any spots, period) to see live rock'n'roll in town.
Jessica and Jeff Robtoy's wedding reception where Joe Wetteroth's Creedence Clearwater Revival tribute band played was pretty memorable, as was (speaking of Robtoy) the Glass Teeth show where he was swinging the mic around by the cable and it went straight into the green bulb in the light fixture - pow! Kicking off - and really even just attending -- Stay Retarded Weekend in January 2013 was a definite highlight. Hanging out with Mario (Butt, Sex Robots, Spirit of Danger) on his 21st birthday a dozen years ago after I played some goofy on-campus show at college earlier in the night was also cool.
It was great to be introduced to performing at Lemmons by way of local compilation releases -- and years later to release some of my own compilations there. In late March 2012, I had done an Elvis impersonation set at a private party earlier in the day, and I just left the costume on and did mostly Elvis covers for the Googz set I did at Lemmons later in the night, which was pretty swell!
Bobbi Jo Leykam (former Lemmons bartender): [Lemmons] was also popular for being the home of Carnaby Street, which was the predecessor to London Calling. That was back when the bar was still carpeted and it gave the feeling of having a dance party in your living room, which 22-year-olds find irresistible.
In 2008, my good friend Paul Quiroga asked me if I could DJ on Tuesdays, which were difficult nights to attract business. The very first night, I couldn't get the sound system to work with my equipment, so I was simply sitting at the bar when the guy working in the kitchen walked out and Paul asked if I just wanted to work there.
The interesting part about that period of time was that in addition to working together, Paul, Denny Dyer, Todd Dorsey and I also all lived in the same house. It was like Lemmons 2, and it also often served as a crash pad for touring bands. When Brian started booking bands, weekend nights became a lot more profitable, but some some of my favorite times were still Tuesday nights when business was slow so we had to improvise entertainment by doing all kinds of semi-dangerous things, like dropping eggs in the deep fryer, seeing what CDs would do in the microwave, trying to cut fruit in the parking lot with a samurai sword, bottling up dry ice to see how long it took to explode.
The Improv Trick began doing a weekly show on Tuesday nights that brought a steady crowd and ran until well after I left that got actual, legitimate laughs so that put an end to that.
One of my happiest memories was the Memorial for Jamie Foehner. Although it was held under melancholy circumstances, it was a time when our staff and patrons and community all worked together harmoniously to do something good for a good man.
Having a bad night? Find yourself out with a no good crowd? I could always have someone drop me off at Lemmons where there was sure to be someone who cared enough to make sure I got home safely. No one seems to give enough of a crap to make plans with you for your birthday? Show up at Lemmons. You'll probably find a crowd there who are very interested in making sure you have great night. I've been in all of these situations, and I'm sure I'm not the only one wondering what could possibly replace it.
Do you have your own Lemmons memory to share? Let everyone hear it in the comments!