Jon Gitchoff
Chris Phillips (left) is a coffee master by day, indie-rock frontman by night.
Most musicians split their time between writing songs and paying the bills. The two aren't mutually exclusive, but many artists tend to slow their craft in order to make ends meet (hence the phrase "starving artist"). Chris Phillips, frontman for local band Bear Hive, spends his days cherry-picking coffee beans for Maplewood café ArtHouse, so he might be better described as a "caffeinated artist."
"It's disrespectful to make music without two feet in. I saw an opportunity to say, 'Wait a minute! What if by the time I am 28 I can be a little more self-sustainable and make more art?'" As the director of coffees at ArtHouse, Phillips has a position overseeing brand marketing while working on the café's expansion.
"My now business partner Nate Larson and I had been best friends for several years and played in the Good Pyramid and Yugen together. His Dad, Barry Larson, who owns ArtHouse, had two commercial roasters that I don't think he knew what potential they had. I told him, 'I see something you're not doing, and I want to do it for you.' He hired me part time to do work for him. Eventually, the couple workers that were there left, and I took over full time." Phillips says.
Continue for more with Chris Phillips and his work with ArtHouse.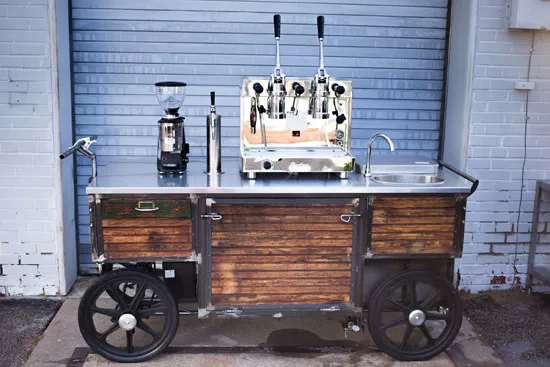 Courtesy of Herb Belrose.
Since Phillips has gone full time with Larson and their coworker Sean Brassil, ArtHouse has grown from being a local roaster into a multifaceted coffee business. "There is a lot we have been doing at ArtHouse, and it's all coming to fruition in the next few months. About nine months ago we got in touch with the Productive Living Board and wrote up a grant for this coffee cart," Phillips adds.
Designed as a fully immersive coffee experience that can go anywhere, the cart runs off of rechargeable deep-cycle batteries. This coffee shop on wheels has an espresso machine, cold-press on draft and a pour-over bar, and it flows from business to business pumping out ArtHouse product.
ArtHouse has even begun to bottle its cold-press dilute in the form of Bitts, its own signature brand of dark-chocolate-infused cold brew. Expect to spot the coffee cart and iced concentrate in local shops and hot spots throughout the city. But Phillips and company won't stop there: Construction has begun on ArtHouse's new coffee shop, Living Room, which is expected to open in August.

Construction of the Living Room from ArtHouse's Facebook.
"It was the old Black Cat Theatre in Maplewood. It is a 1,000-square-foot café and kitchen. The whole approach with Living Room is that coffee is a dynamic and delicate substance," Phillips adds. ArtHouse will employ manual devices like siphon pots and V-60s to brew personal cups for customers. "There will be no automated brewing, nothing will be brewed by a machine. It will all the brewed by hand, by the cup," he says.
Using one's own hands to create a product is a philosophy close to the Bear Hive frontman's heart. As the band currently edits the last round of mastered mixes for its fall release, All in Real Time, Phillips explains the impetus for all his hard work at ArtHouse: "I was given an opportunity to incubate a business, and with the right people by my side, it is really feeling successful. We're about to travel with the coffee cart, about to open a shop, and we have Bitts."
"If I can make ArtHouse successful, then I will be more stable and that will allow me to make more music."
Follow Bear Hive through its Facebook or Soundcloud.
Visit ArtHouse's website or the follow the café through Facebook.