Allison Babka
These are on two-for-one special.
Did you put on a party hat and celebrate the United States' birthday all weekend? Sure you did -- we caught you lathering up strangers at your foam parties and proudly sporting your sequined hats at Fair Saint Louis. And you know what? It's your constitutional right (we think?) to fete the red, white and blue any way you see fit -- especially if it involves setting things on fire and consuming mass quantities of cheap beer.
Those are all great activities to celebrate the U. S. of A., but we at RFT Music did one better -- we searched for the weirdest music memorabilia St. Louis that thrift, consignment, antique and resale shops had to offer. Yes, we happily spent dozens of cents on some gently used goods (We're thrilled with the $3 vinyl "Do They Know It's Christmas?" single we took home!) while laughing our asses off at the relics of Mom's closet. It's the American Way, people! So as a late birthday present to this great country, we present the six best music-related items that still need loving homes.
See also: Electric Flurry Shoots Foam, Not Fireworks (Slideshow)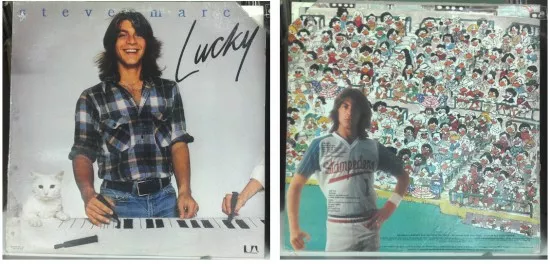 LUCKY
We're not sure how Steve March has escaped a revived career thus far. Just look at this album -- A disembodied hand! A piano drawn from marker! AN ADORABLE KITTY! And if you flip the jacket over, you'll find a very serious March in a baseball uniform, leaning on an invisible bat in front of a cartoon stadium. Everything about March's Lucky is begging to be the Rickroll of 2014. But it turns out that March actually has cred; he's the son of crooner Mel Tormé and stepson of actor/comedian Hal March, to whom this beautiful album is dedicated. Check his pipes.
Price: $0.50 at St. Vincent De Paul Thrift Store, but it also was buy-one-get-one-free day.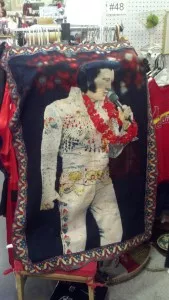 VELVET ELVIS
We grew up in a household absurdly in love with Elvis Presley; seriously, the family Viva Las Vegas and Blue Hawaii VHS tapes wore out from so much use, and a giant Elvis clock has been hanging in our parents' bedroom for 25 years. We've personally never seen any of the famous velvet Elvises until now, though. Is this thing the real deal? We have no idea. But we sure as hell want to wrap the King's hunk-a burnin' love around our shoulders.
Price: $18 at Green Shag Market.
DAVID CASSIDY POSTER PATCH
Oooooh, David Cassidy, with his groovy vests and his Steve March hair. This little Partridge hatched out of his little egg as a pure, musky man, and now we have the poster patch to prove it. What the hell is a poster patch, anyway? Until now, we had no idea that it's a "completely washable vinyl appliqué developed by Synergisms." Weird. Doesn't matter -- we think we love you, anyway.
Price: $29 at Green Shag Market.
See a cabal of freaky, saxophone-worshiping clowns on page two, if you dare.
SHEET MUSIC
Man, people back in the day had crazy notions about artistic themes. Case in point: The Spring Chicken and The Pet of the Ranch. Both feature alluring titles. Both show off perplexing art. Both kind of frighten us. Neither make a goddamn bit of sense.
Price: $4 for The Spring Chicken and $5 for The Pet of the Ranch at Green Shag Market.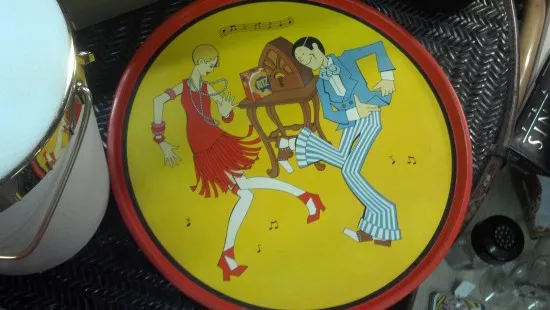 RITZ CRACKERS PLATE
OK, we tried to figure out what in the hell this is -- and by "tried," we mean that we Googled "Ritz crackers plate" and checked Ebay once. We can't find a damn thing about why this tin plate exists or why flavorless crackers make this couple want to do the Charleston while they listen to their old-timey radio. This thing can't be that special, though, because the shop has three of these ugly things ready to go home with the world's biggest Nabisco enthusiast.
Price: No clue, as we were too overcome with awe to note its immense value. It's at Green Shag Market, though.
SAXOPHOBIA
JEEBUS FRICKIN' HELL, PLEASE KILL IT WITH FIRE! Seriously, what kind of demon thinks, "Hmmm, you know what this world needs? A bunch of clowns in the freakiest makeup this side of It who share their love of saxophone jazz via LP!" A concept album released in 1961 by Capitol Records, Saxophobia pulls the clown angle through all facets of the recording, including the back cover which promises "You'd normally have to be out of your mind to deliberately develop a phobia. But as long as you have a sense of humor and a dislike of the ordinary, you can quite sanely develop a mania for Saxophobia created by the five saxophones of Clancy's Clowns." WTF?! Take a closer look at these guys:
There's no way these clowns aren't in league with Satan! Even crazier: The clowns on the album art are not the actual musicians, AND the musicians performed sans makeup at Disneyland. THIS ENTIRE THING IS AN IDEA BORN IN HELL.
Price: $0.79 (or your firstborn) at Quintessential Antiques.
Other awesome items not pictured: a homemade KDHX plate, a framed Billy Idol picture, a Scary Spice doll, a Gloria Gaynor I Will Survive LP in Spanish, a stack of old speakers with a cardboard cat perched atop them, a Hannah Montana: Backstage Pass book with a note calling Miley Cyrus "The Original Twerker," VHS tapes Hanson: Tulsa, Tokyo and the Middle of Nowhere and Darrin's Dance Grooves featuring dance moves from Britney Spears, 'N Sync and Jordan Knight videos, and the album Riding the Range for Jesus by Ben Swett.
RFT MUSIC'S GREATEST HITS
The 15 Most Ridiculous Band Promo Photos Ever This Incredible Make-A-Wish Teenager Went to the Gathering of the Juggalos, Got a Lap Dance (NSFW) Crotching Whiskey at the Justin Bieber Concert and Getting Thrown Out: A Review The Top Ten Ways to Piss Off Your Bartender at a Music Venue
---