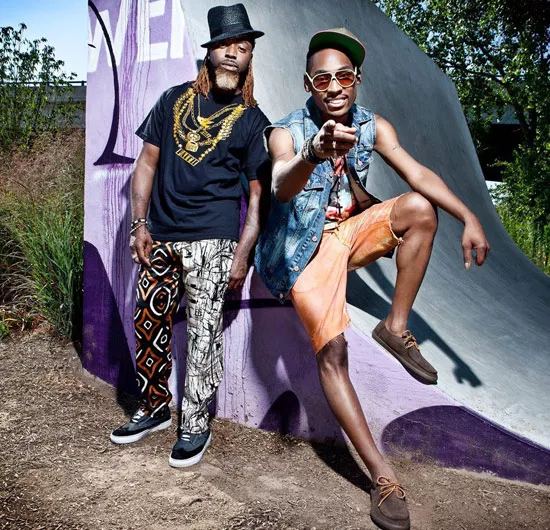 The city is certainly heating up and so are our hip-hop lineups for July. This month's shows feature a healthy sampling of rap: the indie, underground and mainstream, all coming from the East, West and Midwest. To spice things up even more, not one of St. Louis' venues is repeated twice, providing a completely incomparable experience. So if getting low is your style, then don't miss ATL's Ying Yang Twins at the Ready Room. If you'd rather pull that slot machine, then Lil Debbie's got you covered at the Firebird. July's bringing it to you, hip-hop heads.
Ying Yang Twins with Netwurk, Family Affair, Obesity Ent and A-Game at the Ready Room July 12 8 p.m. / $20-$23
From Atlanta comes the legendary Ying Yang Twins, Kaine and D-Roc, who gained popularity on Lil Jon's single "Get Low." The duo followed up that hit with singles like "Salt Shaker," "Badd" and "Shake." While they haven't dropped their own project since 2009's Ying Yang Forever, they recently teamed up with German producer DJ Teddy-O to release All Around The World in 2012. But we're really hoping for those classic hits..."The Whisper Song," anybody?
Read on for more hip-hop picks in July.
Bump & Hustle Two-Year Anniversary at Blank Space July 19 9 p.m. / $5
If you missed Bump & Hustle's first anniversary, then you're probably a little salty. You're in luck, though, as the second anniversary is just around the corner. This year, San Francisco's DJ Centipede, also known as Mophono, headlines. Centipede got his start experimenting with electronic music genres Thug Jazz and Dirt Wave, soon becoming the foremost authority on both while being known as the most experimental EDM DJ in the Bay Area. St. Louis' DJ MAKossa, Hal Greens and DJ Needles will be joining him, each one playing their own eclectic sets of jazz, funk, hip-hop and blues.
Lil Debbie with Chi City, Chase Compton, MARKOE, Seymour Awesome, Billy Brown and Ca$hley at the Firebird July 25 7 p.m. / $18-$20
Lil Debbie arrived on California's hip-hop scene by way of rap group White Girl Mob, which included fellow Cali emcees Kreayshawn and V-Nasty. However, in 2011, Lil Debbie got kicked out of the group owing to creative differences. But luck was in her favor: In 2012 she linked with Houston rapper RiFF RaFF and soon became a viral success. She released her debut EP, Queen D, in 2013, and followed up with California Sweetheart this past March. In addition to rapping, Lil Debbie is also a model and fashion designer, so expect her clothing choices to stunt on y'all. Arrive on time to catch the night's entire lineup, which includes locals MARKOE, Seymour Awesome and Billy Brown.
Koncept & J57 with RoQ'y TyRaiD, Tony Walker, Riley B and Farout at 2720 Cherokee Performing Arts Center July 26 9 p.m. / $7-$10
New York-based duo Koncept & J57 only joined forces in 2013 after Koncept was invited to record in Red Bull Records' Los Angeles studio. While Koncept writes the rhymes, J57 produces the beats. Together in Red Bull's studio, the pair recorded The Fuel EP, which is slated for fall 2014, and Flight LP, which will drop in 2015. In his solo career, Koncept has released four projects; as a producer, J57 has worked with Homeboy Sandman, Nitty Scott, YC the Cynic and Denitia & Sene, among others. Koncept & J57's show is supported by San Diego's RoQ'y TyRaiD, and St. Louis locals Tony Walker, Riley B and Farout.
Pigeon John with Tanya Morgan, Whiteout, AtM, Mvstermind and Playdough at the Gramophone July 26 10:00 p.m. / $10
Los Angeles native Pigeon John began his rap career spitting rhymes at the Good Life Cafe in LA -- the same spot where many notable acts, such as the Pharcyde, Jurassic 5, and Kurupt, had their start. After working LA's hip-hop scene in the '90s as a solo artist and member of independent hip-hop group LA Symphony, PJ dropped his first solo project Is Clueless in 2001, and followed it up with four more albums over a nine-year span. He's currently on tour for his latest release, Encino Man, which still showcases his underground, indie sound.
Rap group Tanya Morgan consists of MC Donwill, and MC and producer Von Pea. In 2003 Brooklyn-born Von Pea and Cincinatti-bred Donwill met on an Okayplayer.com message board and decided to collaborate on an album, swapping files via AOL Instant Messenger. Since then the duo has released thirteen projects, with another on the way. Tanya Morgan prides itself on being underground and indie, but the group still gets a lot of love from big-name publications such as The Source, XXL, Spin and New York Magazine.
RFT MUSIC'S GREATEST HITS
The 15 Most Ridiculous Band Promo Photos Ever This Incredible Make-A-Wish Teenager Went to the Gathering of the Juggalos, Got a Lap Dance (NSFW) Crotching Whiskey at the Justin Bieber Concert and Getting Thrown Out: A Review The Top Ten Ways to Piss Off Your Bartender at a Music Venue
---