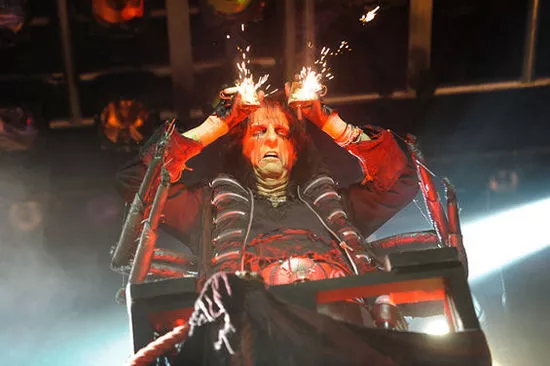 Alice Cooper and Motley Crue - Wednesday, July 9 @ Verizon Wireless Amphitheater.
This week, check out Fucked Up at the Luminary, Motley Crue and Alice Cooper at the Verizon Wireless Amphitheater, the Ying Yang Twins at the Ready Room, Veruca Salt at the Firebird and much more. For details on these shows and more, read on for our critics' picks in this week's show recommendations.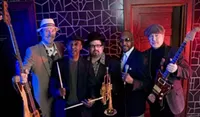 Soulard Blues Band Monday, July 7, 9 p.m. @ Broadway Oyster Bar - $6 By Roy Kasten From the 2014 RFT Music Awards: One day, dear reader, the Soulard Blues Band will be no more. It's just a fact. And one day you'll wonder why, despite all the opportunities every other day of the week, you never saw this St. Louis institution in its prime -- and no, the band's prime ain't over. If somehow you've never danced your ass off when Art Dwyer lays down a bass line as smooth as crushed velvet, or when Marty Abdullah swings his phrasing on "Kansas City Blues" or "Dust My Broom," or when Tom Maloney plays a solo that would make his mentor (the late, great Benny Smith) smile, well you really should. Don't take this band for granted. Pay your respects soon; they've been earned.
Fucked Up Tuesday, July 8, 8 p.m. w/ Weed, Life Like @ The Luminary - $13/$15 By Christian Schaeffer In musical terms, and as a lifestyle term in general, the words "punk" and "epic" are diametrically opposed. Punk songs are supposed to be nasty, brutish and short; epics are wide-ranging, meandering and lyrical. Leave it to the Toronto-bred sextet Fucked Up to bridge that gap, first with 2008's genre-pushing The Chemistry of Common Life and more so with 2011's celebrated rock opera David Comes to Life. In the three years between that album and the new Glass Boys, Fucked Up hasn't necessarily altered its approach or undertaken an even grander design; instead, the band continues to expand the concept of what a living, breathing hardcore band can become. Vancouver quartet Weed opens the show with melodic squalls somewhere along the lines of Dinosaur Jr. and the Jesus Lizard.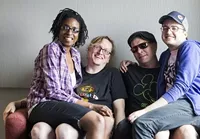 Stag Nite Wednesday, July 9, 9 p.m. w/ Pat Sajak Assassins, Stonechat, Bear Cub, Zagk Gibbons @ Livery Company - $5 By Joseph Hess From this recent feature: In the broadest sense, Pat Sajak Assassins is a rock band, but its tendency to stray from straight-ahead rhythm, along with an almost total absence of recurring pieces, places the band in experimental territory. But [Brian] Fleschute and [Harold] Covey don't discount the use of melody or even pop structure. In this way, the group works as a gateway to a stranger realm of music while still remaining accessible.... Despite the constant shifts in personnel, PSA retains two key elements. Fleschute's punchy bass brings a punk edge, warbling under melody with menacing tone. Covey plays a hybrid drum kit, mixing standard shells with synthetic percussion. Thanks to this core, there's a sense of continuity throughout the albums, but their contributions might be underrated thanks to the strong choices of bandmates both past and present.
Alice Cooper Wednesday, July 9, 7 p.m. w/ Motley Crue @ Verizon Wireless Amphitheater - $30-$600 By Kiernan Maletsky From this 2012 photo review: Alice Cooper may not be catching anyone off guard with his horror rock musical act any more, but he can still put on a hell of a show. Over the weekend, the man who ate his band by taking its moniker for his solo project made a stop in St. Louis. He brought with him a demon pulpit, a black-widow coat complete with extra arms and approximately two gallons of makeup.
Anodes Thursday, July 10, 9 p.m. w/ Wounded Knee, Mariner, Arsenals @ Livery Company - $5 By Ryan Wasoba From the 2014 RFT Music Awards: Like the greatest bands of its ilk, Anodes lives on the edge of impending collapse. The quartet taps into the cathartic scariness of screamo's forefathers, pushing the intense end of its dynamic to a collective breaking point and reassembling the scraps via reserved, atmospheric passages that would not feel out of place on an Isis record. The contrast works because Anodes never relaxes. Listening to a gorgeous interlude in a song like "Fall and Rise" is akin to staring at the pretty flame eating up the fuse of a bomb. We all know it's going to explode, but the tension is its own reward.
Phox Friday, July 11, 9 p.m. @ Blueberry Hill - $10/$12.50 By Christian Schaeffer The gentle, soulful languor of PHOX's debut album never quite veers into melancholy; there is too much kinetic musical movement -- even in its slower songs -- to take the wind out of the band's indie-pop sales. Singer Monica Martin has a hesitatingly husky approach to her vocals, but her songs weave in surprising moments -- twangy resonances, expert octave spans, soul-deep whispers -- to give life to the spirited, if slightly twee, instrumentation. Martin's bandmates are versed in chamber-pop smarts but are wise enough to deploy their banjo patterns and whistle solos in service of these songs and their gifted singer.
Search Parties Album Release Friday, July 11, 7:30 p.m. w/ Dots Not Feathers, Bear Hive, Humdrum, The Mhurs @ The Firebird - $8 By Blair Stiles From the 2014 RFT Music Awards: Elliott Pearson and Alex Petrone first landed on the scene in 2010 with their band Great Outdoors. That Best New Band nominee shed its leaves and left Pearson and Petrone to rake up the mess, bagging up what they could salvage to form Search Parties. Pearson rendered his wilted emotions unto Search Parties, and the music was weighed out on a grander scale. Search Parties' aural heft belies its indie-rock tag line. Pearson calls out with an arid vocal tone which can turn perceptively humid in the blink of a verse. Dylan Dougherty inputs staccato key arrangements that strike through the veil of Pearson's elastic vocal range. Danny Newgent's guitar tones manifest heady textures and coat the band in a drowsy haze of reverb. Petrone once again takes to a drumkit to coordinate fastidious rhythmic arrangements that keep pace with Chris Garner's bass and the band's live violinist, Gina Euygenhuysen. The final product is familiar and fresh at once, foreshadowing good things for the young group.
Ying Yang Twins Saturday, July 12, 8 p.m. w/ Netwurk, Family Affair, Obesity Ent, A-Game @ The Ready Room - $20-$23 By Tara Mahadevan From "The Best St. Louis Hip-Hop Shows: July 2014": From Atlanta comes the legendary Ying Yang Twins, Kaine and D-Roc, who gained popularity on Lil Jon's single "Get Low." The duo followed up that hit with singles like "Salt Shaker," "Badd" and "Shake." While they haven't dropped their own project since 2009's Ying Yang Forever, they recently teamed up with German producer DJ Teddy-O to release All Around The World in 2012. But we're really hoping for those classic hits... "The Whisper Song," anybody?
Mountain Sprout Saturday, July 12, 9 p.m. w/ The Big Idea @ Blueberry Hill - $12/$15 By Roy Kasten Most people consider bluegrass and old-time music to be conservative forms, and most people, as usual, are wrong. Conserving the traditions of Bill Monroe and Doc Watson is a worthy, even necessary pursuit, but so too are home-brewing, home-growing and home-wrecking -- the principal activities of hippie-hillbilly band Mountain Sprout. The band's original repertoire tells part of the story -- "Town Drunk," "All the Marijuana" and "Tweeker" being representative examples -- but its improving instrumental skill -- breakneck fiddle, mean Scruggs-style banjo picking and rhythmic drive that's steadier than you'd expect from such unrepentant stoners -- liberates these Arkies from their own shtick. Opener the Big Idea, hailing from Cape Girardeau, Missouri, cuts its strummy hoedown sound with busking nonchalance and better-than-average songwriting. It ain't bluegrass, but it's worth an early arrival.
Veruca Salt Sunday, July 13, 8:30 p.m. w/ Battleme @ The Firebird - $22-$25 By Jaime Lees One of the greatest success stories born out of the massive '90s alternative scene in Chicago was Veruca Salt. Fronted by Nina Gordon and (St. Louis native) Louise Post, each songwriter offered her own distinct strength: Gordon with blooming melody and Post with fiery power. The band was signed to Geffen Records, had a few videos in heavy rotation on MTV ("Seether," "Volcano Girls") and produced a handful of albums of revved up alt-pop before fading from the spotlight and officially announcing its hiatus in 2012. But this year brought a new Record Store Day release from Veruca Salt and renewed public interest in this band that undoubtedly still has something to prove.
Note: Though we wish we could, we can't feature every great show happening in town in just one measly post. Look for plenty more recommendations this Friday in our weekend shows post, and peruse the St. Louis concert calendar for more ideas any time. Let everyone know what else you're looking forward to seeing this week in the comments below, and submit show info online any time to be considered for inclusion on these lists.
RFT MUSIC'S GREATEST HITS
Remembering STLPunk.com -- How to View the Site Today and Find Your Old Profile Page "Where Did My Dick Go?" The Gathering of the Juggalos' Best Overheard Quotations The Ten Best Dive Bars in St. Louis The 15 Most Ridiculous Band Promo Photos Ever
---