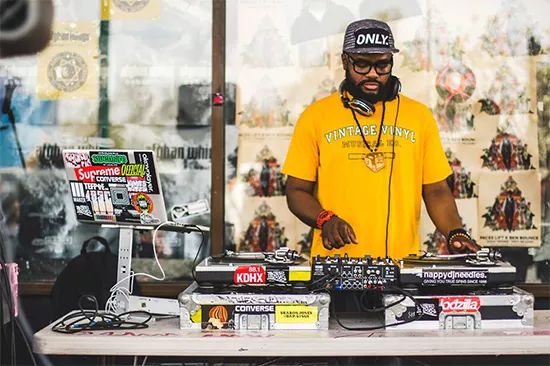 Poster Child featuring the artwork of James Gates - Saturday, July 5 @ 333 N. Beaumont.
RFT Music is taking a break today. If anyone's looking for us, it's possible you might find us in a van down by the river, enjoying the fireworks, so to speak. Go ahead and take it easy today, too. You deserve it. Treat yourself to too much barbecue and let some musical talent from here and beyond entertain you. Fair. St. Louis offers explosive, free options in Forest Park, Behexen plays at Fubar and more. Read on for some fun options for the weekend.
Friday (July 4):
Behexen w/ Dead But Dreaming @ Fubar 8 p.m. | $12-$15 Finnish black metal, twenty years running! Celebrate the fourth of July by hanging your head in grim reverie for the dark lord. (DH)
Chickens and Pigs w/ Fred Friction, Zacksquatch, Old Capital Square Dance Club @ Livery Company 8 p.m. | $5 Hang out with Johnny Vegas and Atlanta's Chicken and Pigs for the fourth. Come thirsty for cheap beer and hungry for barbecue. (MS)
Fair St. Louis w/ Bonnie Raitt, Matt Nathanson, Gavin DeGraw, Mary Lambert and more @ Forest Park 4 p.m. | free Fair St. Louis hits Forest Park this year and in traditional fashion, entertainment lasts all weekend long. Get the full schedule of events -- including performances from En Vogue and the Fray on Saturday -- via the official Fair St. Louis website. (MS)
For more options this Independence Day, consider heading to Plush to catch Wussy or to the Atomic Cowboy for a special human-cannonball presentation from Clownvis Presley. Just click the links to learn more about these artists.
Saturday (July 5):
Brand New w/ Into It. Over It., Dinosaur Pile-Up @ The Pageant 8 p.m. | $29.99-$36 If you didn't buy your tickets in the first eight seconds or so that they were on sale, you are out of luck on this one, sorry. Unless you are the type who likes to pay up to $220 for tickets, that is. (DH)
Nightchaser: A Southside Disco w/ DJ Mark Lewis, DJ Clockwork @ Empire Hall 10 p.m. | $5 This disco dance party takes place in the basement of Empire Hall, a somewhat recently established event space off of Cherokee Street. Check out the digs and get down at this monthly soiree. (MS)
Zagk Gibbons - Video by Drew Sheafor
Noisy Boyz w/ Doom City Outlaws @ The Heavy Anchor 9 p.m. | $5 I hadn't heard of this group before, but after perusing its Facebook page, I am ready to declare that it would be downright un-American of you to not spend your Fourth of July weekend at this show. (DH)
Poster Child w/ Camp Lo, Doorway, Nappy DJ Needles @ 333 N. Beaumont 9 p.m. | $10-$20 Poster Child is an art show, a live performance and a party. James Gates, aka the talented DJ Needles, presents his poster designs while special guests Camp Lo and Doorway rock the night away. It costs $10 to get in, but for an extra ten bucks, show up early for some barbecue and a meet-and-greet. (MS)
Young Widows w/ White Reaper, Heavy Horse, Hell Night @ The Firebird 8:30 p.m. | $12 Louisville, Kentucky's Young Widows brings its doom and gloom to the Lou. Hear 'em here. (MS)
Also of note from prior previews for Saturday night: Zagk Gibbons releases his new CD and the Wailers share the stage with 311 and the Urge at Verizon Wireless Amphitheater.
Sunday (July 6):
Fall Out Boy w/ Paramore @ Verizon Wireless Amphitheater 7 p.m. | $69-$80 Make yourself feel better for not being able to go to the Brand New show by going to this one instead! Your emo-pop-punk fix is satiated, thanks to large outdoor venues with larger capacities. (DH)
Sarah McLachlan @ The Fox Theatre 7:30 p.m. | $36-$101 Yes, Sarah McLachlan still exists. Don't REMEMBER who that is? Allow us to give you a refresher. (DH)
The English Beat also performs in St. Louis this Sunday.
Note: Though we wish we could, we can't feature every great show happening in town in just one measly post. Peruse the St. Louis concert calendar for more ideas anytime. Let everyone know what else you're looking forward to seeing this weekend in the comments below, and submit show info online to be considered for inclusion on these lists.
RFT MUSIC'S GREATEST HITS
Remembering STLPunk.com -- How to View the Site Today and Find Your Old Profile Page "Where Did My Dick Go?" The Gathering of the Juggalos' Best Overheard Quotations The Ten Best Dive Bars in St. Louis The 15 Most Ridiculous Band Promo Photos Ever
---