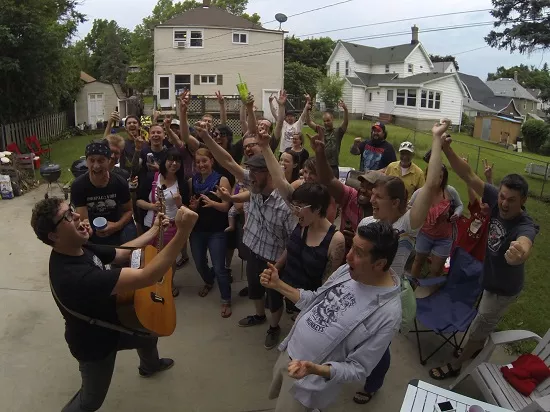 When you start your first band at age fifteen, no one tells you that it's cool to play for your friends in your parents' basement. No one tells you that eventually performing in 5,000-capacity venues might become a little boring. No one tells you that the rock star lifestyle usually features generous strangers feeding you homemade casseroles instead of personal assistants removing the gross flavors from your bowl of Skittles.
But Dan Potthast knows.
The former St. Louis resident has made music his life for decades, fronting the homegrown power-ska group MU330 and touring the nation with third-wave heroes like Reel Big Fish. But where he's currently happiest is in your living room. Yes, yours.
"It's amazing! When I play clubs, I kind of know what to expect," Potthast says. "But with houses, you never know what the vibe is going to be like."
Since June 2, Potthast, who now lives in Santa Cruz, California, has been traveling North America almost nonstop for the "Dan P. Living Room Tour 2014," inviting his Facebook followers to contact him about hosting a show at their own homes. The open nature of the endeavor means he's playing "venues" just like the ones in the tour title, but the musician also has been performing in locations that don't feature La-Z-Boys and coffee tables.
"I've played a lot of different, weird situations just in the first two and a half weeks in the tour," Potthast says. "I've played in an alleyway in Montreal, in a garage in New Jersey, on several decks outside, by swimming pools, in basements. The setting is always a little bit different, but most people are barbecuing every day, which is pretty fantastic to me. An entire summer of barbecue!"
Potthast will have a hero's homecoming Friday, July 4, when he brings his unconventional tour to St. Louis. As of press time, he was still working out details with his host, but if things pan out the way Potthast thinks they will, the secret St. Louis location may be one of the most memorable of the tour.
"It's out in South County somewhere -- a guy that lives in a house in a storage unit place, maybe?" Potthast marvels. "I don't quite understand it, but we'll see what happens. It should be awesome." [Editor's note: For the latest information, follow Potthast's Facebook page at facebook.com/danpotthastmusic.]
Relying on the coordination skills of others can make planning a tour a bit of a logistical nightmare, with dozens of emails flying back and forth between Potthast and potential hosts. Then there's the fact that the internet is full of crazy people with axes (or so Lifetime would suggest), so Potthast is never sure who he'll end up meeting along the way. But the connection to music is what propelled him to try this type of tour.
"We're all universally passionate about music. If they're getting in touch with me and putting a show on in their home, then they're the people who love music, and it means a lot to them. So no matter what the setting is -- no matter if it's a suburban house in Connecticut or an industrial warehouse loft in Montreal -- all of these people who connect with me are into music."
Continue to page two.
Potthast's approach is a throwback to his DIY days, when he and his bands relied on the generosity of others to make it through a tour.
"What we did for years was stay at people's houses any chance we could because that would be the only way to afford enough gas to get to the next place. Even later during MU330 touring, we didn't really get hotels that much," Potthast says. "That's always been one of the more fun parts of touring -- meeting all the people on the road.
"I've done tours since then on tour buses, and don't get me wrong, I love it -- it's nice and comfortable. But I did find myself missing the connections to the fans and to people in general," Potthast says about what drove him to coordinate the current living room tour.
Even in his new home base of Santa Cruz, Potthast pushes the envelope when it comes to defining what "performance venue" means. With his ten-piece ska collective Dan P. and the Bricks, Potthast and friends have performed on downtown street corners with a piano, drum set, horn players and the works. Unfortunately, the city's laws don't agree with Potthast's methods.
"They've cracked down on street musicians and started giving out fines for playing without a permit, so we haven't done as much of that recently," Potthast says. "I hope they'll loosen up on the enforcement because I'd like to start doing that again. Every month, we'd raise a few hundred dollars for different charities, so I'd like to see them ease up and let us do our thing and start contributing to the community again."
The notion of always pursuing unconventional avenues seems to suit Potthast, whose latest album My Living Room was released in June on Asian Man Records. For his next tour, Potthast is considering making a bold kind of splash.
"I want to play on more boats, for sure. Anytime you get to play music and you're floating somewhere, it just feels like a really exciting event," Potthast says. "Maybe I could go to south Florida or the Caribbean."
Might we suggest rollin' on a river -- perhaps the mighty Mississippi?
"That would be really cool, too!" Potthast says. "Uh, and probably pretty dangerous."
RFT MUSIC'S GREATEST HITS
The 15 Most Ridiculous Band Promo Photos Ever This Incredible Make-A-Wish Teenager Went to the Gathering of the Juggalos, Got a Lap Dance (NSFW) Crotching Whiskey at the Justin Bieber Concert and Getting Thrown Out: A Review The Top Ten Ways to Piss Off Your Bartender at a Music Venue
---